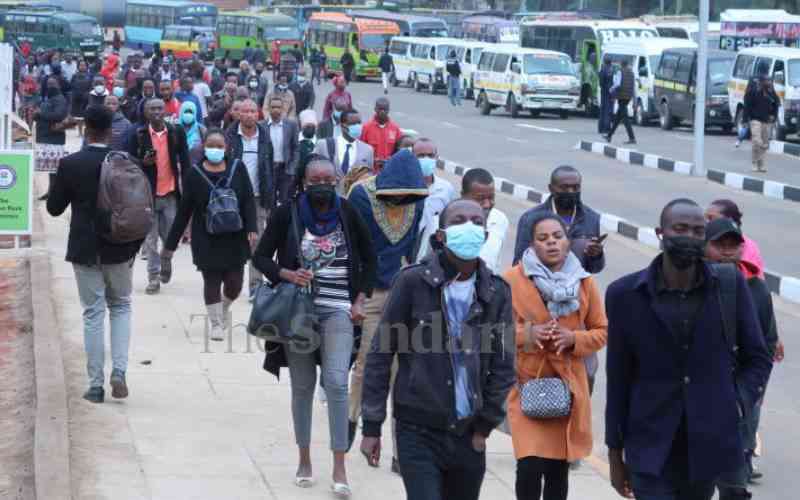 There was confusion, uncertainty and frustration when the Nairobi Metropolitan Services (NMS) conducted the fourth test run at Green Park Terminus ahead of official launch.
The test run started at 5am but was stopped at 10am with pedestrians and passengers expressing their anger over inconveniences.
Traffic was still witnessed on Valley Road and Haile Selassie Avenue as the new plan was tested.
However, boda boda and handcart pushers got business as they transported luggage to and from the terminus.
''We reached Nairobi from Ngong town at around 6am. We were told to alight at the terminus, a place we have never used before,'' said Joseph Kinyanjui.
Kinyanjui was among the passengers who said they did not know that there will be a test run on Wednesday.
The NMS on Tuesday published a notice in local dailies of their plans to carry out test runs for five days running to Sunday.
"How many people buy newspapers to read. The notice should have been communicated earlier like two weeks before on all media platforms including TVs, radios and newspapers so that it reaches many," said James Musyoka, a resident of Kibra.
NMS Director of Transport Michael Ochieng said the notice was widely circulated even through social media platforms.
However, after yesterday's trials, it was not clear whether more drills would be conducted for the remaining days.
The test run was for majority of matatus that ply Ngong, Kiserian, Nairobi West, Kikuyu, Highrise/Ngumo, Dagoretti/Satellite, Kilimani, Kawangaware, Langata and Kibra routes and use the Central Railway Station.
Peter Mabeya, the chair of Highrise Kibera Sacco said the loss the sector incurred during the test run is huge, and worse, it is coming when economy is bad.
"The planned five-day test run will not happen. If within only four hours, such huge losses were incurred, what about if it is done for five days?" he posed. ''The terminus is too small for the vehicles and that's why it cannot happen.''
Ochieng however said NMS was satisfied by the drill. "I am satisfied with Day One of this test run. Traffic was flowing along main highways and avenues of Kenyatta and Haile Selassie and passengers were guided well," he said.
"My officers and I were taking notes. We shall meet and make decisions on the way forward, including when there will be another test runs.''
Ochieng also said that vehicles are supposed to take only 20 minutes to drop and pick up passengers in order to reduce.