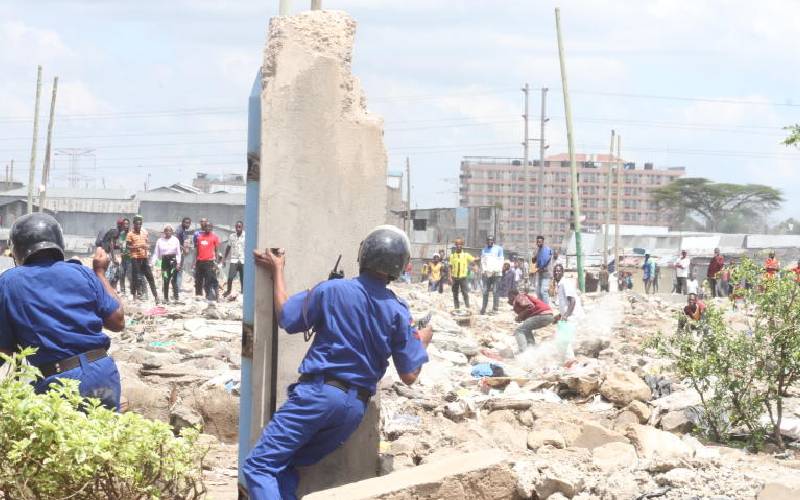 More families living on encroached public land in Nairobi face mass evictions by the Nairobi Metropolitan Services. NMS boss Mohamed Badi yesterday disclosed that he was working with other state agencies to reclaim grabbed road reserves and other public lands.
Some grabbed spaces have been turned into residential areas while others host business ventures.
General Badi disclosed this before Senate Committee on Devolution and Inter-governmental relations, which is investigating forceful evictions in Eastleigh and Pumwani areas.
Houses belonging to doctors and nurses at Pumwani hospital were demolished following a court order after the ownership of the parcels changed. Also affected in the forceful evictions were employees of Nairobi City Water and Sewerage company.
Yesterday, Badi said the change of ownership was done way before NMS was established. He said they were following a court order obtained by private developers.
The Pumwani doctor's quarters comprised of LR. No.36/VII/253 to 36/VII/260 and is located along Muinani and Wando streets next to Pumwani Maternal Hospital.
"The land was surveyed and approved in 1950 through a survey plan folio No 60/5 and was indicated as Nairobi Municipal Land. On April 15, 1995, the entire parcel was allocated to private individuals through letters of allotment. It is not clear how the allocations were done," said Badi.
He told the committee chaired by Homa Bay Senator Moses Kajwang' that after the allocation, the parcel was re-surveyed and approved by the Director of Surveys on September 15, 2008.
He further sought to absolve NMS from the forceful evictions in Eastleigh by submitting that the exercise was conducted by police.
"NMS did not evict any person from the said land. There is a committee that sits to even decide how many police officers will be involved and how many NMS officers are involved," he said.
He said the exercise was conducted following a laid-out standard procedure.
Members of the committee, however, insisted that Badi comes clear on NMS role in the evictions. They questioned how NMS could order police officers to evict the entity's own staff.
"You seem to be struggling to wash your hands of this matter, what we are asking is not just about your personal culpability. We are asking what are the steps, what is the best practice for carrying out these demolitions, we are not trying to fix you," said Kajwang'.
In the planned demolitions, Badi said it will affect all the 17 sub-counties in Nairobi, with Langata Sub County set to be affected the most.
The multi-agency team has identified illegal structures on Trans Mara printers at Eadrome Road in Nairobi West for demolition.
Others targeted are structures around the Ole Sereni area along Mombasa road as well as structures along the perimeter wall of the east African school of Aviation within Embakasi.