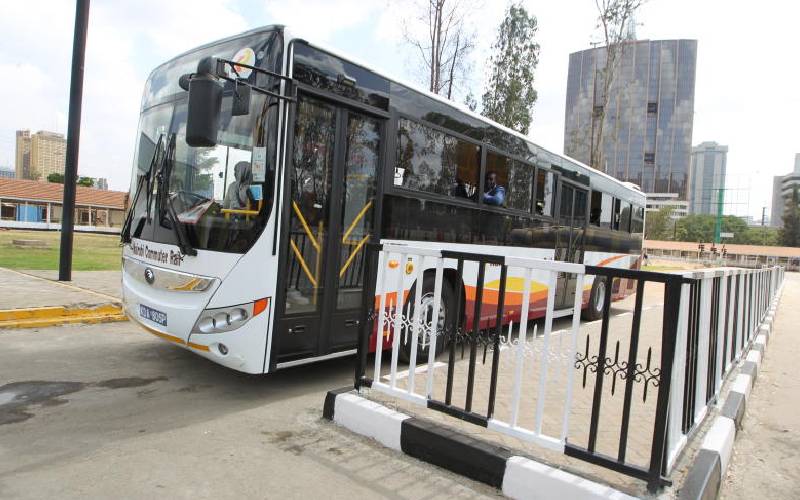 The government on Friday released the operation details of the new Green Park Terminus situated next to Uhuru Park.
According to the plan, the terminus that will serve only Public Service Vehicles (PSV) has one exit and one entrance, Nairobi Metropolitan Services (NMS) said.
The entrance is along Haile Selassie Avenue near Railways Club, and the exit is near the Chrisco Church.
The terminus will serve those in the Southern part of the city and will also have a taxi rank and boda boda picking up area, off the exit lane adjacent to Chrisco Church.
Boniface Otieno, assistant director in charge of training and traffic management, said after dropping off passengers, the vehicles will exit through newly constructed road opposite the Intercontinental Hotel.
After that, Otieno said, vehicles will proceed to the left, on the new road parallel to Uhuru Highway up to the Kenyatta Avenue roundabout near Nyayo House.
The vehicles will take a left turn towards All Saints Cathedral, on the new road parallel to Kenyatta Avenue all through NSSF junction, to join Ngong Road.
The vehicles coming to the city centre via Ngong Road and Argwings Kodhek Road will use a new dedicated lane from Kenya National Library.
"They will then pass near National Health Insurance Fund building, enter Haile Selassie Avenue, then enter the terminus to drop off passengers,'' added Otieno.
The vehicles coming from Langata Road will have two options.
''At T-Mall roundabout, they will use Raila Road (formerly Mbagathi Road) up to City Mortuary roundabout and join Ngong Road. From there, they will take the normal traffic, pass the library, NHIF area and take a dedicated lane to enter the park,'' said Otieno.
The second option is to proceed to Nyayo Stadium roundabout, turn left to join Uhuru Highway, turn left again at Bunyala roundabout via Lower Hill Road, turn right into Haile Selassie Avenue and drive extreme left along entry lane into the park.
All vehicles accessing the Central Business District through Ngong Road serving Ngong, Karen, Hardy Langata, Otiende, Kibera, Dagoretti and Ngumo shall go through City Mortuary roundabout.
They will join Haile Selassie Avenue near NHIF and keep extreme left to the entry lane into the park.
"Again at the Silver Springs, they can come through the road, which passes near Nairobi Hospital, to Raphta Road then to Ngong Road," said Otieno.
The vehicles from Mombasa Road, he said, will terminate at Hakati Road, which is in the CBD.
Engineer Michael Ochieng, the NMS transport director said the Green Park, Desai and Park Roads terminus, are 98 percent complete and will be opened before end of April.
"As you can see now, what we are doing is commissioning in itself because commissioning is not a one day thing," Ochieng said.
"What is remaining are just final touches and mostly outside the park. We have added bays, spruced up toilets, already put up a big screen for information and installed traffic lights.''
He said there is possibility of having one more test run before the terminus is officially opened.
Ochieng' said the government has also invested heavily in non-motorised transport services (NMT) and that there will be enough of such facilities to be used by pedestrians after every drop off point.
At the dropping off berths, there is a clear walk way leading to Haile Selassie, pedestrians shall cross at the neck of Harambee Sacco roundabout and proceed to CBD using the paved walkways on both sides of Haile Selassie Avenue.
Also, pedestrians can use the walkway leftwards towards Uhuru Park, cross the ramp over the Malaria drain, cross Uhuru Highway to Harambee Avenue and proceed to CBD. There are other crossings at Uhuru Highway and City Hall Way junction.