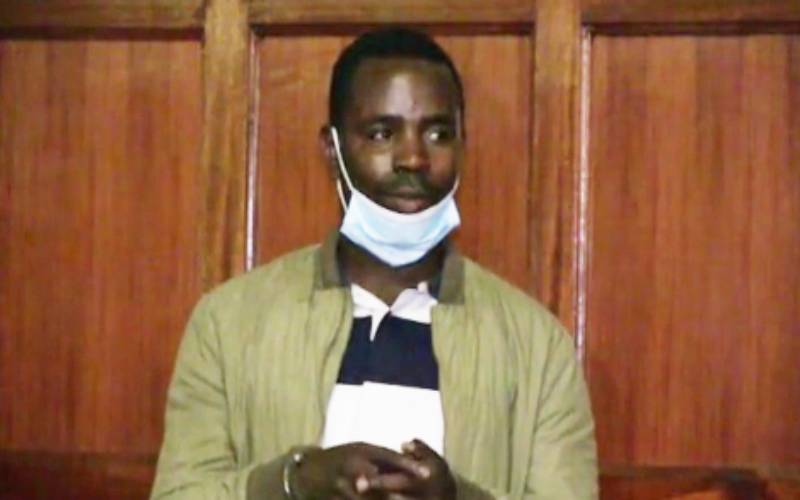 Standing in the Milimani Law Courts dock on Tuesday, March 15, was Zachariah Obadiah Nyaore, the man who police had described, on their social media accounts, as "Kenya's most wanted suspect".
Nyaore cut a figure of a humble and co-operative man, who was ready to do everything possible to give police an easy time with the investigations.
Asked whether he had any objection to police request – that he be detained for ten days to allow for completion of probe – a calm Nyaore said: "You can hold me in custody to facilitate the investigations."
But before then, the suspect had attempted to explain what, he said, was his side of the story.
Nyaore is accused of leading several people in sexually harassing a female motorist on Wangari Maathai Road on March 4, 2022. A video that circulated on social media showed several men inappropriately touching the woman who was stuck on the driver's seat. Others ripped her clothes apart as she screamed in distress.
Police said forensic analysis placed Nyaore at the centre of the crime.
He denies any involvement, saying he was only at the wrong place at the wrong time.
"I was riding past the scene [on March 4] while carrying a client. Someone photographed me at the scene during the chaos. A few days later, I was shocked to watch my pictures being aired on television alleging that I was the main suspect in the sexual harassment," he told Milimani Senior Principal Magistrate Robinson Ondieki.
"[Fearing arrest], I escaped. I am not opposed to being detained for ten days so that the police can complete investigations against me," he said.
The magistrate chimed in to inform Nyaore that the formal prosecution had not yet started, and therefore his side of the story, as of that stage, was inconsequential.
"We are not hearing the case now. So, you don't have to explain yourself. Police are seeking ten days to complete investigations against you. Do you have any objection to that?" posed Ondieki. The suspect, thereafter, answered in the negation.
Nyaore will be detained at the Gigiri Police Station for ten days. He is expected back in court on March 24.
Authorities are seeking to charge him with sexual assault and robbery with violence. His alleged victim, an employee of the World Food Programme, lost money and a mobile phone worth Sh132,000 during the March 4 incident.
On Monday, March 14, DCI detectives said they had arrested Nyaore in Isebania Town, Migori County while attempting to cross into the neighbouring Tanzania.
Police said the resident of Mukuru Kayaba settlement in Starehe Constituency, Nairobi County sneaked to Migori through Nakuru and Kisii counties.
On Sunday, March 13, he spent the night in a lodging within Migori Town before embarking on the botched journey to Tanzania.
He, alongside 16 others, are accused of sexually assaulting the female motorist, who had allegedly been involved in an accident with a boda boda operator on Wangari Maathai Road.