Wanjigi arraigned, yet to be charged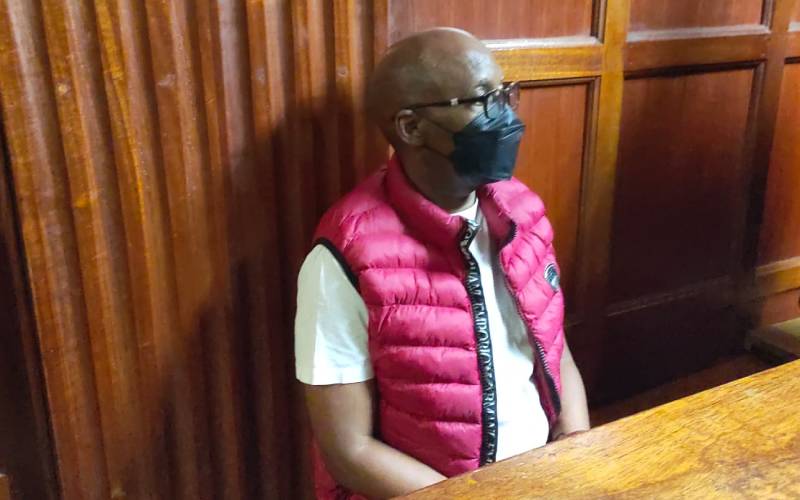 Businessman-turned-politician Jimmy Wanjigi has been arraigned at the Milimani Law Courts this morning, hours after his dramatic arrest.
Wanjigi was arrested yesterday evening, after a drama involving a Nairobi magistrate, a judge of the High Court, court orders and counter-orders about his arrest.
In a red half jacket and a white polo shirt, Wanjigi was produced in court to take a plea at about 8 am but taken back to the holding cell to pave way for ongoing cases.
"We expect he will be brought to take plea any minute from now," Standard Reporter Emmanuel Too reports from the court.
Hours later Wanjigi appeared before Senior Principal Magistrate Benard Ochoi.
He is facing six counts, including conspiracy to commit a felony, forgery of a title deed for a piece of land in Westlands and uttering a false document.
In his defence, Wanjigi's lawyers argued that it is irregular and illegal for the state to apply for a warrant of arrest.
"The state violated the orders issued by the high court stopping the arrest of Wanjigi. He should be released so that he can continue with his Presidential campaigns," Willis Otieno, the business man's lawyer told the court.
However, the prosecution said that they were never served with the stay orders and asked for more time to confirm the authenticity of the Court order.
The court order issued at the High Court had barred his arrest until February 9, when the case he had filed against DCI will be heard
The High Court stopped Wanjigi's arrest a few hours after a magistrate allowed police to apprehend and present him in court to face charges of allegedly faking a land title.
Justice Anthony Mrima issued the order to stop the arrest of Wanjigi and his wife Irene Nzisa until February 9 when a case they filed to challenge a decision by the Director of Criminal Investigations to charge them will be heard.
For more than 18 hours, Wanjigi, an aspiring ODM presidential aspirant, was under siege at the family's Kwacha Group offices in Westlands, Nairobi.
Armed police had on Monday night stormed the offices that also serve as Wanjingi's presidential campaign operations centre.
Security was tight such that Wanjigi's daughter and staff were denied entry to the premises as the search continued.