NMS staff threaten to down tools over delayed October salaries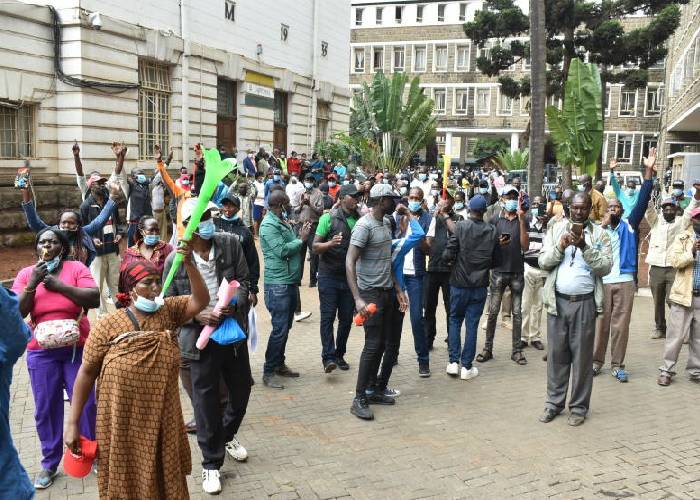 The Nairobi Metropolitan Services (NMS) workers are threatening to down their tools over delayed October salary.
In a letter addressed to NMS director-general Mohammed Badi on October 10, Kenya County Government Workers Union is demanding for their October salary wired to their members' bank accounts.
They also want a response addressing future plans of timely payments, failure to which they will go on strike.
The union through assistant secretary-general Augustine Wafula lament that the delay has subjected their kin to harsh living conditions as they are unable to fend for their families.
"It is quite disheartening that NMS did not make prior arrangements to ensure that our members receive their salaries at the end of every month as the low stipulates," the statement read.
The workers accused NMS officials of failing to act, despite discussing the salary delay on several occasions with them.
"Our members serving at NMS from various sectors have not been paid their October salary despite our discussion with top NMS officials," the union said.
Wafula wondered why their members were subjected to suffering yet they put in a lot of commitment in their work.
"Our members work too hard to make sure NMS and the county realise high returns thus don't deserve this humiliation," said Wafula.
The over 6500 staff that were seconded to NMS are the only affected lot with the other batch which remained at the county government office having been paid.
Speaking to The Standard on phone, the union's Nairobi branch secretary Festus Ngari wondered why there was the selective payment of their salaries despite the Treasury releasing Sh822,075,848 million for wages.
"We are aware money was released for wages, it baffles us how NMS failed to pay our members and for what reasons," he said.
In a letter dated October 27, 2021, Controller of State House Kinuthia Mbugua had requested the Treasury through a letter to Sh822,075,848 million for the wage bill.
"The purpose of this letter is to seek prompt consideration and placement of the requisition for the approval of the Controller of Budget a transfer of Sh822,075,848 million from the CRF to the Recurrent Nairobi Metropolitan Service Account 1000500123 held at Central Bank of Kenya," reads the letter addressed to County Finance Executive Allan Igambi.
Ngari said their attempts to reach acting Governor Anne Kananu and Badi himself have hit a wall with the former reportedly busy organising her planned swearing-in ceremony.
"It is strange that our other staff attached to City Hall have already been paid. Today is November 10, yet no payment," he said.
Attempts to reach HR director NMS Daniel Kibet bore no fruits as our calls went unanswered.