Nairobi residents vent over chopping of old palm trees in CBD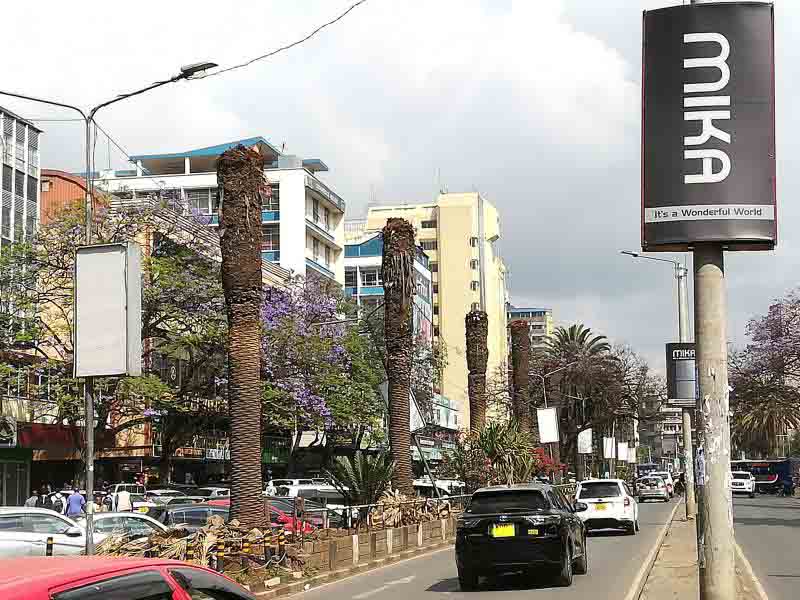 Conservationists and nature lovers in Nairobi are up in arms again following a move by planners to chop off palm trees around the city centre.
For days now, city residents on various platforms have been venting against the county government, accusing it of destroying the landmark trees.
The palm trees dot some areas of the Central Business District including Moi Avenue, Ronald Ngala, and Kenyatta Avenue.
However, a number of the trees along Moi Avenue have been chopped off on the canopies after several motorists complained that the branches from the trees damaged their vehicles.
Andrew Omondi, who leads a group of parking attendants along Moi Avenue, says for about a month he has counted more than six vehicles whose windscreens were damaged by branches falling from the palm trees.
"That is why we raised the issue with the authorities after noting how motorists were avoiding the area fearing that branches will damage their vehicles," explained Omondi.
A county parking attendant told The Standard that for some time he has observed some birds perch on top of the mature palm trees to feed on insects and suspects they could be playing a role to weaken them.
"The trees that were chopped off are very old. Some birds have been camping on top and once they leave it does not take long for the branches to fall off, I have counted about six vehicles" said the attendant.
Eliud Kim is one of the victims whose windscreen was smashed by a branch that fell off from the palm tree but he never sought compensation like many others.
"The windscreen was replaced by insurance because I didn't want to follow up with county, it Sh15, 000 only, I think it is long process to get compensated but it is something worth pursuing," he said.
Larry Wambua, County executive for Environment said NMS is answerable for such occurrences.
However, another official at the department said County usually acts when complaints have been reported and in such cases they are swift to avoid legal suits.
Nature Kenya Species and Sites Programmes Manager Paul Gacheru says even though palm trees are exotic, they still add value to the environment and climate change in general.
He explains that the palm trees could be as old some people say they are stating that any tree can get as old when not disturbed. He cites cases of some trees captured in archived photos.
He, however, explains that when relocating trees to avoid destroying them, some considerations are made to determine the cost of relocating instead of cutting them off and planting the same species elsewhere.