Police, NMS work to rid streets of parking boys and gamblers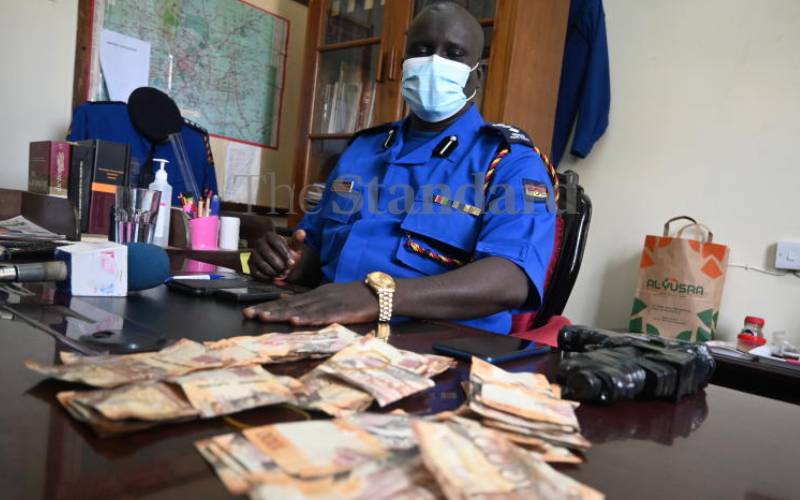 The National Police Service and Nairobi Metropolitan Service (NMS) have launched a multi-agency operation to remove parking boys from the central business district.
Central Police Station boss Adamson Bungei told The Standard that they are also working to eradicate gambling, commonly known as pata-potea, and fake promotions on city streets.
"We understand street boys are also human beings but they are not allowed in CBD, maybe their business is elsewhere but not in town. In our operation in collaboration with NMS, those who are willing to share their details are taken back home and those who don't have parents will be rehabilitated," he explained.
Mr Bungei urged motorists to pay parking fees to recognised agencies saying tipping illegal gangs and parking boys contributes to insecurity.
"Parking boys don't exist in town, that work belongs to NMS or those given responsibilities to collect parking fees, others are just criminals and they are not supposed to collect any money that is why we encourage Kenyans to do the right thing," he said.
A spot check by The Standard established that areas controlled by parking boys include sections of Moi Avenue, Harambee Avenue, Banda Street, Tom Mboya Street and City Hall Way, among others, in the CBD.
Authorities said some of the parking boys are criminals out to scout items for valuables in vehicles before they break in or vandalise them.
Following complaints by the public of being conned by people posing as promotional agents from some companies, the police boss said NMS has banned gambling on the streets after finding out that those who had licenses were engaging in illegal activities.
"Security agencies have discussed the issue of gambling and NMS has suspended licenses that were issued because of insecurity and complaints from the public," Bungei said.
Gamblers have been urged to re-apply for the licenses and acquire the premises to ply their trade.
"The licenses were suspended and others revoked, in this case, it was not cancelled, but that means they are no longer in business," he explained.