How Christine Ambani died painfully, postmortem shows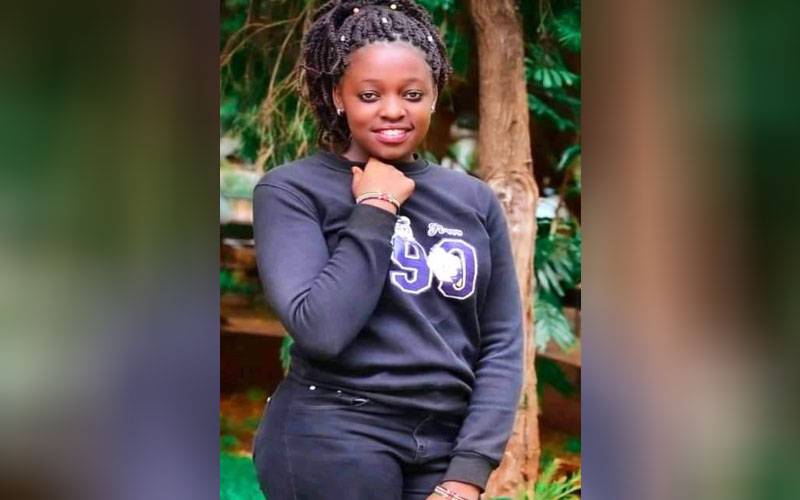 Christine Ambani was killed painfully on Monday, July 12, a postmortem report has revealed.
The 23-year-old Kiriri Women's University student, whose body was found in Githurai 45, Kiambu County, was stabbed in the chest and neck in the most brutal manner possible.
The stabbing of her nape was so severe that the knife ruptured through and exited in the front part of her neck.
A postmortem conducted by Government pathologist Peter Ndegwa at the City Mortuary on Monday, July 19, indicated Ambani died of excessive bleeding as a result of the stabbing.
The Standard has learnt that her body was retrieved from a hotel room in Githurai 45 by the accommodation facility's security guard.
The Third-Year Bachelor of Procurement and Supplies Management student had, earlier Monday, told her friend that she would be meeting her ex-boyfriend at a hotel in Githurai 45, which was located less than 100 metres from the friend's place.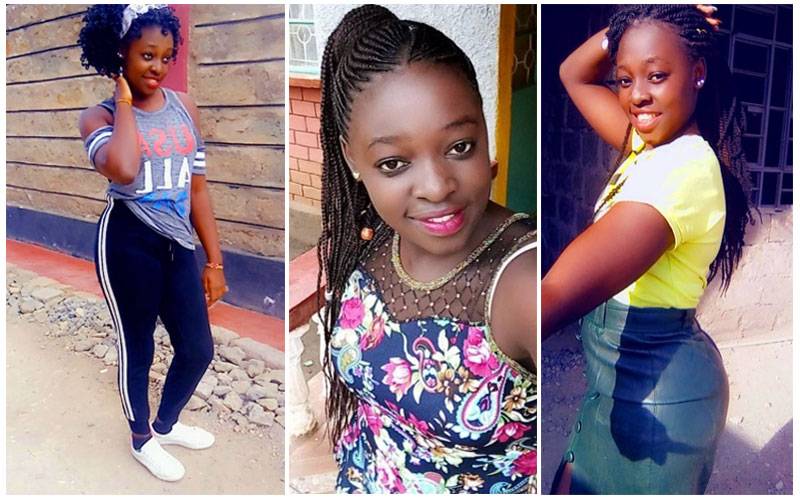 It remains unclear whether Ambani met the said boyfriend, or not.
That day, she was to sit an exam at 2pm, but she failed to report to college, with reasons for absence not established immediately.
According to her friend, who spoke to The Standard on condition of anonymity, Ambani was to meet her ex-lover from 10am until 1:30pm, when she was to return and collect her stationery ahead of the 2pm exam.
All through, Ambani was in communication with her friend, who says her (Ambani's) messages occasionally bordered on bizarre.
Communication between the two ceased at 7:30pm that Monday, when Ambani's phone became unreachable.
What happened, thereafter, remains subject to investigation.
However, before Ambani was confirmed dead at around 3am on Tuesday, July 13, a person who had taken control of her phone, posted her picture on the 23-year-old's WhatsApp status, with the caption: "Emit positivity. Always be happy [as] tomorrow isn't promised."
In the picture, Ambani, who was dressed in a striped black-and-white T-Shirt and a short black jacket, looked at the camera while smiling.
Analysing the photograph, police told The Standard that the "gloom in Ambani's eyes" betrayed the smile on her face, suggesting she might have been forced to grin for a staged picture.
Police visited the hotel room where Ambani died, dusted the scene for fingerprints, and collected items in the room for forensic analysis. The deceased's DNA samples have also been extracted.
Among those questioned, are the hotel staff, including the security guard who found the body.
An autopsy indicated she might have been tortured before being killed, as her body had visible marks on the neck and back.
On Tuesday, July 20, police from the Kasarani post visited Ambani's murder scene, where they collected more material for forensic analysis. They will also analyse booking records to try to establish in whose details was the hotel room booked.
"She might have been drugged before being killed," a police officer privy to the investigations told The Standard in confidence.
According to the deceased's elder sister, Ruth Ambani, Christine rarely took alcohol, and when she did, "she'd take only one or two bottles of Guarana".
Police are now piecing up material that could help uncover Christine's killer(s).
"So far, no suspect is in custody yet," an officer investigating the incident told The Standard, adding: "Phone log data, which we've already obtained, will help us know who the deceased communicated with before her death."
The ex-boyfriend, who Christine had allegedly planned to meet on July 12, told The Standard that the meeting never took place.
"No, I didn't meet her as planned," he said in a brief message, adding: "My loved one's death has left me heartbroken."
Christine's sister, Ruth, alleged that the deceased's ex-partner had a troubled life, often finding himself on the wrong side of the law due to family-related conflicts.
The former couple dated for nearly two years, beginning 2019.
"In 2020, the man attempted suicide by taking poison. My now-late sister and I rushed him to hospital for treatment," said Ruth.
On July 12, after visiting her friend in Githurai 45, Christine was escorted to the Githurai bus stage by her host. That was the last time she was seen alive.
Police said the vicenarian was killed on the day she "went missing".
Her body was found in a hotel room in Githurai and taken to City Mortuary by police.
At the morgue, the remains were registered as "unknown". Records showed it was booked at 3am on Tuesday, July 13.
"We believe someone wanted her dead. She wasn't abducted for ransom, but to be killed. The time taken to end her life was too brief for people who wanted ransom. It was a plot planned over time," a Kasarani-based DCI detective, privy to the investigations, told The Standard.
Her assailants are said to have taken control of Ambani's phone, and were in constant communication with her family, demanding ransom.
By Tuesday 3am, she had been booked at the city morgue as deceased, but her alleged abductors were still demanding ransom for her "release" on Wednesday, July 14.
The assailants are said to have used Ambani's WhatsApp account to communicate with her family.
"A person who claimed that my sister owed him money texted us, saying he and his friends had detained her," the deceased's sister, Ruth Ambani, said.
"He even sent us a screenshot of mobile money messages, which showed he transferred Sh87,000 to my sister's mobile wallet. I believe the message was fabricated because the transfer charge was Sh300, and not Sh105, which is the transfer cost for money ranging from Sh50,001 to Sh150,000," said Ruth, adding: "Something was not adding up."
Ruth said the alleged abductors reached them on Wednesday, July 14 demanding ransom, warning they'd kill Christine if the money won't be sent to them by close of business. At the time, Christine had already died, as per police records.
"The person, whom we were in communication with, sent us a picture of Christine in a poorly lit room. The clothes she was wearing that Monday, were the same ones she was in when we viewed her body in the morgue mid this week," said Ruth, adding: "I don't know who exactly wanted my sister dead, but we have a suspect in mind."
The distressed sibling said out of anxiety and the need to save her sister's life, she sent Sh5,000 to Christine's mobile money line, which the abductors were in control of.
Detectives said they were seeking to find out where the money was withdrawn, or to which account it was transferred.
Christine's close friend, who spoke to The Standard in confidence, said she had been in communication with the 23-year-old until 7:30pm Monday, when she stopped replying to her messages.
"What I know is that she went to meet a male friend whom I'm familiar with. However, I am not sure if the meeting indeed took place. In our communication, she contradicted herself on several occasions," said the deceased's friend.
Christine Ambani will be buried at her parents' home in Musanda Village in Mumias West Sub-County, Kakamega County on Saturday, July 24.
Her body will leave Nairobi for Kakamega on Friday, July 23, her elder sister, Ruth, said.
Christine, known to her friends as Chrizo, was the last born in a family of nine children.
She had pursued a Diploma in Procurement and Supplies Management at the Kiriri Women's University before joining an undergraduate course at the same institution.