Omosh denies being admitted to rehab for alcohol addiction, says he was misunderstood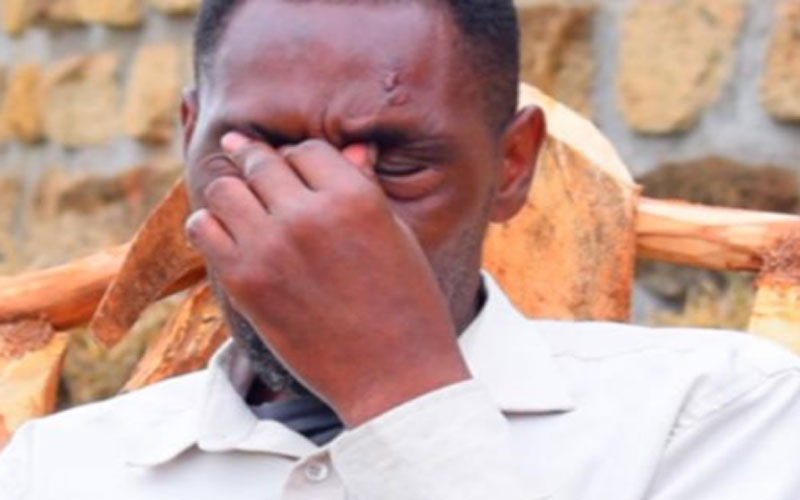 He has experienced both sides of compassion and ridicule, with the latter mounting on social media in the last one week.
Joseph Kinuthia, popularly known by his Tahidi High sobriquet – Omosh, is spoiling for a platform to make people understand him, and The Standard has given him that platform.
After postponing our interview on two occasions due to unavoidable circumstances, Omosh poured his heart out at 3pm on Wednesday, June 30.
"I'm sorry for pushing back the interview. Earlier today, I was in a meeting that I wouldn't disclose its nature for now, and later mid-morning, I went for the burial of my sister's child," he said.
Before the conversation could go far, the actor said there was something he wanted to get off his chest.
"I did not ask for more monetary contributions from Kenyans in my interview with TV47 last Friday," he said, adding: "Let that be clear."
The actor said Kenyans failed to understand the context of his remarks in the morning TV show.
"The host asked what I'd request if I met a rich person in the street. I said I'd let him or her know how I used the money donated to me by Kenyans. I'd thereafter ask him or her to give me a long-lasting solution to my money challenges, this includes a job," he said, emphasising: "I did not ask Kenyans for more freebies."
Reactions to the interview, he said, equally shocked his two wives, children and close friends.
"They (wives) were wondering why I went to beg, again, on national television without informing them what I'd say in the interview. Even my friends, were taken aback by the now-misunderstood message."
Omosh, however, maintains debts depleted all the money he received from Kenyans, and that he is open to job offers.
"As we speak, I'm jobless, with no stable source of income. That's why I requested for a well-wisher to help me with a microphone, camera and other video production equipment so that I shoot episodes that I can upload to YouTube or sell at a fee," he said.
Omosh recently said he received "less than Sh1 million" from well-wishers after he first went public about his financial woes in mid-February 2021.
Alcohol addiction
Earlier this week, a video of a haggard Omosh staggering while allegedly drunk surfaced, with social media users claiming he wasted his windfall on alcohol. His initially crisp navy-blue suit was grubby, with dust covering it, all over. Some users alleged the actor was rescued from a drinking den.
"I wasn't drunk that day. No one found me at a drinking den," he said. Then, what happened? We asked. "I had fallen from a motorbike in motion, and was being assisted off the road after injuring my leg in the accident. I was heading home from a friend's party," he responded, saying the incident happened in early 2020.
Omosh denies having a drinking problem.
On June 30, a Kenyan online media platform reported Omosh had agreed to join rehab for his alcohol addiction. The outlet quoted former Tahidi High actor Kevin Onyiso, aka Eddy, confirming Omosh's resolve to fight the drinking problem.
"It's not true that I'm seeking admission to a rehabilitation centre for alcohol addiction," he said.
"The last time I was in rehab for alcoholism was in 2016, when I was admitted to Zawena Treatment Centre in Kiambaa, Kiambu County. I completed the treatment and was declared fit to rejoin the society," he said.
Amid the ridicule online, Omosh has one key request. "I'm asking those mocking me to respect my family. People would say everything they want to say, but my children know they have only one father, me. Nothing changes how they perceive me."
Who is Omosh?
A film star, natural; in and out of stage character, a people's person, a father and a husband, that is Joseph Kinuthia, aka Omosh.
He first sprang to public fame in 2006, when he joined other film superstars to form the cast of Tahidi High, a local TV drama that focused on students' lives and behaviour in secondary school.
Omosh was a member of the support staff, whose cheekiness, urban background and youthfulness endeared him to a section of students, who were always in trouble with the school administration.
The actor, at the time, was so influential, popularising Sheng language in many homesteads as the production aired on Citizen Television during prime time. His most famous phrase is kizangila, to mean "a street-smart youthful person".
Omosh pursued a course in accounting in college. He even practiced before going through a turbulent change of jobs.
"I worked for a small firm which later closed down. I, thereafter, became a casual labourer. I did a lot of odd jobs that included carrying iron sheets and bricks. My palms consequently got a rough texture. They are testaments to the struggles I went through," Omosh told Citizen Digital in February, 2015.
Times were tough, but he stuck it out.
"I later learnt driving and was employed by a businessman as a driver. Additionally, I engaged in other casual work such as sweeping. When the job ended, I engaged in garbage collection to make ends meet. I did it for very long."
He'd later land the TV acting role "by accident".