Fake jobs scandal main suspect, four others charged with obtaining millions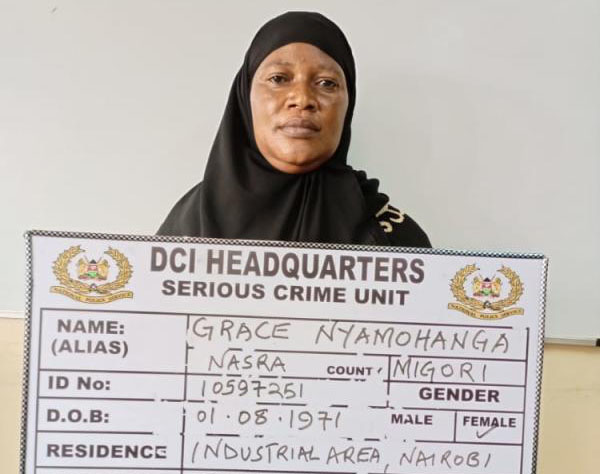 A prison officer accused of defrauding young job seekers more than Sh25 million has been charged with obtaining money by false pretence.
Lang'ata Women Prison -based Grace Nyamohanga-alias-Nasra who the prosecution avers was the mastermind of the job scam, was charged alongside her nephew David Masiaga, Jackson Manyara, Zachary Kimathi and Peter Ngere.
The five faced a total of 72 counts. The prosecution's case was she would receive thousands of shillings from desperate people searching for jobs and issue them with fake appointment letters to various government institutions.
Among the government entities they promised to secure jobs in for their unsuspecting victims were the Nairobi Metropolitan Services, National Police Service, National Land Commission, Kenya National Highways Authority, Kenya Pipeline, Kenya Airports Authority and Anti-Counterfeit Agency.
According to the charge sheet, the five accused demanded and were paid between Sh1 million and Sh200,000.
Nyamohanga and her nephew faced most of the charges. The prosecution said that she used him as a conduit to hoodwink the job seekers after which she received the money through several mobile phones recovered in her house at Industrial Area Prison.
"On diverse dates in November 2020 at Industrial Area Prison Staff Quarters with intent to defraud received Sh1 million from Nahashon Kiarie by falsely pretending that you were in a position to secure a job for his three children at Anti-Counterfeit Agency," read one of the charges.
Nyamohanga was further accused of possessing forged currency papers where it was alleged that she had in her possession fake USD21,300.
The prosecution alleged that the accused were so daring and bold in their operations that they went ahead to issue the victims with fake appointment letters only to be turned back when the victims reported to the purported agencies to start work.
Nyamohanga has been in police custody for the past 15 days. According to investigators, the accused might have collected more than Sh20 million within 10 months.