Justice for Vesh: Court defers charge against suspect in waitress murder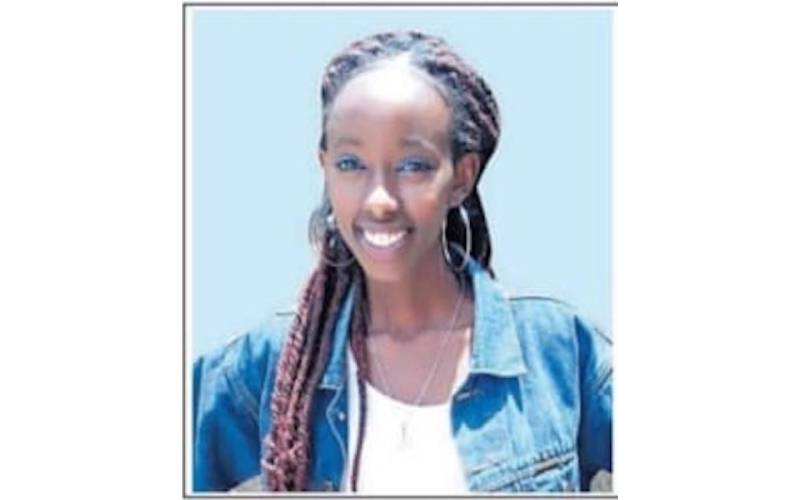 Joseph Kinyua Murimi, 30, the prime suspect in the murder of 23-year-old waitress Velvine Nungari Kinyanjui, has been detained for a further four weeks to allow investigators to complete the probe.
Kiambu Law Courts Chief Magistrate Patriciah Gichohi in a virtual sitting, allowed detectives from the Directorate of Criminal Investigations (DCI) to continue holding the suspect pending more investigations.
The motor vehicle spare parts trader was expected to plead to the murder charge but it was deferred to May 26, after DCI detectives asked for more time on grounds that the DNA samples analysis were yet to be completed.
The investigating officer Thomas Onyisi also informed the court that they required time to analyse photos and CCTV footage obtained from the alleged scene of crime.
Gichohi directed Murimi, who is out on Sh200,000 cash bail after denying rape charges, to be reporting at Kiamumbi Police Station once every two weeks.
Murimi previously told police he met Velvine at Ruiru's Destiny Park where she worked and asked her out on a date.
They went for the date on February 23, 2021, two days after they met. The suspect told police he picked her at Kirigiti and then proceeded to Q West Restaurant in Kahawa West for drinks.
According to him, they then moved to Kijito restaurant on Kamiti Road before later heading to Sinnot Hotel where they reportedly booked a room. They were even captured by CCTV at the reception collecting the key at around 9pm.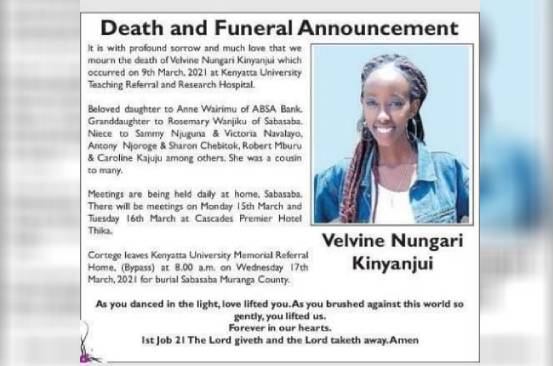 A bar attendant at the hotel quizzed by police, claimed to have ushered out the suspect an hour and a half after they had checked in at 10.30pm.
According to the attendant, the suspect told him he couldn't spend the night there since he was a married man hence had left Velvine in the unlocked room to rest as she was exhausted.
Police say Kinyua then drove home, however, taking with him Velvine's mobile phone.
The following day in the afternoon, police said, Velvine called a female friend requesting her to tag along with another person so that they could help her get to hospital.
They took her to the Kenyatta University Teaching, Referral and Research Hospital in a cab, before proceeding to report the incident at Kiamumbi Police Station.
At KU Hospital, Velvine was treated for spine-related complications and cervical fractures for several days.
Officers attached to Kiamumbi Police Station arrested the suspect and sought custodial orders for five days which they were granted by the Kiambu court.
Velvine, however, passed on March 9, 2021 while still receiving treatment at the hospital.
According to a pathologist – Dr Kimani – who conducted her autopsy on March 11, she had developed compression fractures on her vertebral column before her lungs collapsed.