Who took my kidney? 22 year-old woman asks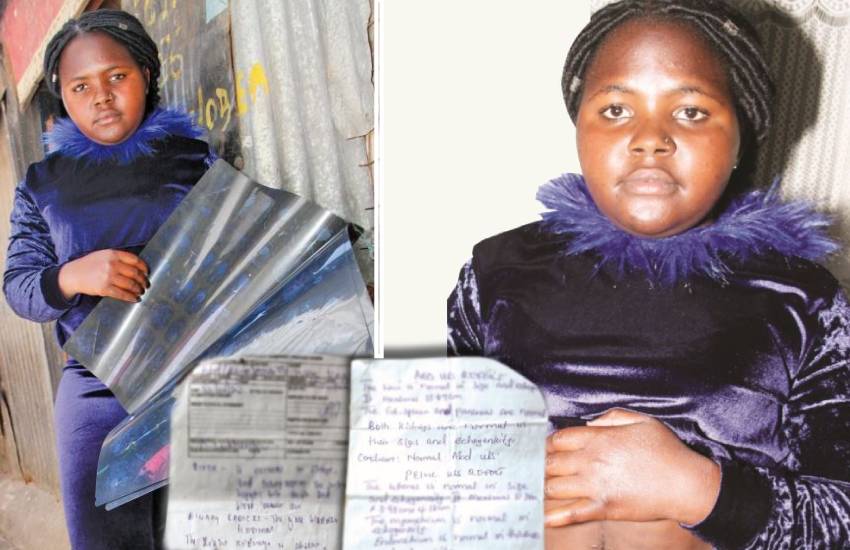 A few weeks ago, Ivine Kinagu, 22, walked into a priest's office in Mukuru kwa Njenga slums with disturbing news. She had done all she could do to get answers. Now, she had left all to God and hoped that the priest behind the wooden door would intercede and give her something to numb the pain that was slowly but surely gnawing at her soul.
She had suspicions. She strongly wished that the medical report in her hands was wrong. She desperately wanted to blink away her current reality and start all over again. But she could not. Every knock on the priest's door confirmed that this was not a dream.
Ivine had just discovered that one of her kidneys was missing and needed guidance from the priest on what to do. Her suspicion was that it had been removed without her consent during an admission to a hospital in Nairobi. Two years ago, a nagging stomach sent her to Mbagathi Hospital.
"When I went to Mbagathi, I was diagnosed with stomach problems and was told I will need surgery. An operation was done after tests, but nobody mentioned kidney removal or that I had a missing kidney," she says. It is only after she developed postsurgery complications that she stumbled on the shocking truth.
"I started getting fatigued and persistent stomach pains a few months after the operation. When I went back to Mbagathi Hospital, I did another scan and that is when I was told I was missing one kidney," she says.
She was confused. She had only had one surgery in her life; the one to remedy her stomach pain. She was advised to go for another test to confirm that indeed she was missing one kidney. She went to Mama Lucy Hospital where she got a similar conclusion: one of her kidneys was missing.
Back in Mukuru Kwa Njenga, the priest looked on as Ivine narrated the new developments in her life. His face was blank as she talked about her admission. Her surgery. And the discovery of a missing kidney. From where he sat, he was sure that before he called on divine intervention, he needed to explore a few more avenues on earth.
"It would be quite unfortunate if a doctor removed her kidney without her knowledge. It is something that has disturbed me because that would point to a dangerous trend of organ harvesting," says Father John Munjuri, a Catholic priest in the area who connected Ivine with a team of volunteer Catholic lawyers.
The lawyers then wrote to the Kenya Medical Practitioners and Dentist Boards, an agency that arbitrates cases between patients and doctors.
Documents seen by 'The Standard' show that Ivine was attended to by a consultant doctor called Tinega on July 12, 2019. She was diagnosed with abdominal pains and taken for an operation. A document breaking down the scan that was done before the operation indicates that both her kidneys were normal.
"We are wondering what might have happened in that surgery. Someone must have removed her kidney without telling us," says her mother Jerusa Kageha.
'The Standard' reached out to Dr Tinega. He said that there is no possibility that the kidney was removed at the hospital. "That would have required special consultation," he said.
He adds that even though Ivine's medical notes bear his name, he is not the one who wrote them. He says all discharge notes have the name of the consultant-in-charge, and it is nothing out of the ordinary.
"There are many clinicians in a ward who would write notes when a patient is discharged," he says. He says he will get hold of all the records and verify, including their authenticity.
Dr Ahmed Twahir, a nephrologist and chairman of the Kenya Renal Association, says chances that her kidney was stolen at the hospital for commercial purposes are extremely slim; almost impossible.
He says while other countries with many kidney specialists have reported incidents of kidney harvesting, Kenya has very few specialists who can successfully remove a kidney, preserve it and transport it for use on other patients.
He says the worst-case scenario of what could have happened is negligence, and that the patient should fill a form with the medical board to query the events that happened before and after the surgery.
"Nobody knows for sure what could have happened, but there are several possibilities. If the matter is taken to the medical board, the doctor and the team that worked on the case will explain," says Dr Twahir.
Leah Muhonja, Ivine's aunt, says even if there is a possibility of her niece having been born with one kidney, or it was removed by mistake, it does not make sense that none of the many doctors they encountered before and after the operation mentioned it.
Medical law advocate Isaac Barasa says the laws on organ donations and transplants are still cloudy, making it difficult for medics to harvest from living and brain-dead donors. Even though the Health Act of 2017 stipulates rules and punishment that are to guide organ donation and transplant, there is no proper regulation.
He says among the most important factors should be consent from who the organ is being removed. For Kinagu, she awaits an explanation on what could have happened.