William Ouko has risen from district magistrate, now eyes CJ position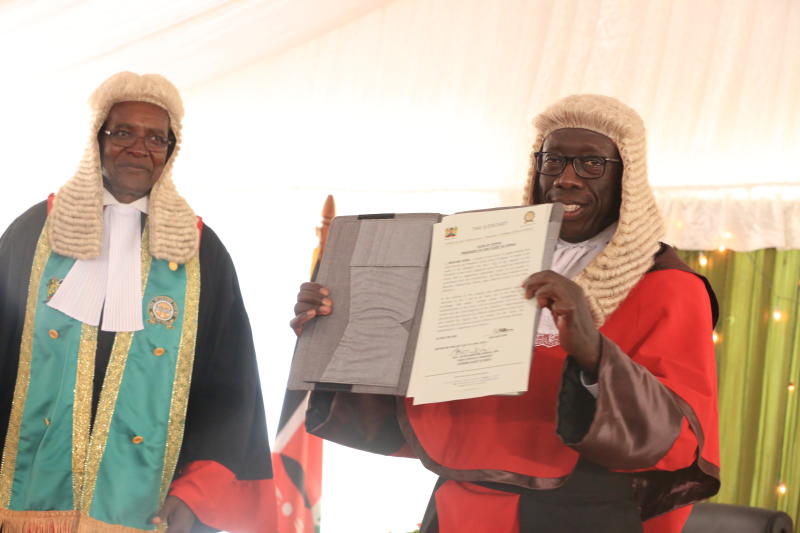 Court of Appeal president William Ouko has never shied away from defending judicial independence.
He is among the judicial officers who have been vocal, putting pressure on President Uhuru Kenyatta to appoint 41 judges, 10 of which were nominated to sit at the Court of Appeal.
He has also taken the Executive head-on for slashing the Judiciary budget.
Faced by a dwindling number of appellate court judges due to retirement and failure to appoint the others, Justice Ouko took the drastic move of closing other Court of Appeal stations and recalling all the judges to Nairobi.
As he seeks to become the next Chief Justice and Judge of the Supreme Court, Ouko is likely to follow in the footsteps of retired CJ David Maraga who had constant run-ins with the other arms of government in defending the Judiciary.
His defence
During a recent interview when asked why people talk and have negative perception towards the Judiciary, the 60-year-old judge came to the defence of his colleagues, saying they are not bothered with the talks as long as they are doing the right thing.
"Politicians and people will always talk but the way we do our work is very different. We are deaf, we never hear them. We are blind, we never see them. But we work with what is presented before the court," said Ouko.
Take a quick survey and help us improve our website!
Take a survey
Justice Ouko is one of the longest-serving judicial officers, having spent his entire 33 years of legal experience in the corridors of justice and is considered an insider who has worked and seen both the bright and dark sides of the Judiciary.
When he will face the Judicial Service Commission interviewing panel on April 21, he will come face to face with his two peers who will put him to task over his suitability, experience and ability to take over leadership of an institution he whose successes and blames he equally shares in.
The judge has served together at the Court of Appeal with Deputy Chief Justice Philomena Mwilu and Attorney General Kihara Kariuki, who are now serving in JSC, the body that will determine who becomes the next Chief Jusice.
He is also likely to have a head-start with the commission, having previously served as secretary to the JSC when he was the registrar of the High Court between 2002 and 2004.
Should he succeed in the interviews, he will become the first judicial officer to have risen from the lowest ranked judicial cadre of a district magistrate to become the CJ and head of the Judiciary.
Ouko was admitted to the roll of advocates in 1987, briefly worked at Mbogholi Msagha and Company Advocates for a few months before joining the Judiciary as a district magistrate and rose through the ranks within two years to become a Deputy Registrar of the High Court in 1989.
In 1997, he was promoted to Judiciary's chief court administrator, a position he held until 2002 when he became the registrar of the High Court.
His first breakthrough as a superior court judge came in 2004 when he was appointed by retired President Mwai Kibaki as a High Court judge and then to the Court of Appeal in 2012.
He was elected as president of the Court of Appeal in 2018 to take over from Justice Kariuki, whose term had expired and subsequently appointed to head the State law office.
Ouko has also served as secretary to the National Council for Law Reporting, joint secretary of the committee set up to inquire into terms of service of the Judiciary, Committee on the Administration of Justice and the Commission of Inquiry into the Goldenberg scandal.
The judge has a Master of Arts Degree in Criminology and Criminal Justice from Egerton University and Bachelor of Law from University of Nairobi.
In his sample writings to support his quest to become the CJ and Supreme Court Judge, he cited a case in which he dismissed an appeal by businessman Ketan Somaia seeking to stop a bank from auctioning his properties over a loan amounting to over Sh150 million.
In the second case, he cited a decision where he allowed a petition by home owners in upmarket Runda Estate whose properties had been demolished to pave way for roads expansion while the third writing is on his Masters thesis about impediments to accessing justice in magistrate's courts.
Also in his list of major decisions is his dissenting opinion on the case by former DCJ Kalpana Rawal challenging the mandatory 70-year retirement age of judges and a case where he awarded Sh32 million to farmers whose crops were destroyed by wildlife.