Cardinal Njue launches book on his long service in the Catholic church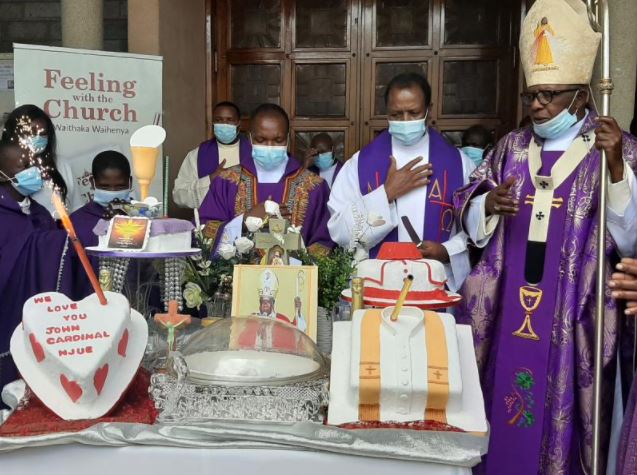 John Cardinal Njue has launched a book titled Feeling with the Church, detailing his long service in the Catholic Church.
Njue is the second cardinal in Kenya after Michael Cardinal Otunga (now deceased) and the fourth archbishop of the Archdiocese of Nairobi.
He retired from pastoral work last year after achieving the recommended retirement age of 75, and was replaced by Bishop David Kamau as head of the Nairobi diocese.
The church canon requires that a bishop writes to the Pope after attaining the age of 75 to be allowed to resign.
According to Waihenya, the book is all about ''examining the cardinal's childhood, formation as a priest, his episcopacy and the extent to which he tried to bring a near-revolution to the country's biggest See (diocese).''
Waihenya invites the readers "to see the Cardinal in a new way, as a man who fought, and won, his own battles in pursuit of his goals in all the dioceses he served and one who left a lasting legacy in his long episcopal.''
"We started working on this book early March after Covid-19 was declared in the country. This gave me enough time to do the interviews because there was no going to church and mass. We completed it by end of February this year," said Waihenya, who has written 16 books including one on the late Archbishop Ndingi Mwana a'Nzeki.
"I saw it good to tell his story just like I have told for the others because this is a man who has done a lot yet he had kept it to himself. I was not sure if he would accept the interview and I thought it will be just a 30-minute thing but it ended up being more than an hour," said Waihenya, saying Njue is a humorous, jocular person.
Take a quick survey and help us improve our website!
Take a survey
The book, he said involved the cardinal travelling to Nyeri, Meru and Embu among other counties where he worked.
The title, Feeling with the Church, he said came from a white Bishop in Meru, who had called Njue to give him an assignment.
''The bishop told him that he was told by the cardinal from Rome to tell Njue to feel with the church, meaning that he must understand and feel the needs of the church," he said.
Njue in the book says he had deep hunting skills for squirrels, a story which is described in Chapter 1 of the book titled; The Squirrel Hunter, under section one, which also has topics like The Conversion, In The Seminary, A Priest Forever, Plucked from Rome and Pastoral Duties and Another Seminary.
Section Two, which is mostly on episcopacy has chapters titled The Shock, Day of the Whistle, Uprooted and New Sherif in Town.
Section Three, mostly on Nairobi has chapters like Exit from Nyeri, On Being Cardinal, The Primate of Nairobi, Winter of Discontent and Battle Lines, among others.
The fourth and last section talks about his strange ideas and has topics like; Reconstructing the See (diocese), Twinning Programme, The Cardinal, Politics and Foibles and Curtains Come Down.
Speaking at the book launch, Njue also recalled his young life, where he enjoyed looking after cattle more than anything else.
"This created a bad relationship with his father, who one day nearly killed him after he found out that he had not gone to school. There is also a story of him complaining about food, which led him to be beaten with a cooking stick. He has a scar on the neck from that incident. Today, he also does not enter the kitchen due to that cooking stick memory," said Waihenya, just after the book launch.
Njue caused laughter when he told faithful how he would milk cows and leave the milk container at the grazing field.
"I would reach home, my parents would discover the cows have been milked but there is no milk and that would earn me their wrath, especially from my father," said Njue amid laughter.
He told congregants that even if he is retiring from an administrative role, he is going nowhere. "I will retire administratively but I will just be around to meet my congregants pastoral needs," he said.
Bishop Anthony Mukobo of the Apostolic Vicariate of Isiolo described the book as a befitting tribute to the cardinal's work and service to the church ministry.
"The cardinal distinguishes himself as a go-getter and visionary leader," he said.