Waqo: I was only loan guarantor for firm that won KEMSA tender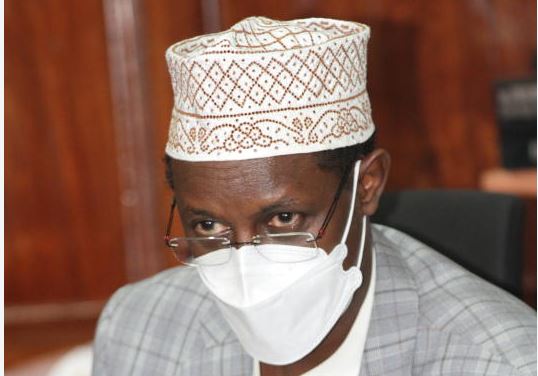 Former Ethics and Anti-Corruption Commission (EACC) boss Halakhe Waqo yesterday confirmed that he was a loan guarantor to a furniture supplies company that won a Sh347 million tender to supply facemasks to the Kenya Medical Supplies Authority (Kemsa).
Dr Waqo's revelation affirmed the account of Zubeda Nyamlondo, a director of Aszure Commercial Services, who made similar claims when she appeared before the National Assembly's Public Investments Committee (PIC) last month.
The former EACC chief executive, who appeared before PIC after twice failing to honour its invites, however, denied direct links to the firm.
He told the parliamentary committee that he had been approached by a manager at First Community Bank (FCB) – where he and directors of the firm are customers – whether he could provide security to a loan Aszure Commercial Services had sought to finance the Kemsa deal.
Observing signatory
Members of PIC had questioned Waqo's involvement in the company, given that it had depended on him, almost entirely, to guarantee a Sh179 million loan from the bank.
"I am not a shareholder, proprietor or a director of the company. The directors of that company approached me after the bank introduced them to me. I was just a guarantor and an observing signatory," said Waqo.
Take a quick survey and help us improve our website!
Take a survey
In documents submitted to the committee, Waqo testified to have provided title deeds to the bank as security for the loan granted to Aszure Commercial Services.
The money, he further divulged, had been paid directly to suppliers, with a company with links to Chinese nationals, which has been adversely mentioned throughout the probe, said to have taken the largest share of the Sh179 million.
Prior to facilitating the deal, Waqo was made a bank signatory of the firm owing to his investment. He told the committee that he ended his engagement with the company once the Kemsa deal was finalised and the loan repaid. The signatories to the deal also got back their securities.
"I have no contractual obligation to Kemsa. I was just an agent of funding to the entity. All my engagements with it were through the bank. I relied on communication between the bank and the company," he said.
Aszure Commercial Services had written to the FCB seeking a loan after securing a commitment letter from Kemsa to supply 500,000 KN95 masks.
MPs had questioned how the company that could not finance its deal had been paid swiftly for the goods they sold the agency, accusing it of being a proxy to powerful individuals.