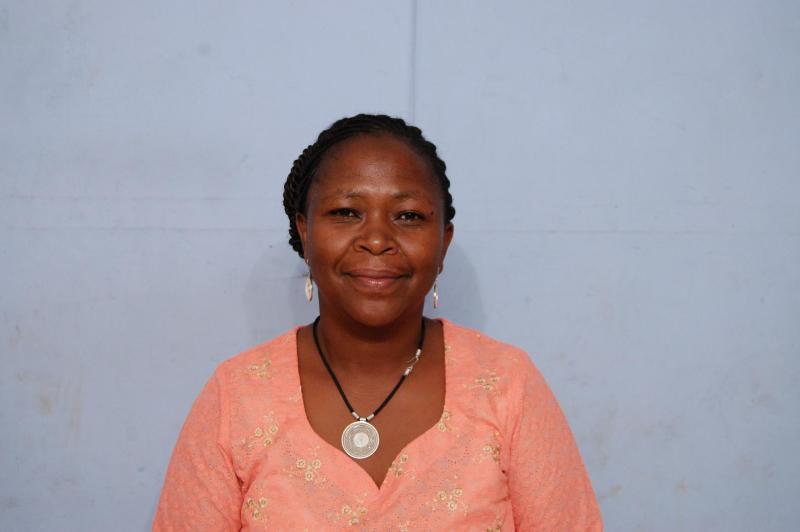 The search for a top official at the National Lands Commission ended tragically yesterday after her body was found at the City mortuary in Nairobi.
Jennifer Wambua, the commission's deputy director of communications had been missing since Friday.
Yesterday, Makueni Member of Parliament Daniel Maanzo, a relative of the deceased said Wambua's body was found by a herdsman in Ngong on Saturday, a day after she went missing.
Maanzo who spoke on behalf of the deceased's family said Wambua appeared to have been tortured at a different location before being dumped in Ngong.
"She died a very cruel death. She has a lot of injuries on her body from her legs to her shoulder," he said.
The deceased body was identified by her husband Joseph Komu who was one of the last people to talk to her on the day of her disappearance.
For the past three days, Komu and his three children could barely muster a wink. Whenever his phone rang he held his breath hoping it would be the call that informed him his wife had been found, he kept looking out the window expectantly, hoping to see his wife making her way home.
As the hours dragged by and Komu held on to hope that his missing wife was still alive, an unidentified body was brought into City Mortuary in Nairobi. The body, recorded as a middle-aged woman, was just one of many that police are called to collect.
From their initial assessment, it was evident that the woman, whoever she was had been murdered.
Her neck bore strangulation marks and on her back were scars which police sources told The Standard yesterday could only have been caused by dragging. Investigators also believed the victim could have been raped before she was killed.
It took two days for police to find out that the unidentified woman was Wambua, Komu's wife who had gone missing three days earlier.
Wambua, a Deputy Director of Communication at the National Land Commission was last seen by her husband on Friday, March 12, when he dropped her off at work.
On the day she was last seen alive, surveillance footage shows Wambua reporting to work at 6.35 am and then leaving a few hours later.
When her husband dropped Wambua at work on Friday, she did not leave the car with her purse, packed lunch and mobile phone.
It was unusual for her to go a day without talking to her husband. However, brushing it off as a busy day at work, Komu was not concerned.
Komu did not pick up on the personal effects until he took the car to the mechanic to sort out an issue when he noticed handbag and mobile phones.
But according to Komu's statement, it is possible that his wife had not left the items in the car when he dropped her off in the morning.
Since she had a spare key, he told investigators, she could have gone back to the car and dropped off her handbag and phone. But why would she do that and where did she go after?
Apart from the CCTV footage showing the victim reporting to work and leaving three hours later, the trail on Wambua goes cold.
He said they both had the key to the car.
After leaving the garage, Komu drove to NLC offices to return his wife's phone. He was, however, informed that she was not at work.
"At her office, I asked to see her but her colleagues told me she never reported to the office. I did not panic because I assumed she could have proceeded to a different assignment out of the office," said Komu.
Since there was no way to raise Jennifer on phone, Komu left her workplace at around 6pm and hoped he would find her at home.
He went on "Later in the day, I proceeded back to our Machakos home hoping that she would call me. That did not happen as she neither called nor returned home," he said.
The following day on Saturday, Komu returned to Nairobi and launched a frantic search for his wife in hospital and mortuaries, efforts which did not bear fruits.
He opted to report the matter to Kilimani police station but was referred to Capitol Hill Police Station where he finally recorded a statement about a missing person and the matter was taken over by the DCI.
"In the company of DCI officers, we visited my wife's offices where an examination of CCTV footage showed she entered the office briefly and left on Friday morning," said Komu.
When The Standard visited their home at Mbale village in Kathekakai location, only a handful of neighbors were gathered inside the heavily guarded compound.
Efforts to gather information relating to the family were fruitless as the neighbors remained tight-lipped.
But police are putting forward possible motives for the murder of the mother of three, including that she was to testify in a graft case. The Standard could not independently verify these claims
Jennifer had previously worked at Machakos as the Bureau Chief for Kenya News Agency (KNA).
Just before her death, Wambua was also involved in an accident last week which left her with minor injuries after her car collided with a lorry.
Lack of funds
Now, Maanzo wants her death to be a wake-up call to invest more in Kenya's Witness Protection Programme.
"In order to jail anyone involved in corruption, the witnesses need to be protected. The challenge has been a lack of funds. If you are a witness in a matter where you are receiving threats, it is always good to seek protection," he said outside City Mortuary.
"The first three weeks when that matter was going on, she's been very troubled. Without witnesses protection you will never prosecute any corruption case in this country sufficiently," he added.
The National Lands Commission Chairperson Gershom Otachi said Ms Wambua appeared undisturbed in the last moment he was with the officer who served as interim director in charge of corporate communications.
"Our last engagement was on Wednesday when she accompanied me to media interviews and she appeared alright," he said.
He said Wambua had not disclosed that she was a state witness in any case.
"She didn't express any fear for her life. She was one of the best officers we had," he said.