We panicked, Ida says of Raila's Covid-19 status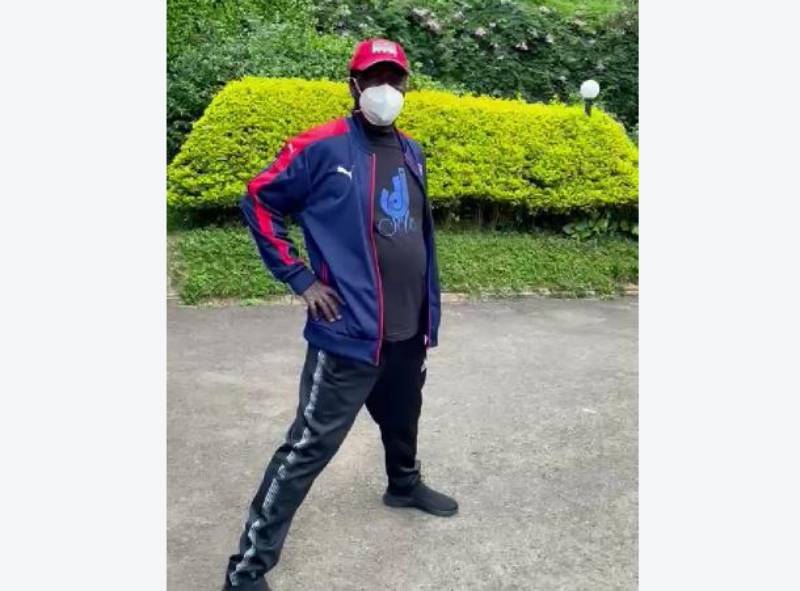 ODM leader Raila Odinga's wife, Ida, yesterday opened up about how the family panicked when the 76-year-old politician tested positive for Covid-19.
Ida narrated how the family got so many phone calls from friends and relatives seeking to know his health status immediately he made public his status on Thursday night.
She said Raila's release from The Nairobi Hospital was a relief for the family, stating that he was in good health.
"We panicked a bit, but we thank God Baba is in a good mood and good health," Ida told The Standard.
"He is out of hospital. He is in good spirit and strong as ever. We need your prayers as he continues to take a rest from active physical engagements," she added.
Yesterday morning Raila shared a video of himself exercising at his Karen home after being discharged from hospital.
The jovial former premier said it felt "wonderful" to be out of the confines of the hospital for four days.
"It feels wonderful. It is nice to be back home. I like to be in fresh air… even though I am still in isolation, I can see nature," said Raila in a video recorded by his daughter Winnie.
Dressed in a tracksuit, his facemask and a red cap on, Raila said: "I will be strictly self-isolating until further notice."
The ODM leader tested positive for the viral disease on Thursday, following a series of medical tests after he was taken to hospital ill.
He had been engaged in an extensive political tour of the Coast region to drum up support for the Building Bridges Initiative, meeting hundreds of people that could have exposed him to the virus.
Raila was first taken ill on Tuesday when he complained of fatigue, before doctors recommended that he undergoes a series of tests.
"This evening I received a briefing from the doctors who have conducted numerous and complicated tests on me for the last two days. While the tests were several, one important result, which I have authorised the doctors to make public, is that I have been found to have been exposed to Covid-19," he said on Thursday.
He added: "Despite the fact that I feel strong and in good shape after a few days in hospital, I have agreed with my doctors to undertake the mandatory quarantine."
Raila's doctor David Olunya had subsequently made public assurance that the former premier is responding well to medication.
"He is responding well to the treatment he is receiving at the Nairobi Hospital and remains upbeat," he said.
Raila's last public engagement was on Saturday, when he hosted a delegation from Narok County at his Karen home after he had returned from a tour of the Coast, where he pitched camp for nearly four days.
The ODM party at the weekend closed its headquarter offices after one of its employees tested positive for the virus.
Employees were subjected to mandatory Covid-19 tests on Friday, a day after Raila confirmed that he had contracted the virus.
On Saturday, the party's Director of Communication Philip Etale, who had accompanied Raila on the five-day tour of the Coast region, tested positive.
This happened just days after Raila's private office at Capitol Hill in Upper Hill, Nairobi, was closed, although staff there tested negative.
There has been an upsurge in Covid-19 infections, in what medics have warned could be a third wave of the pandemic that hit the country in March last year.
President Uhuru Kenyatta has since extended some of the containment measures to curb the spread of the disease. The measures include a ban on political gatherings, as well as a 60-day extension of the dusk-to-dawn curfew.
"All forms of political gatherings are hereby prohibited for a period of 30 days starting midnight today. This should be followed regardless of the political or social standing," Uhuru said on Friday.
At the same time, Kisii Governor James Ongwae wished Raila quick recovery, saying other leaders should emulate the ODM leader's truthful governance skills.
"I commend him for coming out publicly to declare his Covid-19 status. This will give Kenyans hope that testing Covid-19 positive is not a death sentence."
Senator Sam Ongeri and Woman Representative Janet Ongera said Kenyans had learnt that with positivity the country could make major strides.
"His speedy recovery means we have improved medical facilities in our country; our doctors have earned a mark," said Prof Ongeri.
Mrs Ongera, who has worked with Raila for more than 15 years, said she was delighted to learn about the former premier's quick recovery.
"The anxiety has gone down. Let us focus on how to better our country," she said.
- Additional reporting by Erick Abuga