Ex-governor charged with plotting terror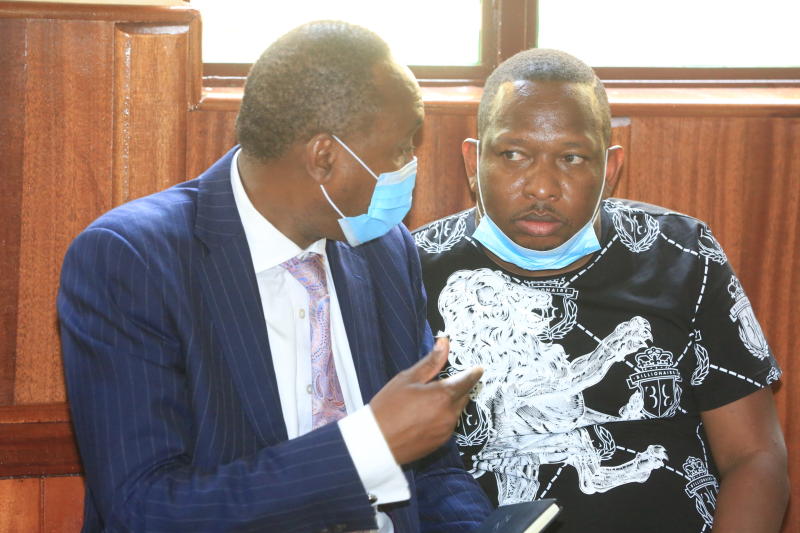 Former Nairobi Governor Mike Sonko and his two co-accused yesterday pleaded not guilty to terror charges before a Kahawa court.
According to the charge sheet, on or before January 1, this year at an unknown place within the country jointly with others not before the court knowingly recruited unknown persons to commit or participate in the commission of a terrorism act.
The former governor faced a second charge of possession of property for commissioning a terror act contrary to Terrorism Prevention Act of 2012.
It was alleged that on January 31, in Athi River, Sonko had in his possession military attire for the commission or facilitation of a terror act.
Clifford Ochieng and Benjamin Onyango, Sonko's co-accused, faced similar charges of possession of property for commission of a terror act.
The three pleaded not guilty to the charges, but the prosecution lead by Joseph Riungu and Harishon Kiarie opposed bail and bond.
The affidavit sworn by inspector Ezekiel Luley of the ATPU stated that the Ochieng and Onyango were arrested following intelligence reports that they had intentions to rescue Sonko from lawful custody.
"Part of the intelligence stated that Ochieng and Onyango had in their possession materials that could be used to commission a terror act," Riungu said
According to the prosecution, the two were escorted to their houses in Komarock and the military camouflage jackets seized.
Riungu further told the court that investigations are still ongoing and therefore releasing the three would prejudice the investigations as the accused persons are likely to interfere with potential witnesses.
"The conduct of the three accused especially through their social media accounts portrays them as very influential persons whose role in facilitating attacks cannot be underestimated," Riungu said
However, Sonko's lawyer John Khaminwa told the court that all the charges are trumped up to just detain Sonko for no reason.
In her ruling, Kahawa Court Chief Magistrate Diana Kavedza said the prosecution had failed to convince the court to deny the three accused persons bail.
"Bail cannot be denied because of insinuations and suspicion. I hereby admit Mike Sonko on surety bond of Sh1 million with an alternative of Sh500,000. I also admit the second and third accused to a surety bond of Sh500,000 with an alternative of Sh200,000 cash bail," Kavedza ruled.
Kavedza warned Sonko not to commit any crime and not to mobilise members of the public.
He was also directed to deposit his passport with the court.