Surprise as Elachi, eight others take up CAS posts in reshuffle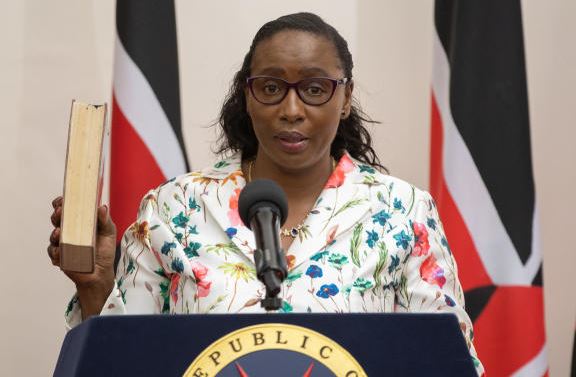 Former Nairobi County Assembly Speaker Beatrice Elachi yesterday bounced back into the limelight after being sworn in as Chief Administrative Secretary (CAS) in the Public Service and Gender ministry.
Elachi was among nine newly appointed CASs who took the oath of office at State House, Nairobi. The former Speaker's name, however, had not been on an earlier list of new appointees in an order signed by Head of Public Service Joseph Kinyua on Wednesday.
Elachi quit on August 11 last year citing a poor working environment characterised by chaos, threats and constant fighting. She blamed former Nairobi Governor Mike Sonko for her woes.
Interestingly, she addressed her resignation letter to President Uhuru Kenyatta instead of the County Assembly Clerk, a move that raised eyebrows and highlighted the poor working relationship between her and the clerk's office.
Elachi joins Rachel Shebesh, who has been the CAS in the ministry, and Linah Jebii Kilimo, who has been reassigned from the Agriculture, Livestock, Fisheries and Co-operatives docket.
There was similar confusion in the ministries of National Treasury, and Interior and Coordination of National Development where new CASs were appointed without clear communication about the fate of those who had been holding the positions.
In the Wednesday's list, Eric Simiyu Wafukho was appointed CAS in the National Treasury and Planning ministry. It was not clear what would happen to former Subukia MP Nelson Gaichuhie who was serving in the same capacity.
Winnie Guchu was also reassigned from the Labour and Social Protection docket to the Ministry of Interior and Coordination of National Development where former Tana River Governor Hussein Dado has been serving as CAS.
Those who were appointed include Jackson Musyoka Kalla (Labour and Social Protection), Lawrence Angolo Omuhaka (Agriculture, Livestock, Fisheries and Co-operatives) and Prof Japheth Ntiba Micheni (State Law Office and Department of Justice).
Others are former University of Nairobi student leader David Osiany (Industrialisation, Trade and Enterprise Development), Dr Sara Ruto (Education), Zachary Ayieko (Energy), and Alex Mburi Mwiru (Lands and Physical Planning).
Dr Ruto and Hasson Noor will both serve in the Education docket while former West Pokot Governor Simon Kachapin and Zack Kinuthia went to the Sports and Culture ministry.
President Uhuru Kenyatta asked the CASs to prioritise the completion of national government projects in their respective dockets.
"We have a big task ahead of us; a task of completing programmes and projects that we have already embarked on. I look forward to your contribution in fast-tracking them."
Revealed: The truth about CBC exams
The tests to be administered by Knec will be taken at Grade 6, 9 and 12, even as teachers play a big role in learners' continuous assessment.