Eight shades of Nyachae on display at his funeral service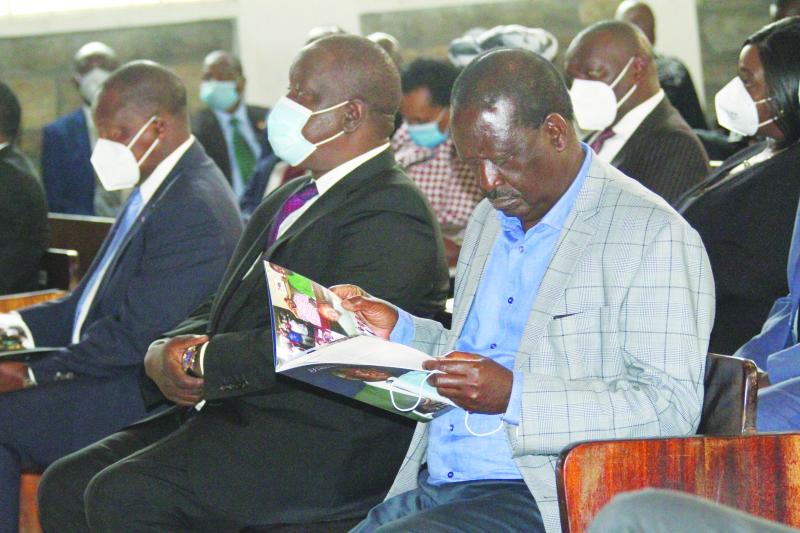 Family and friends yesterday paid their last respects to former Cabinet Minister Simeon Nyachae during a service at Nairobi Central SDA Church ahead of his burial on Monday.
Several versions of Nyachae, a former MP and long-serving civil servant, were on show.
His children Samuel, Mary and Moses gave moving tributes of their father, the affectionate family man, as they also recalled episodes of him, in a vest, chasing them around the house with a belt.
There was Nyachae the belt wielding father, who was ready to whack some discipline into his children, and the father, whose biggest gift to his family was his presence.
There was also Nyachae the stalwart supporter of the government, who would walk into any storm. This included the day he attended JM Kariuki's funeral to offer government's condolences.
Former Kitui Senator David Musila, who read the eulogy, said Nyachae played a key role to ensure former President Daniel arap Moi braved a campaign mounted to prevent him from succeeding Jomo Kenyatta.
Nyachae was tasked with talking Moi not to resign from his position of Vice President. There was pressure for Moi to quit so he does not take over.
Take a quick survey and help us improve our website!
Take a survey
Mr Musila said Nyachae was one of the administrators who were close to Moi. He was, at the time, Moi's business partner. "He told Moi to stand up to the challenge. That stern advice changed the course of Kenya's history," Musila said.
Yet Nyachae's hand in the course of Kenya's history goes beyond that, to the role he played in shaping the careers of a number of current leaders.
His influence is present in current leaders, most who admit to idolising Nyachae. They include President Uhuru Kenyatta and Interior CS Fred Matiang'i, who was at one time Nyachae's personal assistant.
In a speech delivered by Health CS Mutahi Kagwe, the President said he often turned to Nyachae for counsel and mentorship. "At a personal level, I vividly recall my many interactions with Nyachae over the years as an elder, mentor, counsellor and friend. He always had a word of wisdom and encouragement for me. His impact on my life shall never be lost," Uhuru said.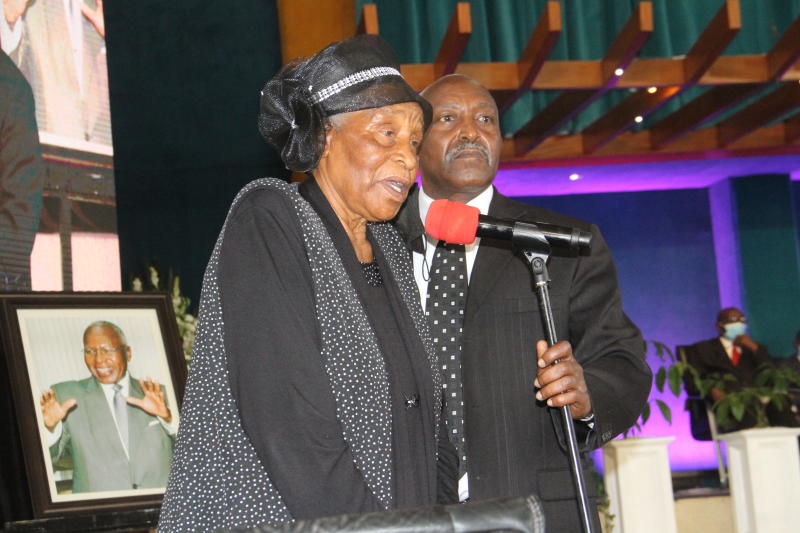 Nyachae was a benevolent man. His benevolence can be seen in the many people for who he opened academic doors.
Nyachae, the man who single-handedly educated hundreds of youth, was also on show. For a man raised in the privilege not many could even dream of in colonial Kenya, he sought to give many a leg up.
Dr Matiang'i, who enjoyed a close relationship with him, said Nyachae, almost without any help, ensured Kisii was not left as far behind in education and development.
"I never factored in my life that such a day would come. For about 20 years, I have walked and worked closely with the late Simeon Nyachae. I am not alone; there are hundreds of young people from all walks of life who would probably be nothing today had it not been for the personal intervention of Mzee Nyachae," he said, adding: "I, frankly speaking, do not think there is anyone I know who has educated the number of people Nyachae has".
The CS said he had modelled his career in the public service after Nyachae. "I had a unique opportunity of having a front-row seat in his life and seeing him in action. I'm still using Mzee Nyachae's notes even as I serve in the Cabinet, and I will cling on to them."
The overarching message of the service yesterday was that although Nyachae had died, he would live on through his influence on some of the current leaders. They include ANC leader Musalia Mudavadi, Wiper's leader Kalonzo Musyoka and Mr Kagwe.
ODM leader Raila Odinga's relationship with Nyachae went further. When Raila's father, Jaramogi Oginga Odinga, was a teacher at Maseno School in the 1950s, the Odinga family hosted Nyachae's brother in their home. Jaramogi would later play a role in kick-starting Nyachae's career in the civil service when he promoted him from a junior officer in the Provincial Administration.
"He has helped so many Kenyans acquire education. When you go to the US, you will find Kenyans who are beneficiaries of Nyachae's generosity" Raila said.
However, Raila said Nyachae was unhappy with him for 'betraying' him (Nyachae) to endorse Mwai Kibaki ahead of the 2002 elections.
They, however, maintained their friendship through Nyachae's retirement since 2007. Nyachae died on February 1, aged 88, and will be buried in Nyosia, Kisii County. The funeral service will be held at Gusii Stadium, followed by a private burial at his home.
His family confirmed he was diagnosed with cancer in 2012 and received treatment in Kenya and the UK.
Nyachae joined politics in 1992 and served as Nyaribari Chache MP for 15 years. He contested the presidency in 2002 on a Ford-Kenya ticket. He finished third after Kibaki and Uhuru Kenyatta.
Mudavadi said Nyachae was like an elder brother to him when they served in Moi's cabinet. Musalia was Finance Minister while Nyachae headed the Agriculture docket. The two would swap ministries following the 1997 election. "He is someone who stood for merit. He did not believe in short cuts. The integrity of the public service was at its highest during Nyachae's tenure," Mudavadi said.
Mr Kalonzo, who was Minister for Foreign Affairs between 1993 and 1997, said Nyachae was like a guiding light in the Executive. "We would take time to listen to him in Cabinet. It was so clear that even though he was Minister for Agriculture, he had that all-round experience. His contribution was very deep and very well researched," said Kalonzo.
Council of Governors chairman Martin Wambora said: "Nyachae's legacy will continue to be projected from those he mentored."