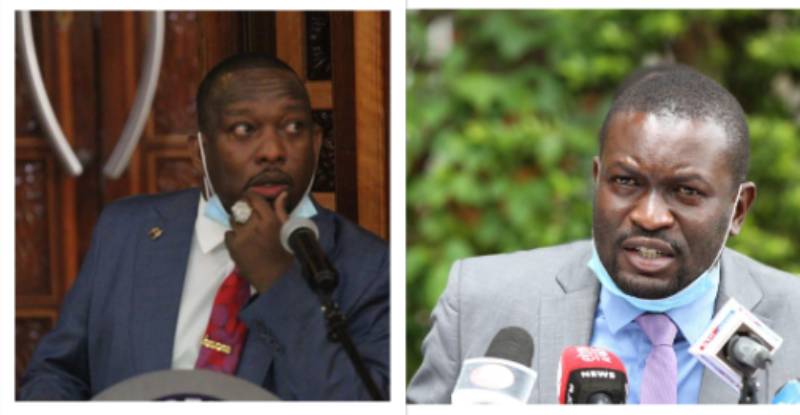 ODM Secretary General Edwin Sifuna has called upon the government to investigate allegations by former Nairobi Governor Mike Sonko that he played a part in the chaotic 2017 post-election protests.
In a statement to the newsrooms on Monday, Sifuna said that ODM Party had been depicted as "violent and purveyors of anarchy" across mainstream and social media, a narrative they have tried to change from time to time.
"This view has been perpetuated despite our sincere efforts to communicate the truth - that it is the enemies of ODM that have authored, planned and executed these dirty schemes," he said.
Read More
Sifuna's remarks follow admissions by Sonko on how he participated in causing mayhem as ODM demonstrated in the streets of Nairobi in 2017.
"The recent confession by the disgraced former Governor of Nairobi, Mike Sonko that he participated in stage managing violence and destruction of property that he and his co-conspirators then pinned on ODM, is welcome but amounts to too little too late," Sifuna said.
Yesterday, Sonko at a rally in Dagoretti South, Nairobi, alleged that he was part of those involved in the hooliganism witnessed in Nairobi as ODM supporters protested.
"2017, wakati kulikuwa na maandamano ya ODM, mimi na Kibicho na deep state wale wengine na system tulienda kuprint t-shirts za ODM, tukanunua magari second hand showroom tukazichoma Ngong' Road ndio ionekane ni ODM, kumbe ni deep state na system," he said.
In translation: "In 2017, during ODM demonstrations, me, Kibicho and the deep state printed ODM t-shirts and bought second-hand vehicles from showrooms which we burned in Ngong Road, so that people would think it was ODM (supporters)."
The Interior PS Karanja Kibicho, who Sonko mentioned to have allegedly been involved, has since presented himself at DCI headquarters to record a statement over the claims.
ODM now wants the matter to be investigated noting that as a party they are committed to civility in competition for power, the rule of law, and peaceful settlement of differences and disputes.
"ODM demands a full inquiry into the matter so as to establish the motives and extent of these mafia-like covert criminal acts as well as all persons and institutions involved," Sifuna added.