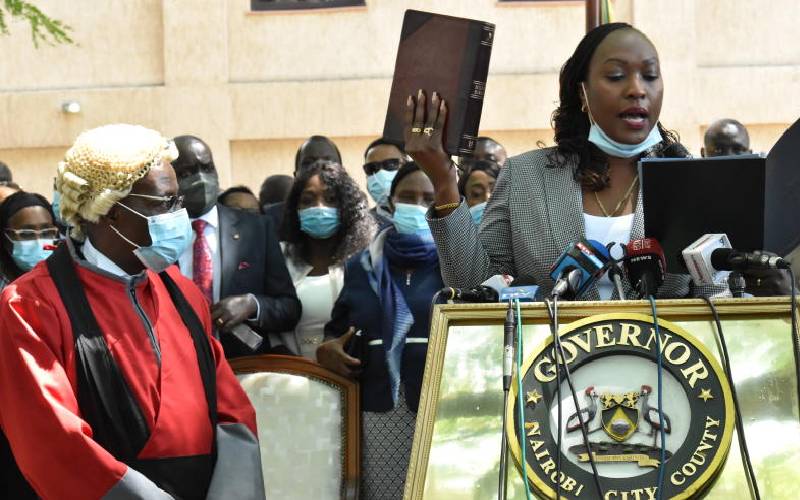 Newly-sworn in Nairobi Deputy Governor Ann Kananu will have to wait for sometime before she becomes a substantive Nairobi governor after the High Court on Monday issued orders stopping her swearing-in.
The orders to block Kananu's swearing-in and subsequent assumption of office have been obtained by the Law Society of Kenya (LSK), which condemned the whole process of Kananu's vetting and assumption of the office, terming it unconstitutional.
LSK also wants her swearing-in as deputy governor which took place last Friday to be put on hold until the case is heard and determined.
The society in its suit papers said the hurried swearing-in of Kananu into office is illegal and an attempt to stop Nairobi residents from electing a governor of their choice as required by law.
Read More
The orders were granted by Justice Anthony Mrima. The case will be heard on January 28.
Kananu was handed the city's instruments of power by Nairobi Speaker Benson Mutura at an event held in Nairobi on Monday morning.
In her acceptance speech, Kananu said she was not a politician, and that she would strive to boost collaboration in the region.
"I am not a politician, and I will not start being one. I'm focused on bringing a new spirit of cooperation, collaboration, partnership and mutual respect with all organs of government. Nairobi is now back on course," she said.
She pledged to make county appointments within two weeks even as the Assumption of Office Committee worked on her swearing-in.
"We have the assumption (of the Office of Governor) Committee that is working on the process (for her to be sworn in). We will communicate," she added.
The office of Nairobi governor became vacant after the previous holder Mike Sonko was impeached last December.