After 17 years of service, Chief Justice David Maraga exits the highest seat in the Judiciary as one of the most confrontational chief justices the country has ever seen.
His last years in office were characterised by a staring contest between himself and the Executive, leaving the previously pro-presidency office in an awkward position.
Yesterday, in an interview with The Standard, Maraga talked of some of the key moments during his tenure and why he, vocally and openly, took on the Executive on various matters and why he believes President Uhuru Kenyatta should be impeached.
Just before the interview, Maraga walked around the backyard of his house in a pensive mood. He had just seen off other guests and was, understandably, taking some time off the busy morning to perhaps prepare for the next one.
Read More
He walked over to a table and picked a ripe banana and ate it all in a few bites, He then took a saucer put a few pieces of arrow roots and a slice of watermelon on it and snacked away. With him were his first-born daughter, wife and a cheeky Japanese spritz running around in circles and sniffing around his black shoes. He then pulled a white plastic chair, the kind that graces many public functions, and sat next to his wife, Yucabeth.
At that exact moment, Maraga looked like a different man from the one weighed down by official attire when he, and other members of the Supreme Court bench, made what turned out to be the biggest decision of his life, the 2017 annulment of the presidential election.
Challenges of the job
"It feels strange," he says. "In the past two days or so I have woken up early, read the newspapers and not known what to do with myself. I feel like a weight has been lifted off my shoulder."
The Maraga years have been sober. But as a man, a father and a husband, he has had his moments of weakness too. Moments of great challenge that have called on his character, resolve and stubbornness.
One such moment was in 2017, when the court he headed was given the burden of determining the validity of a highly contested election. In 2017, Maraga and his six-judge bench had overturned an election, setting a precedent on the continent. A good precedent for some, a bad one for others.
With little at stake now, Maraga looks back at events leading to the decision.
"We heard the case and decided," he says.
Unknown to him though, the decision to annul the election had already leaked to individuals close to the Executive at that time led by President Uhuru Kenyatta.
"Just before delivering our verdict, a call came to me," he says.
"Chief Justice what is this I hear," the person on the other end of the line said.
"What have you heard? I am sorry I cannot discuss a decision we are yet to make," Maraga replied before proceeding to hang up and switching off his phone.
He went back online after reading the decision.
Other members of the bench also got calls after the decision.
"But we were confident the decision we made was the right one," he says.
This, according to many observers was the beginning of the 'revisiting of the Judiciary' promise made by a visibly irked president to his supporters along a busy Nairobi road.
"Given a chance I would do it all again. I do not regret the decision that we took," he says.
"I swore to serve Kenyans without fear or favour. Serving Kenyans means you decide the case on evidence presented and applying relevant law. That is what we did."
Personally, he believes the decision taken by the court was important for the nation.
"We always have contested elections in Kenya. The decision freed future Supreme Courts to be bold in doing what is right when their time comes," Maraga says.
But there were unintended consequences to the decision that was made.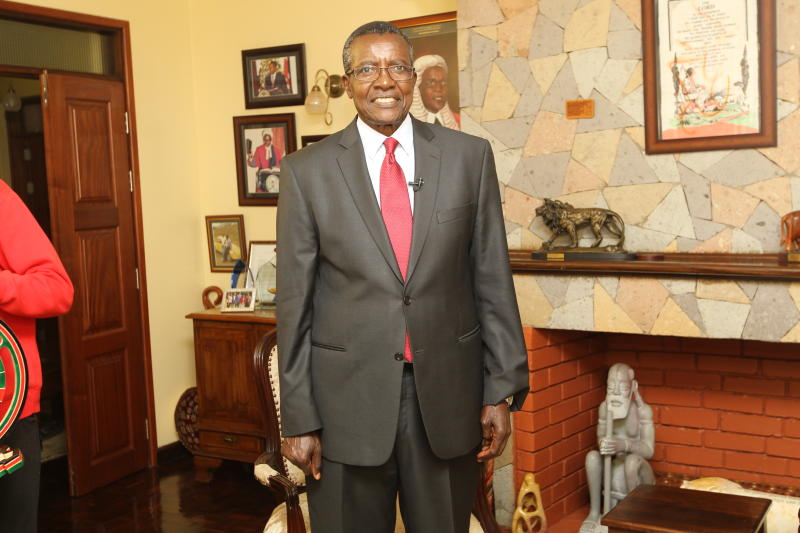 One of them, a string of disregarded court orders by the Executive and what Maraga has previously termed as 'mischief' by the Executive.
Mischief that has included, according to the former CJ, the politics of patronage in the appointment of judges by the Executive.
"The court decides cases against the Executive and the Legislature and they are not happy with that and the quietly frustrate the Judiciary," he says.
The frustration for him has come from observing the highest offices in the land failing to obey court decisions. Decisions such as the appointment of some 41 judges recommended by the Judicial Service Commission.
"We are a constitutional democracy governed by the rule of law. Sadly though, the president, who derives his power from the very constitution he is violating, is not leading by example. If he was in another region he would be impeached because he has disregarded the constitution he swore to defend."
Maraga also says that the government itself is leading in disobeying the rule of law.
"We have over Sh1 billion worth of judgements against the government. None of this has been paid to the aggrieved parties," he says. "When you get Cabinet secretaries disobeying court orders, it sets a dangerous precedent of an 'utado?' attitude."
Fighting off forces
When he got appointed to the Judiciary in 2003 from private practice, Maraga had no idea the trajectory that his career would take. From Nakuru he served in Mombasa, Nakuru and Nairobi. The seat he occupied for four years was not on his to-do list.
But through the years, as his fireplace bears testament, he bagged several awards for exemplary service. Yet when the Chief Justice's position fell vacant following the sudden serving of notice by his predecessor Dr Willy Mutunga, he thought applying for the vacancy was out of his league.
"I believed the seat was meant for other people. But I applied, nevertheless," he says.
Appointed alongside him was his Deputy, Lady Justice Philomena Mwilu whose tenure has on several occasions seemed to challenge the very tenets that Maraga held onto. At departure, he has left a deputy fighting off forces determined to stop her in the position bestowed upon her by law.
Maraga, has stood by her leaving no space for grey areas on who should discharge his former duties between now and the appointment of a substantive office holder. At departure, he has left a deputy battling cases in court.
"But who do I hand over the office to," he says. "The constitution dictates that upon retirement I hand over the office to the Deputy Chief Justice. Justice Mwilu remains DCJ."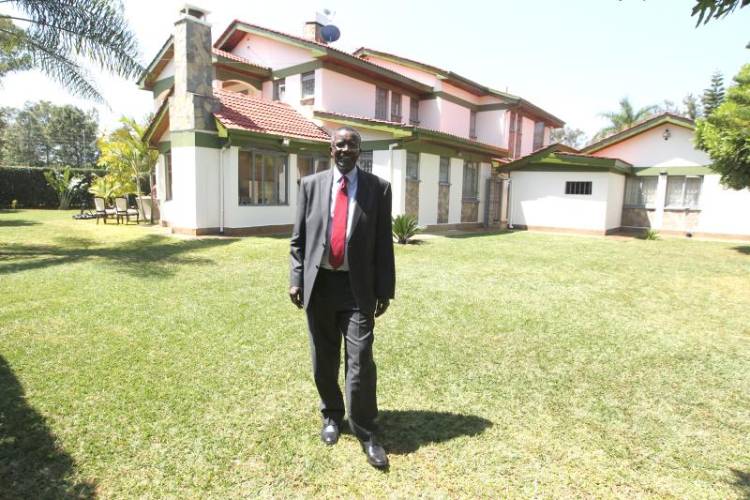 He says Mwilu is entitled to a fair hearing and that condemning her without a hearing would be 'a tragedy.'
"Condemning her without a hearing would create a culture of fear within the Judiciary," Maraga says. "Such a culture is totally unacceptable."
He has fought many battles as CJ and won. There are others he has lost. There are others that he feels, from conversation, which might have resulted in a draw.
"We promised Kenyans that we will clear the backlog of cases in a few years. Our plan was to keep dealing with them until we have the oldest case before the courts being 3 years," he says. "We promised a world class judicial system."
But this did not come to pass.
"We couldn't manage this. Our judges to population ratio is very low. Unless we hire more officers, this will remain a mirage."
Then there was the war on cartels.
He took over the office at the time when the courts ranked as one of the most corrupt places in the country. With a big enough budget, a case file could disappear within the filing rooms at Milimani, a case could be postponed to perpetuity, or a judge would be bought to offer a friendly judgement.
His predecessor, Dr Mutunga talked of these cartels that had turned the courts into a market place for justice and service. Maraga himself has talked of them. His successor, whoever it is, will certainly talk of them.
"When you get the job you realise cartels are not people standing somewhere you can go and see. They are invisible. But you interact with them when things are not going right. When you come to know strings are being pulled from elsewhere," he says.
The biggest of them all, he says, were court clerks stealing money from the Judiciary.
"We stopped them," Maraga says.
In the grand scheme of things cartels within the judicial system transcend the clerks who walk away with money at the end of the day. They transcend employees who lie that internal modes of payment have failed to compel you to make payment outside official channels.
In a country such as Kenya where justice is perceived to follow he to whom the deepest of pockets belong, there are other members of these cabal that Maraga's tenure ought to have fought.
"Maybe you can clarify this question further," he says when asked about the bigger cartels. "We made our processes very clear and held open days where the public brought up many issues that they faced."
He says they investigated many cases and took appropriate actions some of which touched on judiciary staff as well.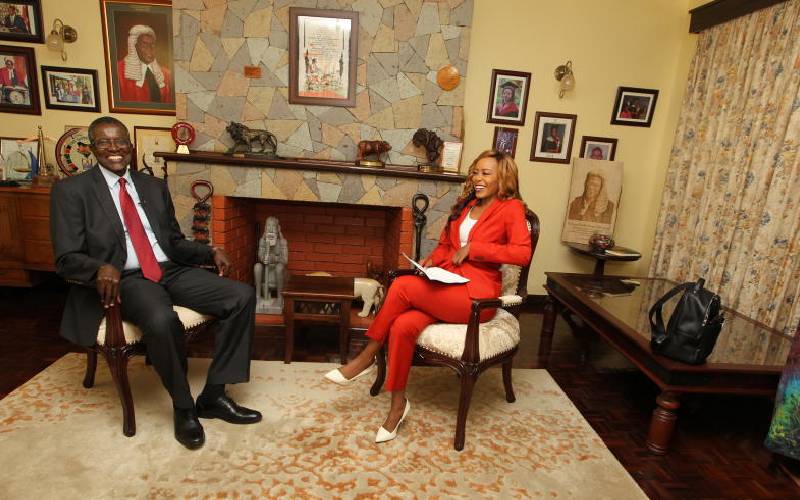 Days into his retirement, Maraga cuts the image of a man at peace.
A man walking away from a public life with few grudges and his reputation still in place. Cracks might have appeared during the four high-pressure years he was CJ.
He however insists that even with the pressure of the job, he has left behind a legacy he is proud of.
"We greatly reduced the case backlog and embarked on a taking justice closer to the people through the putting up of more court houses at the county and sub county levels," he says. "We also embarked on an ambitious technology project whose fruits were visible during these times when sessions are being held remotely."
His early retirement days have been punctuated by interviews, speeches at public functions, more media appearances and the rediscovering of the simple joy of picking a random book off a bookshelf and reading it. Often, the reading includes brushing up on the Bible.
"Do you read the Bible," Maraga asked towards the end of the interview.
"Yes," I answered, and immediately my knowledge of the Bible seemed to fly away to the high heavens, hoping the conversation would end there with some friendly fatherly advise.
"Do you know Naboth," he persisted.
Blank stare. Hesitation. Crickets.
For Maraga, the Judiciary should be a place where people like the Biblical Naboth, dispossessed by a greedy king go to for justice and that once they do this, the laws of any land should be capable of putting a king in his place in the protection of a peasant.
"That is how the law should work. That is how our judicial systems should work." "
But what happens when the books have all been read and the excitement over his tenure has died down? What happens when a successor to his office is named? What happens when the BBI debate takes centre stage again and the country moves on? What happens when he becomes a memory to a select few who will remember his tenure? What happens when the phones stop ringing? When the delegations stop camping at his gate? When he wakes up with no missed calls or telegram messages to respond to as often happens when long serving public offices retire.
"I will rest," he says.
Public bench
The last time he went on a proper break was in 2010, when, after taking his two children abroad for studies, he stretched out on a public bench and fell asleep. For hours.
"That kind of sleep is coming back to me now," he says. "But I have been warned not to shut down my routine suddenly. I need to transition into my new life."
As he struggles to make sense of his new life, he has not completely closed the door on public service.
"I can still serve in a capacity that I think will be a fit for me," he says.
At 70 years old, some ambition still burns in the heart and mind of the former CJ. None of it though, is inclined towards politics.
"We can't all be politicians…politics has never been my cup of tea."