Former PS Thugge to testify against Rotich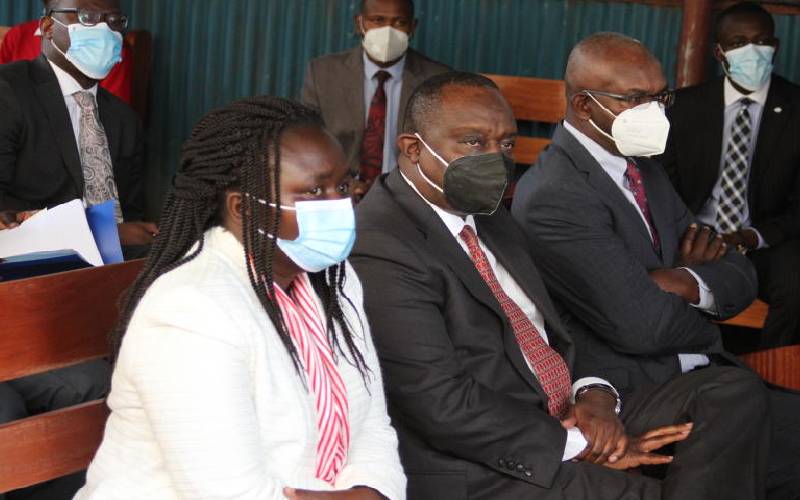 Former Treasury Principal Secretary Kamau Thugge will testify against his former boss Henry Rotich in the Sh63 billion Kimwarer and Arror dams case.
In a new twist in the graft case, Director of Public Prosecutions Noordin Haji informed the court that he had decided to drop Mr Thugge's charges and in return, the former PS would now be a State witness.
Right before the case started, Mr Rotich and Thugge sat together, having a hearty chat.
When anti-corruption magistrate Douglas Ogoti sat down, they were called one after another, with former Treasury Cabinet Secretary Rotich going first as the first accused and Thugge the second accused.
There was a third person seated right next to them, former Principal Secretary Susan Koech.
In the end, Thugge's and Koech's statuses changed, from accused persons to witnesses on whom the State will rely to argue out its case against Rotich and the other 23 suspects who are facing various corruption charges.
"I have been instructed by the DPP to make an application in respect to accused two, Kamau Thugge, and three, Susan Koech, to make an application as to the charges against the two marked as withdrawn.
"Your honour, I wish to go on record that the two shall be treated as prosecution witnesses against the rest of accused persons," said Senior Assistant Director of Public Prosecutions Alexander Muteti.
At the same time, the DPP explained that Kenya had sought mutual assistance from Italy in its hunt for CMC Di Ravenna directors to come face charges in Kenya.
According to Mr Muteti, Covid-19 surge in Italy had made it impossible for Kenya to pursue the firm's directors and have them extradited.
"We have placed mutual legal assistance to the government of Italy regarding accused numbers 8 to 26. In the next month, we will be able to report progress on those accused persons. In the event we should be ready to proceed," Muteti said.
Rotich had moved to the High Court last year seeking to quash charges against him.
In court papers filed before the High Court, he claims he was isolated, adding that he is jobless and no one wants to even give him an ear for a consultancy.
"This selective approach to the law applicable and expert advice is indicative of objectivity, unreasonableness and illegality," he says in an affidavit.
Sacrificial lamb
Rotich claims he was the sacrificial lamb in the whole saga. In his papers filed by lawyer Kamunya Ng'arua, the former CS alleges that despite his then Environment colleague Judy Wakhungu requesting the Treasury to borrow funds to finance the two projects and Kerio Valley Development Agency directors approving them, they went scot-free and he was left to hang.
The State said Rotich had a case to answer for his actions or inaction.
He says he had no role in the procurement process and had no powers to direct the Environment ministry or the Kerio Valley Development Agency.
Supermodel gets plum tourism job
Naomi Campbell has been staying at a luxurious resort in Malindi owned by her ex-boyfriend billionaire Flavio Briatore since December