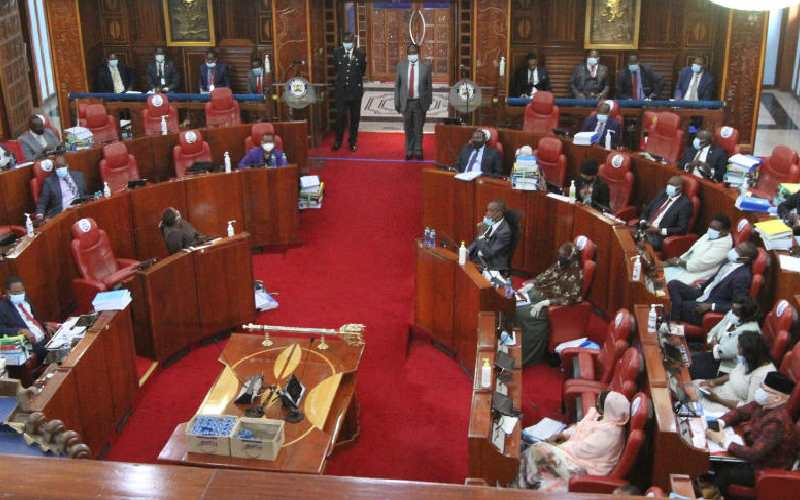 Joel Ngubitu, a Senate Serjeant-at-Arms, is recuperating at Nairobi Hospital after shooting himself in the thigh while scaring away mobile phone thieves in Thika, Kiambu County.
According to the police report, Ngubitu shot himself on Monday morning as he tried to scare away two thugs who had snatched his mobile phone while in a traffic jam at Bidco.
Ngubitu said he accidentally shot himself in the thigh as he shot in the air to scare away thugs who had snatched his phone.
"Ngubitu was driving from Meru when two thugs on a motorbike snatched his phone while in a traffic jam at Bidco area, prompting him to shoot in the air and in the process shot himself," said police.
The Senate official reported the 2am incident to the police who rushed to the Nairobi Hospital where he is admitted.
"Officers from Kilimani Police Station rushed to the hospital and found the Senate's Chief Serjeant-at-Arms."
Ngubitu is in stable condition and his firearm was reportedly taken by his wife, a KDF officer for safe custody.
In another incident, a police officer attached to Garissa Police Station shot and killed himself in an unclear circumstance.
Constable Peter Kiprono shot himself in the chin using a G-3 rifle issued to him for official duties.
Kiprono was rushed to Medina Diagnostic Hospital in Garissa Town but succumbed to the injuries while undergoing treatment.