Maraga condoles with former CJ Gicheru's family as burial set for Thursday
Plans for the burial of retired Chief Justice Evan Gicheru are in full gear.
The retired CJ's family informed outgoing Chief Justice David Maraga and Attorney General Paul Kihara that the late CJ Gicheru will be buried on Thursday, December 31.
CJ Maraga and AG Kihara were among the first mourners to condole with the family of the retired CJ Gicheru following his demise today, paying a visit to his bereaved family at their home in Karen, Nairobi.
Maraga broke the news of Gicheru's demise Saturday morning. Later, while visiting Gicheru's family, he revealed that he felt it was his responsibility to make the announcement.
The CJ further revealed that discussions involving the late Gicheru's family and the government had commenced, to ensure the late Gicheru is accorded a decent burial considering he was a long-serving civil servant.
"Justice Gicheru was a long-serving civil servant. He first worked as a state counsel, before joining the judiciary, where he rose through the ranks. This morning I called Mr. Joseph Kinyua, who later called Kihara. I also called the two speakers, and we have started arrangements for the funeral of the late Gicheru. We are waiting for communication from the family to continue with the rest of the arrangements," said Maraga.
But the visit also provided Maraga the opportunity to eulogise the late Gicheru.
Maraga recalled getting the career boost that propelled him to become Chief Justice when Gicheru, then CJ, appointed him and AG Kihara as High Court judges. He also recalled looking up to the late Gicheru and feeling impressed when Gicheru complimented him on his work.
In eulogizing Gicheru, Maraga praised his work ethic, stating, "There were a lot of pressure, but he withstood it. We all knew that. Justice Gicheru was firm and believed in doing what was right. He stood up to the executive. As Chief Justice, he fought for the independence of the judiciary."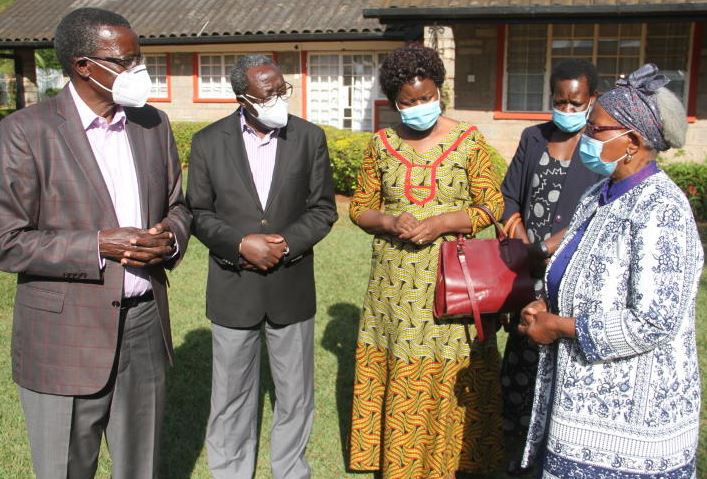 The exiting CJ also praised the late Gicheru as an honest man and one whose integrity was unquestionable, recalling that he set an example for CJ Mutunga and himself by never interfering in cases, except to ensure judges did not delay with cases.
Maraga recalled visiting the late Gicheru in his last days as he ailed, telling mourners that at the time, Gicheru could not even recognize him. He hailed Gicheru's widow and family for taking good care of the retired CJ, even as he approached the end of his life.
Gicheru's elder daughter, Florence, told mourners who joined them that the family's only solace was that their father died peacefully.