Somalia cuts ties with Nairobi as fallout deepens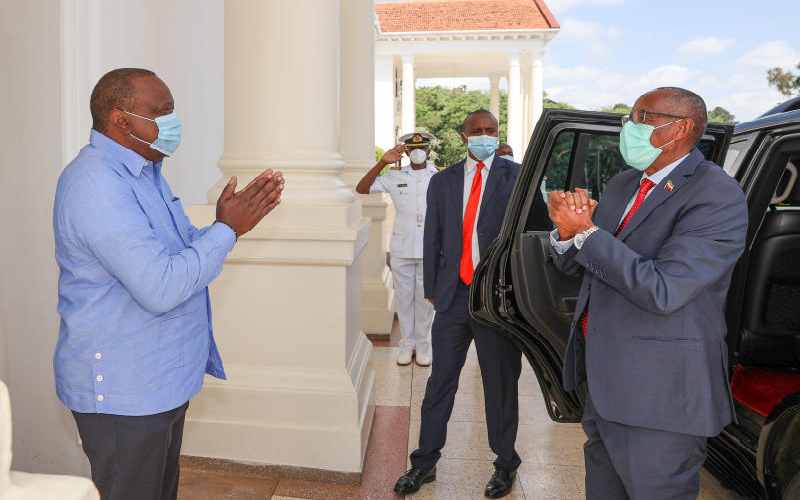 Somalia's sudden decision to sever ties with Nairobi has further complicated relations between the two neighbouring states that have been spurring for the better part of the year over a number of issues.
Although the decision by Mogadishu was sudden, it was hardly unexpected as both nations continue to spur in the ring of international diplomacy over matters that seem important to one state, yet trivial to the other.
This latest outburst is the escalation of events between the two neighbours that are so interlinked that it is hard to see who will gain and who will lose in this round of posturing.
The announcement from Villa Somalia recalling its diplomats came hours after President Uhuru Kenyatta hosted self-declared Somaliland State President Muse Bihi Abdi at State House, Nairobi.
President Abdi's state visit appeared to have angered the administration of President Mohamed Abdullahi Mohamed 'Farmaajo', which has in the recent past accused Nairobi of domestic interference.
Somalia escalated its row with Kenya on December 7 by stopping visa on arrival for Kenyans from December 13, 2020.
This decision came just days after Mogadishu ordered Kenya's Ambassador Lucas Tumbo back home for consultations and recalled its diplomat Maxamed Axmed Nuur Tarzan.
The two neighbours have an ongoing maritime border dispute over the lucrative Indian Ocean oil and gas reserves at the International Court of Justice (ICJ). Somalia has also accused Kenya of harbouring a fugitive Jubaland minister who was arrested by Mogadishu officials for "serious crimes" but escaped prison in January.
Yesterday, Somalia announced it was severing diplomatic ties with Kenya. In a televised speech made at 1.40am, Mogadishu time, Somalia Information Minister Osman Abukar Dubbe issued a seven-day ultimatum to Kenyan diplomats to leave the country and recalled it Nairobi envoys.
"Somalia wants all its diplomats to go back to Mogadishu and Kenyan diplomats have seven days to leave the country," Dubbe announced on state-run media- SNTV.
"The Somali government, based on its national sovereignty guaranteed by international law and order, and fulfilling its constitutional duty to safeguard the nationhood, unity and stability of the country, has decided to sever diplomatic relations with the Kenyan government," Dube said.
Protest letter
Mogadishu's latest move comes in the wake of a protest letter against Kenya to Sudanese Prime Minister Abdalla Hamdok, who is also chair of the regional bloc Intergovernmental Authority on Development (Igad), accusing Kenya of meddling in the country's internal affairs.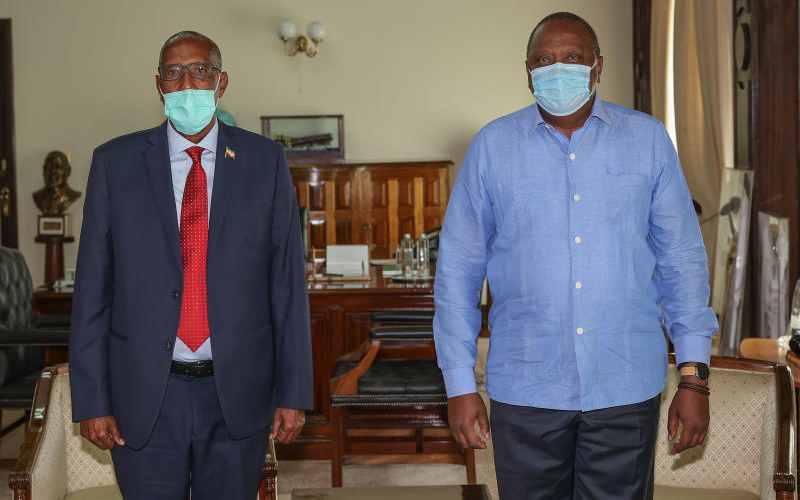 President Kenyatta's hosting of President Abdi, the leader of the breakaway region in northern Somalia, muddied the waters further as the two leaders announced they were discussing matters of "mutual interests".
Mogadishu has long accused Nairobi of fuelling Somaliland's breakaway attempt and promoting President Abdi's government internationally, a move that Mogadishu believes greatly undermines its statehood and its stance on the breakaway republic.
In a statement released yesterday, State House confirmed that the talks between President Kenyatta and his Somaliland counterpart yielded in the agreement to opening a consulate in Hargeisa, the Capital of Somaliland by the end of March 2021, another move that may further complicate relations between Kenya and Somalia.
On Monday, Somalia's Foreign Affairs minister took to Twitter as he weighed in on the matter.
"Somaliland is a federal state of Somalia and has no legitimacy to directly deal with Kenya, especially now that we have severed our diplomatic relations," he posted.
"Muse Bihi's visit to Nairobi undermines sovereignty of Somalia and must be treated with the contempt it deserves."
This attracted a rebuttal from Somaliland through a tweet: "The irrelevant statement from the failed administration of Somalia, shows nothing but only failure and irresponsibility." Abdi's government said that Somaliland and Kenya have made the rightful decision to strengthen their mutual relationship.
Igad is expected to host an extra-ordinary summit at the request of Somalia after Mogadishu sent a letter against Kenya over interference in Somalia elections.
Key ally
But Kenya insists the agenda in the Djibouti meeting should be Ethiopia and not Somalia.
Relations between Somalia's central government and the southern state of Jubaland, which borders Kenya, are tense as authorities accuse Mogadishu of seeking to remove President Ahmed Madobe and put a loyalist in power.
Madobe is a key ally of Kenya, which sees Jubaland as a buffer against Al Shaabab fighters who have staged several bloody attacks across the border.
Government Spokesperson Cyrus Oguna said a committee had been formed to quell the rising tensions between the two states.
"There is a lot of commonality between the two countries. Anything that is going to undermine that must be addressed," Oguna said at a press conference on Tuesday.
Kenya has hosted Somali nationals in refugee camps since 1991. Nairobi, through the African Mission in Somalia (Amisom), is also actively involved in pacifying regions of the country from the threats of an internal insurgency.
Somalia also remains a large trading partner to Kenya.
Among the sectors to be affected are the miraa and hospitality sectors. Nyambene Miraa Traders Association (Nyamita) yesterday distanced itself from Abdi's visit.
Nyamita Secretary General Kimathi Munjuri said they are not happy with the way things have turned out between Nairobi and Mogadishu.