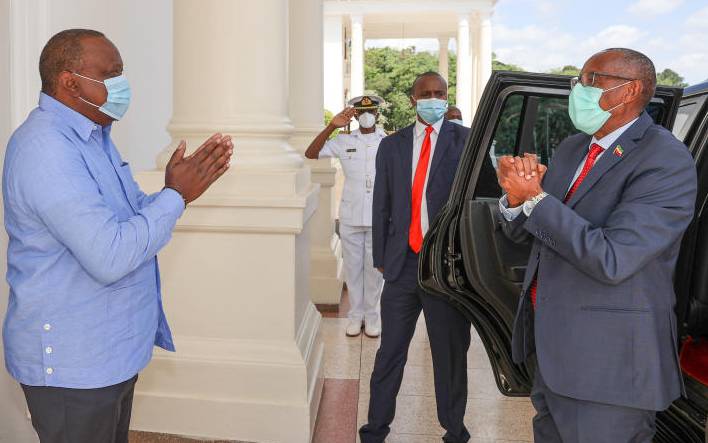 Kenya has firmed deals with Somaliland just hours after Somalia severed relations with Nairobi and gave diplomats seven days to leave the country.
Somaliland's President Muse Bihi is visiting Kenya and has held talks with President Uhuru Kenyatta at State House Nairobi.
The two leaders sent a joint communique to the press on Tuesday evening, reaffirming their drive see the new envisaged cooperation blossom. They stated that Kenya and Somaliland share fundamental tenets of socio-economic development, which they are committed to harnessing for the interest of the people.
"They noted with deep satisfaction that the cooperation between Kenya and Somaliland lay on a foundation of shared values and principles aimed at fostering sustainable peace, stability, sustained growth, and shared prosperity," their statement read in part.
Adding, "…the two leaders acknowledged Somaliland has over the years remained peaceful and stable, owing to a commitment to democratic ideals and the establishment of strong governance institutions."
They revealed that cooperation is not only geared towards economic development but also sustaining the security in the Horn of Africa, currently targeted by the Al-Shabaab militia.
The targets
The cooperation seeks to enhance engagements by ensuring people-to-people relations, trade and investment and promoting training and capacity building. They intend to pursue cooperation in various sectors like education, agriculture, transport, livestock business and sharing information to combat terrorism.
Uhuru and Bihi have set timelines to roll out the process with setting up consulates in Hargeisa and Nairobi being a priority.
"Kenya to open its Consulate in Hargeisa by end of March 2021. Somaliland would also upgrade its Liaison Office in Nairobi within the same timeframe. Kenya Airways and other Kenyan airlines to commence direct flights between Nairobi and Hargeisa by end of March 2021," the state.
Together with this is a directive that government officials on the pre-determined list who will be travelling to Kenya from Somaliland will apply for their visas by end of March 2021. The cooperation will encompass the exchange programmes for students, nurses, doctors and other professionals from key sectors.
Kenya risks sinking further its wobbly relationship with Somalia, that has accused it of interfering with her internal matters.
This is after Somalia Minister of Information Osman Abukar Dubbe made the announcement at a state-run SNTV at 1:40 am on Monday, ordering Kenyan diplomats to vacate Mogadishu in the next seven days, and likewise, recalling Somali diplomats from Nairobi.
''Somalia wants all its diplomats to go back to Mogadishu and Kenyan diplomats have 7 days to leave the country,'' he stated.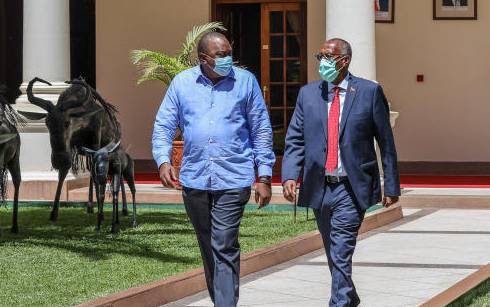 Kenya reaching out
Somalia has accused Kenya of overtly interfering with her internal affair and filed a suit before the Chair of Intergovernmental Authority on Development (IGAD) Abdallah Hamdok. This was immediately after President Bihi arrived in Kenya on December 13. To this effect, a summit has been slated for December 20 in Djibouti to hear the case.
Government Spokesperson Col rtd Cyrus Oguna on Tuesday told the press that the country was eyeing a diplomatic solution to the problem through a committee.
Oguna said a lot is at stake due to the wrangles, such as handling of over 2,000 refugees in Daadab and Hagadera camps and maintaining regional peace.
He said, "The issues to do with diplomacy and international relations work on the principle of scratch my back I scratch your back, and as a country, you have been kind and accommodative."
"There is a committee that has been put in place to be able to look into the issues that are coming between these two neighbouring countries that have a lot of history between the two of them."