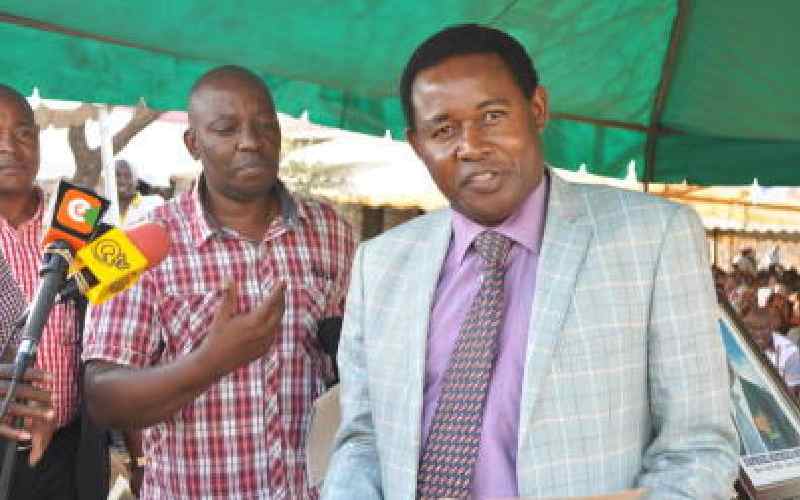 For Machakos Senator Boniface Kabaka, what started as a lonesome drive to an apartment in Nairobi has now turned into an epic fight for his life after he fell seriously ill.
Mystery surrounds what happened between him and a woman he was with at the apartment, and who is currently in police custody.
It all started last Thursday afternoon when Kabaka drove himself to the house in the upmarket Kilimani estate. He was unaccompanied - no bodyguard and no driver.
Police investigators told a Nairobi court yesterday that the senator checked in at 3Dee Apartment at 2pm and booked apartment No 306. He is said to have looked normal, with no sign of illness.
One hour later, investigators claimed he was joined by a woman, Esther Nthenya Muli, a secondary school teacher from Wote, Makueni County.
"From the apartment room, they ordered drinks and food through telephone from the nearby 3Dee Restaurant, which were brought and served by the apartment's employees," said investigating officer Jason Matete.
Evening out
What seemed to be a nice evening out between Kabaka and Muli, however, went wrong at night when the senator suddenly fell sick, collapsed and had to be taken to Nairobi Hospital, where he is still admitted at the facility's intensive care unit.
Only the two know what transpired between them from Thursday at 3pm when they ordered a meal, and Friday morning when he was taken to hospital in an ambulance.
But what is clear is that the senator is fighting for his life in ICU, while the woman he was with is facing the prospect of being slapped with the charge of a serious crime; attempted murder.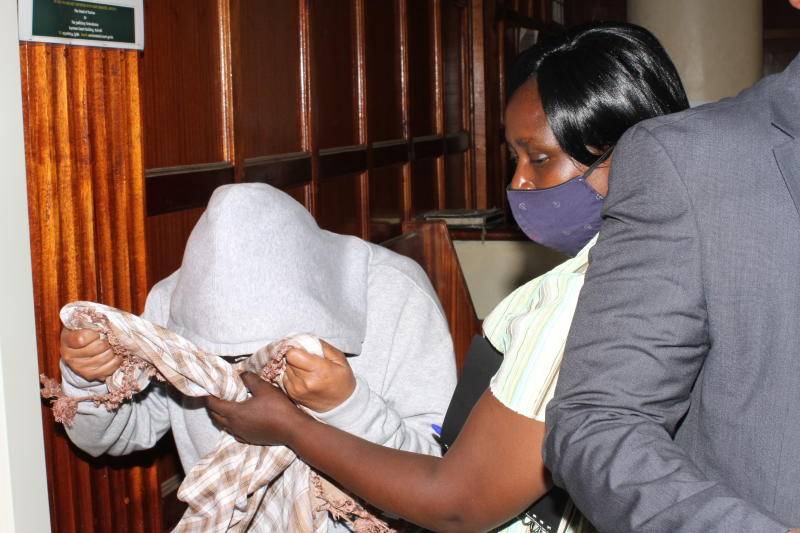 Yesterday, police filed and obtained orders to detain Muli for seven days at Kilimani Police Station to complete investigations into the senator's sudden illness while in her company.
Nairobi Senior Resident Magistrate David Ndungi ruled that the prosecution had provided sufficient reasons to detain Muli so they could complete investigations.
"The matter is of public interest considering the victim is a senator. It is necessary that the police are given ample time to complete investigations into the allegations of attempted murder, which is a serious crime. The suspect may abscond if released on bail," ruled Ndungi.
The investigating officer said they wanted Muli detained to allow them to monitor the progress of the senator, who is still admitted in hospital, and record statements from witnesses before charging her.
Matete, in his affidavit to support the application, swore that Muli was arrested on Friday following the incident that took place at 3Dee Apartments along Elgeyo-Marakwet Road in Kilimani within Nairobi County.
According to Matete, preliminary investigations had established that Kabaka drove himself to 3Dee Apartments at around 2pm on Thursday December 3, and booked apartment No 306 while appearing normal.
He swore that shortly past midnight on Thursday, the senator started vomiting, collapsed and lost consciousness while still with Muli in the apartment.
He stated that the woman informed the apartment's management of the incident on Friday morning. They then organised for an ambulance to take him to Nairobi Hospital.
"The senator was taken to the intensive care unit and a surgery performed to alleviate his situation, but he is still unconscious and in serious condition. It is in the interests of justice that the suspect be detained owing to the nature of offence we intend to charge her with," said Matete.
He stated that they needed the seven days to record statements from other witnesses, retrieve and review CCTV footage from the apartment, and review the government chemist's report on the submitted samples of food, drinks and vomit.
Muli had, however, through her lawyer, opposed the application to detain her, arguing that she is a teacher and that the detention would interfere with her work.
Her lawyer stated that she is not a flight risk and has a fixed home in Wote Town, and that she is willing to co-operate and make herself available when required by the investigating officer or court. But the magistrate ruled that most school children are currently at home due to Covid-19 and that she will not suffer prejudice if detained for seven days.
"It will be difficult for the investigating officer to secure the scene of crime since it is a public place, and therefore she may interfere with the scene and witnesses. It is also necessary to detain the suspect for a while to see if the health of the victim will improve," ruled Ndungi.
Intended charge
Ndungi said the prosecution had complied with the law by disclosing to the suspect the intended charge of attempted murder. He directed that Nthenya be detained at Kilimani Police Station until December 14 when the matter will be mentioned.
However, the statement by the police contradicted that from Senator Kabaka's family who, on Saturday, dismissed claims he collapsed in a woman's house in Nairobi's Kilimani neighbourhood.
A statement released by the family said the senator collapsed while having a drink at a restaurant before calling for an ambulance to take him to Nairobi Hospital.
"The senator collapsed on Thursday while having a drink at a restaurant in Kilimani area, but was still conscious and he requested the management to call for an ambulance to rush him to Nairobi Hospital," read the statement.
The family said the senator is a man of high moral standing whose integrity is above reproach and unimpeachable.