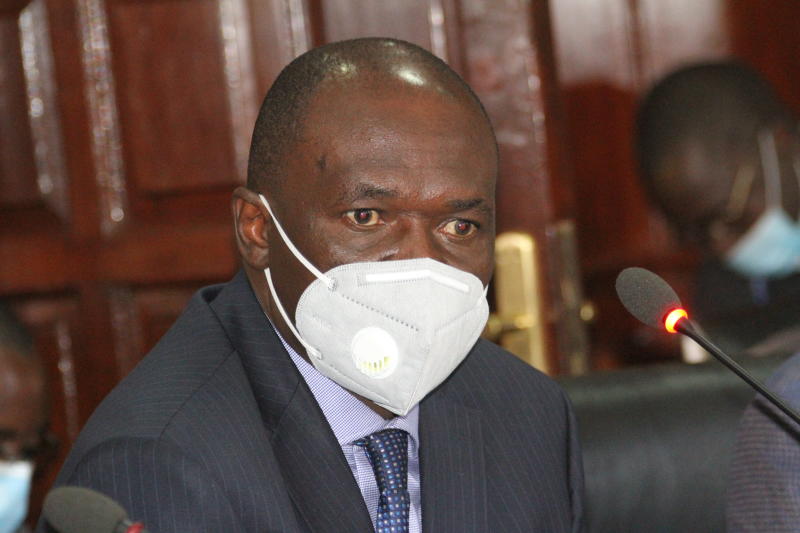 Acting Health Director-General Patrick Amoth was yesterday sucked into the investigations on questionable awarding of multi-billion shilling Covid-19 tenders by Kenya Medical Supplies Agency (Kemsa).
The National Assembly's Public Accounts Committee accused Dr Amoth of using his influence at Afya House to push for select companies to benefit from tenders worth Sh7.8 billion.
Amoth, a familiar face during the Covid-19 briefings at Afya House, was hard-pressed to explain alleged communication with suspended Kenya Medical Supplies Authority CEO Jonah Manjari pushing for tender awards for two companies — Wallabis Ventures Ltd and Roxxy Ventures Ltd.
Kaloleni MP Paul Katana produced a text message that read: "Hi daktari. Please consider this company as per our discussion."
Read More
Katana sought to know the relationship between Amoth and the directors of the two companies, Catherine Wanjiku (Wallabis) and David Munene (Roxxy).
"I know Dr Wanjiku. I worked with her for 14 years but I never pushed to have her company awarded any tenders. In any case, I am neither a director nor a shareholder of that company," Amoth said.
He said his conversations with Manjari were largely about the state of the medical equipment in the battle against the pandemic.
He denied pushing for specific companies to be given contracts even as committee members vowed to verify the authenticity of the text message.
Amoth revealed that individuals thronged Afya House looking for business opportunities.
He told the MPs that any time such requests were made to his office, he directed them to Kemsa because procurement was not part of his mandate.
"What happened there was beyond my control because I was not aware of what was going on. Traders are still making their way to the Health ministry to ask if they can supply testing kits and other medical equipment," said Amoth.
On the donations by Jack Ma Foundation, Amoth said that his role ended with receiving the commodities.
Rough time
And over in the Senate, Shop N' Buy director James Cheluley had a rough time explaining how his two-month-old company had become one of the biggest beneficiaries of the flawed procurement process at Kemsa.
Health Committee chair Abdirahman Hassan led his colleagues in poking holes in the director's evidence, with the consensus being that Cheluley was not the real face of the company
Shop N' Buy Limited was registered on February 14, 2020. It was awarded contracts worth Sh970 million a few weeks later to supply 100,000 pieces of personal protective equipment and 100,000 pieces of KN95 masks.
"I would like to know what history you have. Where is the magic that the company is new yet trusted with billions of shillings?" asked Narok Senator Ledama ole Kina.
Kisumu Senator Fred Outa said: "Stop misleading this committee. You want to tell us that you can just make a phone call abroad and just because it is Cheluley everything is done as you want?"
But Cheluley insisted that he had taken a chance 'just like any other company' and the tender was awarded to him fairly.
"We had a lot of stock (of medical equipment) in our warehouse and so we reached out to Kemsa and made them aware of what we had. We are the ones who initiated the whole process. We even quoted our prices."
He told the senators that he had been in business for 20 years and had gained the trust of suppliers in China who delivered the items he needed despite not being paid in full.