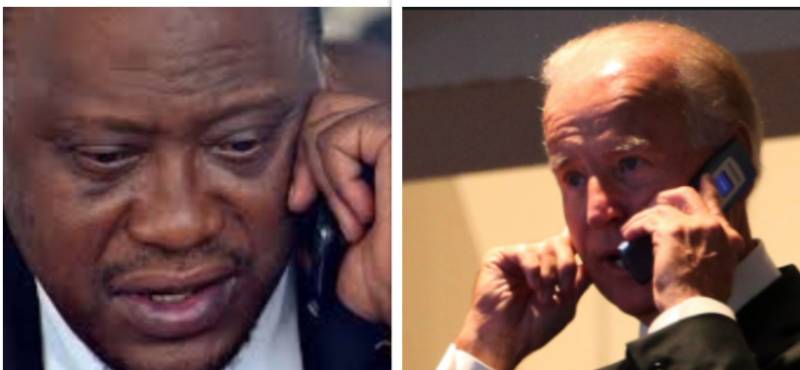 President Uhuru Kenyatta on Tuesday phoned Joe Biden and congratulated him on winning the presidential election, weeks after the US went to the polls.
Americans chose Democrat Biden as their 46th president last month after winning the Electoral College that will be ratified in two weeks. His election marked the end of Donald Trump's administration, a Republican, who has had a lifelong obsession with power.
The US president-elect who spoke with President Uhuru on phone offered his gratitude for his congratulations and expressed his appreciation for the strong and lasting ties between the two countries.
At the same time, Biden conveyed his interest in building on that partnership across a range of issues, including tackling the threat of climate change, supporting refugees and their host communities, and addressing challenges of regional security and instability.
Read More
Uhuru in his congratulatory message to Biden on November 8, had termed Biden's win as a demonstration of Americans' confidence in the former Vice President's leadership credentials.
"Americans have spoken loudly and clearly through their votes, by picking a highly experienced, colourfully decorated and long-serving leader to become their next Head of State," Uhuru said.
He added: "On behalf of the people and the Government of Kenya, I congratulate President-elect Joe Biden and Vice President-elect Kamala Harris for their emphatic win and wish them all the best as they prepare to lead the United States of America into a future of prosperity."
The former vice president has vowed to restore the character of the United States nation and bring dignity back to the White House after a four-year rule by his predecessor that was marked with lies, racism and police brutality.
Biden, 78, will become the oldest president when he is inaugurated in January 2021.
He broke President Barrack Obama's record for most votes ever cast for a US presidential candidate.
In the popular national vote, which does not decide the result but still has political and symbolic heft, Biden won by 51 to 47 percent.
In 2008, Barack Obama earned 69,498,516 votes in the presidential election, the most ever. Now, Biden, who was Obama's former vice president, has far surpassed that tally, setting a new record with more than 80,026,000 votes.
On November 7, CNN projected Biden will be the 46th president after he secured a total of 306 electoral votes against Trump's 232.