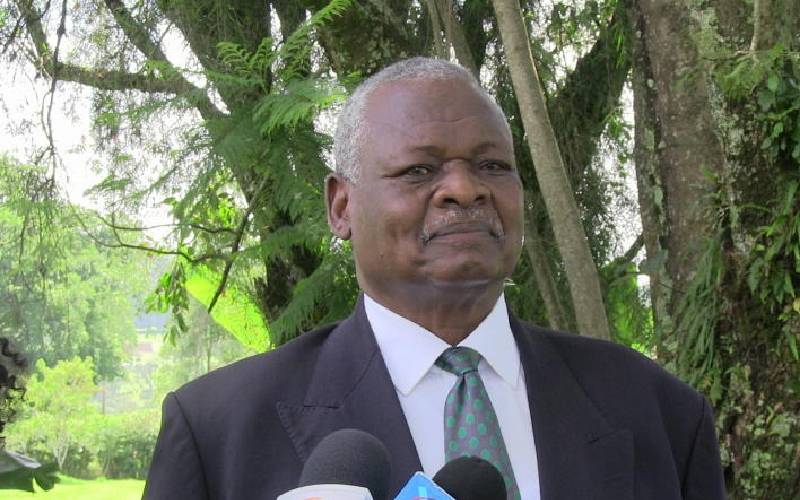 Former Vice Chief of General Staff Lieutenant General (Rtd) John Koech (pictured) is dead.
The family said Lt. Gen (Rtd.) Koech died at Nairobi Hospital at dawn on Sunday while receiving treatment.
Lt. Gen (Rtd.) Koech served as the Army Commandant during the reign of retired President Mwai Kibaki. He also served as commandant of the National Defence College between 2004 and 2005.
His sons Eric and Robert Koech told The Standard the family is in a meeting to start arrangements for his interment.
Read More
Lt. Gen (Rtd.) Koech is remembered for his determination to serve in various spheres of life including military, politics and agriculture.
After hanging up his military boots, the late Lt. Gen (Rtd.) Koech reinvented himself in politics where he became the face of the United Democratic Movement (UDM) party.
The party supported the 2007 presidential candidacy of former Prime Minister Raila Odinga, then a close ally of Deputy President William Ruto.
However, Raila and Ruto severed their relationship after the 2007 elections prompting Ruto to walk out of the ODM party and found a temporary refuge at Lt. Gen (Rtd.) Koech's UDM.
Ruto's alleged attempt to take over the party which was tightly controlled by the former Army commander, who was then the party chairman, led to a backlash.
Lt. Gen (Rtd.) Koech petitioned the Political Parties Dispute Tribunal, accusing Ruto's gang of seeking to unconstitutionally remove him from office.
Ruto later joined the United Republican Party (URP) which formed a coalition with The National Alliance (TNA) party.
The DP described Koech as a quick-witted, strict but fair-minded General who became a central figure in the transformation of our military.
"Lieutenant-General (Rtd) John Koech was a leader of character, a hero, a true patriot and a brave man in uniform who was dedicated to serve and defend our country," Ruto tweeted.
In 2008 when Ainamoi MP David Too was killed, Lt. Gen (Rtd.) Koech unsuccessfully sought ODM nomination to contest during the by-election. He lost to Too's brother Benjamin Langat.
In 2013, Lt. Gen (Rtd.) Koech expressed interest to serve as Kericho senator, but he was unsuccessful after Charles Keter (Energy Cabinet Secretary) clinched the seat.
Despite the failed attempts to serve Kenyans as an elected leader, Lt. Gen (Rtd.) Koech was not a man to be pinned down in his quest to serve society.
He served as the chairperson of the Poverty Eradication Commission, where in 2010, he led the project that saw 21 districts selected in the country for the pioneer programme. Lt. Gen (Rtd.) Koech led the formation of groups to engage in income-generating projects to address poverty in the hard-hit areas, an exercise that earned him praise.
In agriculture, Lt. Gen (Rtd.) Koech's presence was felt especially in the dairy sector where his farm was feted for being the best in digital dairy farming.
His 300-acre farm dubbed 'Chepseon Dairies,' clinched Dairy Farm of Distinction in last year's Kenya Diary industry awards.