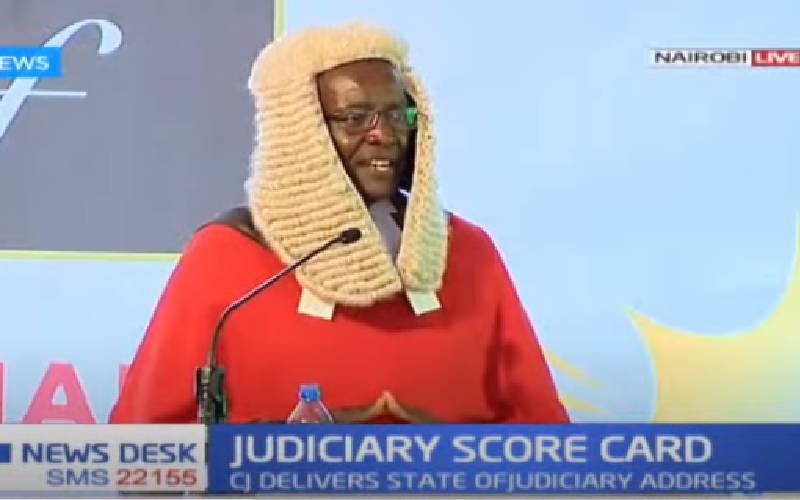 The judiciary would have performed better were it not for interference of its independence and disobedience of court orders.
Speaking in Nairobi when he issued the state of judiciary speech, Chief Justice David Maraga said it is paramount to maintain the separation of powers as provided by law.
According to him, the interference had a serious impact on human rights, Kenyans' access to justice and economic development.
"Kenyans need judiciary independence for it to discharge its mandate."
Maraga continued, "The judiciary will not be subject to control or direction of other authorities".
Read More
The CJ cited the President's delay in the appointment of judges, which he said is a clear process in the constitution.
Maraga said even after a list was issued to him by the Judicial Service Commission and three court orders, President Uhuru Kenyatta still did not heed advice to appoint the 40 judges.
Article 166 states that the President need not perform any other task when issued with the list other than approve the names. Instead, according to the CJ, Uhuru has continued to question and reject the list of names.
"He cannot cherry-pick from the list of nominees as this would ruin the independence of the judiciary."
Maraga added that if the nominees have integrity issues, the constitution has a mechanism for dealing with such a situation where they would be appointed and complaints for their removal lodged.
The CJ cited seven judges the JSC has referred to be investigated and that all factual petitions will be acted upon.
Failure to appoint the judges has hurt efforts to clear the backlog of cases and is a "clear interference" of the judiciary roles.
"The cost of the continued refusal is hurting Kenya's access to justice and the health of the judiciary."