Suspects to remain in custody for seven days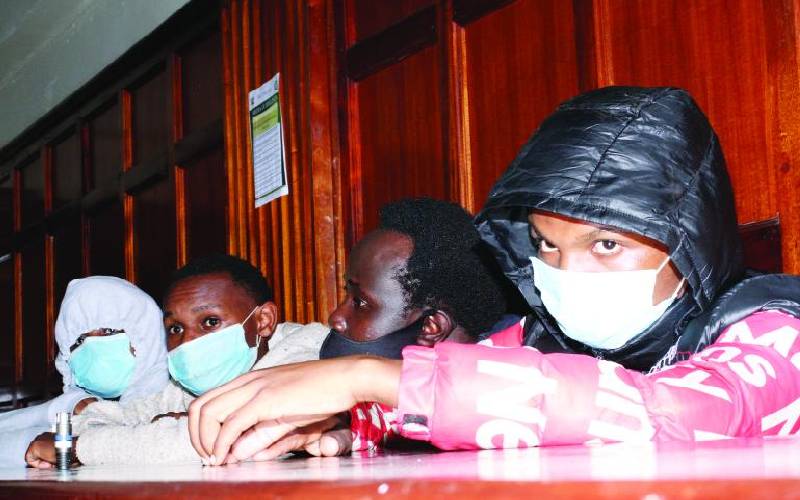 Four child trafficking and abuse suspects will be held by the police for seven days to help complete a probe.
A court allowed the police to detain Millicent Muthoni Kithinji, David Kibe Wambui, George Kamau Muthoni and Michael Morega at Kabete Police Station as they probe whether they are linked to a syndicate exploiting children.
Milimani Magistrate Kennedy Cheruiyot said although the suspects were entitled to bail, the allegation by the State that 44 children were arrested partying in their compound was weighty enough to persuade him that they needed to be in custody.
Right to bail
"I have considered the application and submissions by the prosecution and the respondents. I have considered that the respondents have a constitutional right to bail and also considered that there are children who are involved. There is a need for the respondents to be held in custody. I allow the application as prayed," he said.
In the case, the State claims that the four are part of a syndicate that is involved in child pornography and trafficking.
The court heard that the police are probing a network that is operating within the country. Julius Oguma, an investigator, said he needed to establish whether the four were connected to the incident involving children in Komarock.
"The police need more time to investigate the respondents' communication in order to establish the whole syndicate that takes part in such activities within the republic. The police also need time to establish whether the event is related to several other incidents such as the one which occurred in Komarocks and other parts of Nairobi where several children are reported missing," Oguma told the court.
He said on November 21, police officers from Kabete police station got a tip-off that there was a large group of children partying in a house compound in Mountain View estate and were not observing Covid-19 rules.
Bhang and bottles
Upon arrival, the officer said, they found condoms, bhang and assorted empty bottles of alcoholic drinks. He said the 44 were teens between ages 13 and 17. In the compound were 18 girls and 26 boys drawn from Kiambu, Nairobi and Machakos counties.
Take a quick survey and help us improve our website
Take a survey
He said the compound belonged to Muthoni and she was aware of the party as her son had informed her about it.
"It is suspected that there are people who benefit from the pornographic images taken from such events hence there is a need for investigations," said Oguma.