Outrage as 44 teens arrested in alcohol, bhang-filled sex party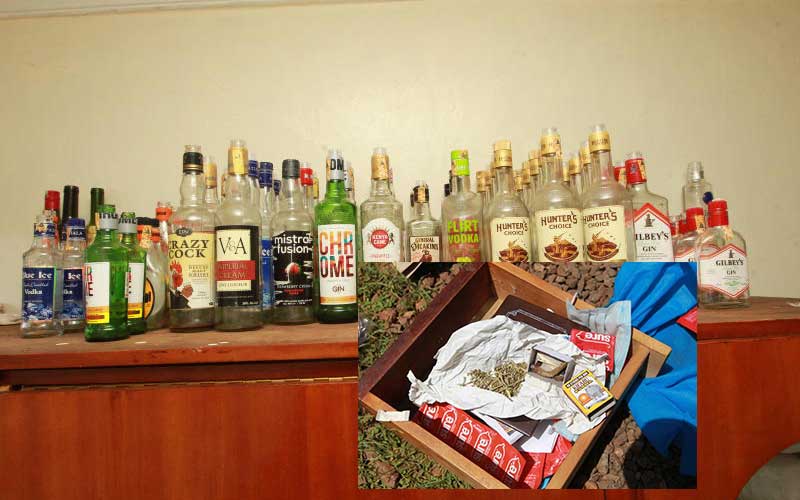 The stench of marijuana smoke filled the rooms where a group of teenagers had spent the better part of Saturday evening.
Used condoms, broken alcohol bottles, cushions scattered on the floor, and face masks abandoned on kitchen counters told of the activities that happened in the house before police swooped in.
What had started as a birthday party in Nairobi's Mountain View area ended up being a police case, with 44 teenagers and the owner of the house being taken into police custody.
The dirty disposable cups they had used, some with liquor, and ashes from marijuana stubs that were lying on a huge unmade bed, solidified what police had suspected when they raided the home at about 8.30pm on Saturday.
It was not an ordinary party. Police called it a possible sex party and pornography ring.
"It is shocking. We got intelligence reports that something strange was happening and what we found was a house in a sorry state. There were used condoms, cannabis and whisky," said Dagoretti South Police Commander Francis Wahome.
Revealing clothing
Invites to the party had been done on Instagram. It was a brief message that promised a night of fun. They were not to tell anyone where they were going, because "adults would ruin the fun".
According to one of the teenagers, there was a link doing rounds on Instagram, inviting any young person interested in attending the birthday party to check-in. Most of the people who attended the party met for the first time in the house. The instruction was for them to arrive at at a mall in the area and call the owner of the house to direct them to the place, which was a few metres away.
Police say they have arrested a 41-year-old woman and her son in connection with the incident.
The teenagers came from different parts of the country, with some travelling from as far as Kericho and Machakos counties.
Take a quick survey and help us improve our website
Take a survey
Police say when they arrived at the home, most of the teenagers were intoxicated. Some were so drunk they could barely walk and were unaware of where they were. The music had been turned low and lights in some rooms switched off; perhaps to avoid attention.
The party had attracted girls and boys aged between 11 and 18. Some of them had left home in the guise of going to study and changed to revealing clothing once they arrived at the party.
"I could not recognise my daughter when I arrived at the police station. She was wearing a crop-top and very tight shorts. I had never seen those clothes, and I did not buy them," said one of the parents who had been called by police to record a statement.
Her daughter, 14, and a Form One, had travelled from Syokimau and said she was going for a textbook from a friend.
Neighbours who watched as the teenagers streamed into the home from around 2pm say there was a lot of movement in and out of the compound, but they were not alarmed, as the owner of the home had a tendency to host parties with young people, especially during weekends.
Inside the house were about 100 empty liquor bottles on a cupboard. Reams of condoms were also recovered from the three-bedroom house. Police say in between, the teenagers would log into their Instagram pages and go live to share what was happening in the house. It is the social media posts, police believe, that attracted even more teenagers. They say the house was so full that there was barely any space to move freely.
Outside the waiting room at Kabete police station where the teenagers were being held, parents milled around speaking in low tones. Most of them claimed the children lied that they were going to study.
"It is like the person who invited them also coached them to lie that they were going to revise. They all have the same story about going to study," said one of the parents.
The ones who told their parents they were going to a birthday party gave sketchy details of the location.
By Sunday evening, police were still questioning the teenagers in an attempt to find out how the perpetrators identified their potential victims, and how they convinced them to show up to the party. They were also following leads that could expose the agenda behind such meetings. Some of the children who had travelled from far counties were yet to notify their parents.
Police wanted parents to report cases of missing children for easy tracing. "We have involved the DCI and we are trying to unravel everything. Very soon we will have a dossier to tell parents of the risks children face," said Mr Wahome.
On social media, when police put an update about the arrests, users commented on the worrying trend of children being lured into homes.
"Now, more than ever, parents must monitor what children are doing online. Take away those phones and let us go back to old fashioned parenting where parents controlled homes and not the other way round," wrote Roger Rota.
On the day the children were travelling to meet the strangers at Mountain View, police had issued a warning about online gangs luring teenage girls.
This was after three teenagers who had gone missing for about one week in Nairobi confessed to police that they had travelled to Thika to stay with friends. "Preliminary investigations by DCI have established that the girls were lured out of their homes through a social media account named Carty-gang-ent," said DCI boss George Kinoti.
He added that the people behind the social media pages use internationally registered numbers.
Focus is now on parents, with stakeholders saying they are no longer involved in children's activities and are giving them too much freedom without instilling a sense of responsibility.
"You give a child a phone, but you never bother to check what they do online, then you get surprised when you get called that they have been arrested," said Norah Bunga, a social worker in Kangemi, who claims even with the curfew, they still bump into drunk and disorderly children roaming the estates past midnight.
Last month a 13-year-old girl disappeared from Upper Hill after being lured by a man purporting to be a tutor.
The police department is now working closely with the Child Protection Unit to nab abusers. Parents have been urged to keep an eye on their children.
Chairman of Parents Association Nicholas Maiyo now wants the Ministry of Education to reignite community service learning to keep learners who are still at home busy. "We have so many crooks who know that children are home and their parents are busy. They are taking advantage and they need to be stopped," said Mr Maiyo.
Last week, after the announcement of new protocols on reopening of schools, stakeholders said the more minors stayed home, the higher the chances that many would be sucked into deviant behaviour.
Kenya Secondary School Heads Association Kahi Indimuli said they had wanted all learners to report to school in October when they noticed the increased cases of the children getting involved in crime and social maladjustments.