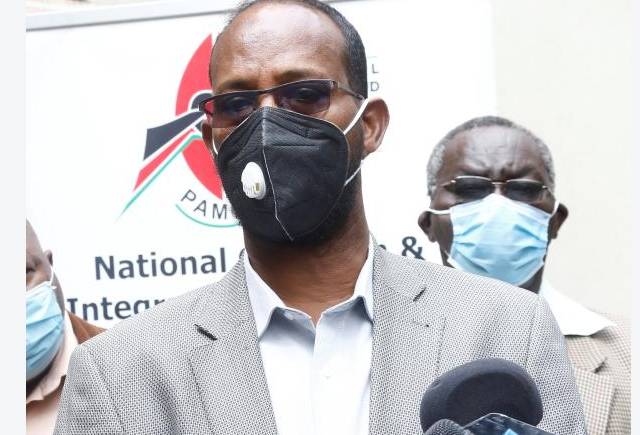 A government agency meant to address and reduce inter-ethnic conflicts has warned that the heightened political activity and rhetoric on the Building Bridges Initiative (BBI) report may trigger violence.
The National Cohesion and Integration Commission (NCIC) has cited the regrouping of outlawed groups aligned to different tribes two years to the next General Election.
NCIC Commissioner Abdulaziz Farah yesterday said the agency was taking steps to prevent escalation of ethnic hostilities.
"There is a lot of ecstasy about political formations in the near future. Ordinary Kenyans have been made to take different stands on the current political discourse. Our greatest fear is formation of political groupings that will lead communities against each other," said Mr Farah at the end of a three-day meeting that brought together elders from various communities in Nakuru.
The commissioner said they have identified areas prone to ethnic flare-ups, and that they were engaging stakeholders to avert a crisis.
"Among the counties that we have mapped as hot spot zones are Nakuru, Uasin Gishu, Mombasa and Nairobi. These areas are currently calm. The only danger we are fearing is the unpredictable politicians who may fuel tensions through hateful remarks."
A report by the Global Initiative Against Transnational Organised Crimes, which was released on Sunday, warned that politicians are recruiting criminal gangs they plan to use to intimidate opponents in the run-up to the 2022 General Election.
The report identified gangs that have hijacked essential services in Nairobi and Mombasa, and which operate illicit businesses to help fund the campaigns of their paymasters.
"Kenya will hold its next General Election in late 2022. Campaigning will start well in advance of the poll, and people who live and work in slum areas expect to start seeing a rise in political gang activity in 2021," the report says.
Nakuru County Commissioner Erastus Mbui said it will take more than presence of security agents to keep the different tribes from fighting.
"The local communities have their own interests, which create an opportunity for individuals to use them for their selfish, personal interests. This results in ethnic violence," said Mr Mbui.
Ogiek Council of Elders chaiman John Sironga urged the administrators to resolve the issues of cattle rustling and encroaching on the Mau Forest.
Gikuyu Council of Elders national chairman Kimani Maigua called for revival of an agreement where communities in the Rift Valley vowed to live in harmony despite their political differences.
"The Nakuru Peace Accord has greatly succeeded in uniting the two major communities in the region. We are now heading to 2022 and we need to build peace while there is peace. Another peace accord should be reached to bring all communities on board," said Mr Maigua.