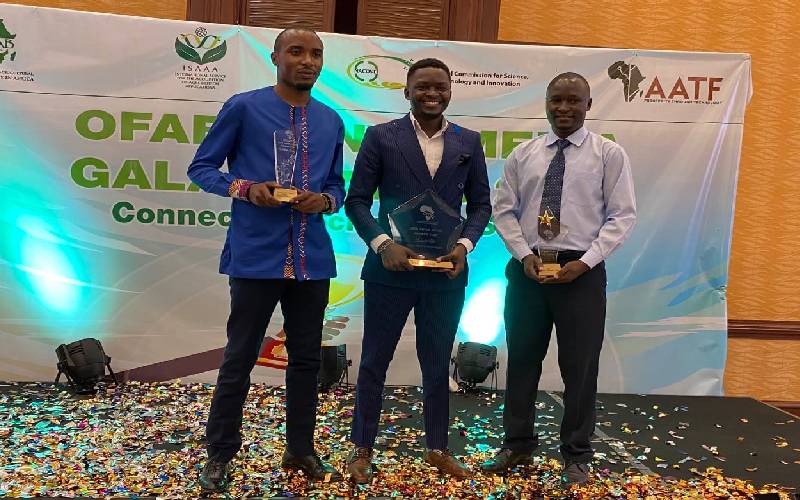 Standard Group reporter William Lusige was among three journalists feted for excellence in this year's Kenya chapter-Open Forum on Agricultural Biotechnology media awards.
Lusige, a KTN News reporter, was named the second runners-up in the Kenya Chapter of the Open Forum on Agricultural Biotechnology in Africa (OFAB) awards held on Friday evening.
OFAB awarded the three journalists for their consistency in reporting and promoting public awareness on agricultural biotechnology.
They have now been invited to take part in the OFAB Africa Media Awards (OMAs) scheduled for December 2, 2020.
The overall winner was Daily Nation's Leopold Obi, followed by Benjamin Wakoli, a correspondent with Milele FM. They won Sh100,000 and Sh75,000 respectively while Lusige bagged Sh50,000.
Speaking at the awards gala, Trade and Industrialisation Chief Administrative Secretary Lawrence Karanja lauded media's contribution in fostering an appreciation of the potential of science, technology and innovation as a way towards improving food security and boosting the manufacturing sector.
"To attain the goals outlined towards the revival of the manufacturing sector, the media plays a key role. We, therefore, laud the efforts displayed here today to appreciate the media's efforts on factual and balanced reporting on science, technology and innovation," said the CAS.
OFAB-Kenya Chairperson Dr Margaret Karembu appealed to African governments to enact policies that support and favour advancement in bioscience research and development.
"This pandemic (Covid-19) has taught us hard lessons on trusting in science and expert voices. Let it be a wake-up call to our country to invest more in science, technology and innovation to combat challenges such as disease epidemics, drought and food insecurity," she said.
Dr Karembu is also the director of the International Service for the Acquisition of Agri-biotech Applications (ISAAA) AfriCenter Director which in collaboration with the African Agricultural Technology Foundation (AATF) manage the OFAB-Kenya chapter.
OFAB-Kenya is the pioneer chapter of the now seven chapters in Africa (Burkina Faso, Ethiopia, Ghana, Kenya, Nigeria, Tanzania and Uganda).
OFAB-Kenya serves as a platform for agriculture stakeholders to interact and network through sharing of knowledge and experience on agricultural biotechnology. It seeks to enhance understanding and appreciation of the technology resulting in improvement of evidence-based policy decision-making.