Karua sues JSC over a judge removal petition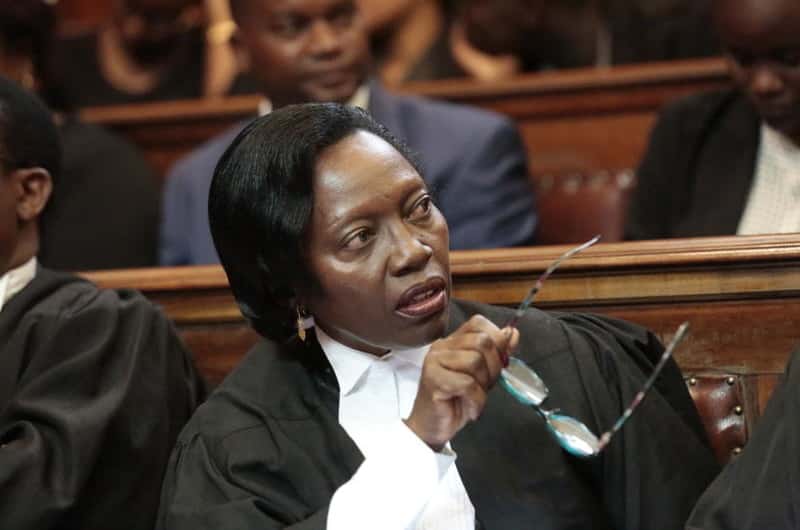 Former Justice Minister Martha Karua has dragged the Judicial Service Commission (JSC) to court in a fight to have a judge removed from office.
Karua argues that the judges' employer never gave her a chance to litigate a petition to kick out Justice Lucy Gitari before summarily dismissing it.
Justice Gitari was the presiding judge in a case filed by Karua challenging the election of Kirinyaga Governor Anne Waiguru. She lost the petition and the subsequent appeals to the Court of Appeal and the Supreme Court.
In her petition before High Court Judge Jairus Ngaah, Karua claims that she had complained before JSC that Gitari dismissed her complaint that electronic evidence she had filed in court had disappeared.
The Court of Appeal, she said, had found that she had filed the evidence.
She also claims that Gitari denied her the chance to rely on forms 37A and 37B that had been supplied by the Independent Electoral and Boundaries Commission. According to Karua, the judge's conduct warranted her to file a petition for her removal.
JSC Secretary Anne Amadi wrote to Karua on June 15 and told her the commission had sat on March 6 and dismissed her petition against the judge.
According to Amadi, the JSC had unanimously agreed that Karua's complaint bordered on reviewing the judge's verdict, which could only be resolved through an appeal to a higher court or a review before the same judge.
"The commission observed that delving into this complaint would be tantamount to sitting on appeal or review of a court's decision, a mandate which is outside the jurisdiction of the commission and therefore an affront to the decisional independence of the court. This is, therefore, to convey to you the above decision of the commission dismissing the complaint against the above-mentioned honourable judge," said Amadi.
Karua, however, wrote back seeking to know who in the JSC had sat to hear her complaint, and why it had taken three months for the decision to be communicated.
In her lawsuit, she says the JSC will entrench a culture of determining petitions against judges without hearing the complainants.
"I verily believe that the respondent has no authority under the Constitution to brush aside a complaint that raises issues that go to the core of the justice system, like loss of exhibits in the court's hands and serious procedure failures that point to incompetence, corruption or both. I believe it was expected that in the interest of fairness, the respondent was obligated to investigate issues raised, which, if not attended, will compromise the administration of justice," she argued.