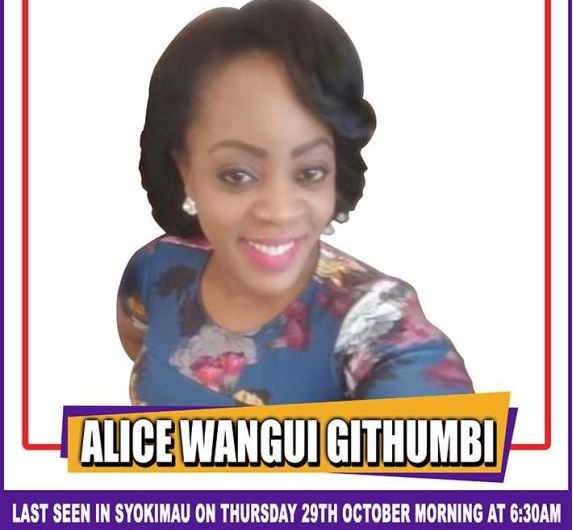 The senior official from the Ministry of Health reported missing 10 days ago was yesterday traced to a worship centre in the suburbs of Machakos town.
Alice Wangui Gathumbi (pictured) was found in the company of other women at KAG Katoloni prayer centre on Friday night.
Detectives from the DCI Criminal Investigation Bureau traced Gathumbi to the prayer centre after analysing the mobile phone data and getting information from a relative.
DCI Special Service Unit boss Pius Gitari said the lady had booked herself at the prayer centre for 10 days.
Records at the centre indicate that Gathumbi arrived there on the afternoon of October 29, the same day she is reported to have left her Syokimau home.
Police are yet to take Gathumbi's statement on why she decided to keep her movements to the prayer centre a secret without informing her family.
Gathumbi, a nurse, was reported missing on November 2 at the Mlolongo Police Station.
She was last seen leaving their Syokimau home on the morning of October 29.
Police had managed to obtain CCTV footage of the day she is said to have gone missing.
CCTV cameras
According to investigators, Gathumbi was captured on CCTV cameras as she was picked by a boda boda rider outside their home at 6.38 am.
She was dressed in a black coat, a multi-colored free dress and a pair of black sandals. She was also clutching a black handbag.
From the statements taken so far, it was said that Gathumbi was heading to an unspecified salon in town. She had booked an appointment with her hair dresser at 9 am, but failed to show up.
Data analysis of her mobile phone shows that at the time of leaving her house, her mobile phone was switched off.
Her cellphone has remained switched off for the last eight days.