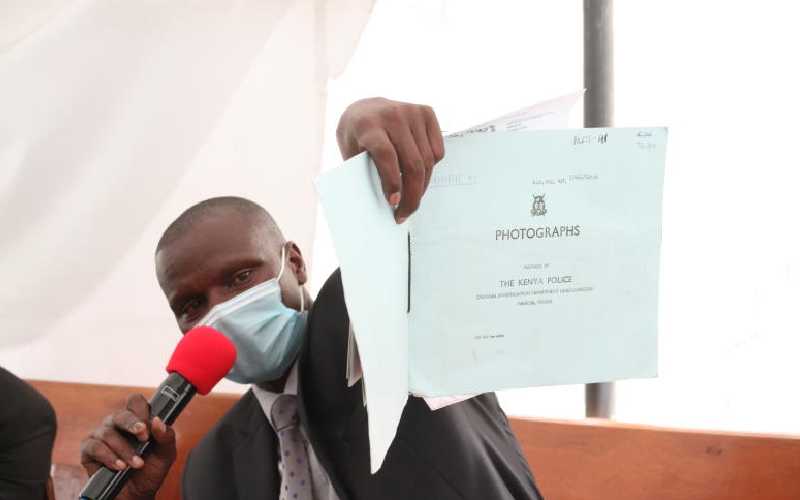 Polythene bags used to suffocate lawyer Willie Kimani, his client Josephat Mwenda and their driver Joseph Muiruri may have been provided by police officer Paul Mwangi.
A trial court yesterday heard that the supermarket bags, which were on the victims' heads at the time their bodies were retrieved from Oldonyo Sabuk River, were similar to those collected from Mwangi's house on July 4, 2016.
"I went to the fourth accused person's (Mwangi) house on July 4, 2016 and got paper bags from a supermarket. The victims were killed using polythene papers. When the bodies were recovered from Kilimambogo, the polythene papers on them were similar to those which I collected. On their heads, there were polythene paper bags from that supermarket," Nicholas ole Sena, a Directorate of Criminal Investigations officer tasked to head the investigations told the court yesterday.
Ole Sena also testified that he corroborated a cry for help written on a tissue paper by Kimani, with an insurance diary book he had at the time of his death.
"Tafadhali pigia (Rebecca) mwambie aambie Rose, Willie na Mwenda wameshikwa na wako Syokimau kwa chief, wako hatarini. (Please call Rebecca and tell her to tell Rose that Willie and Mwenda have been arrested and are at Syokimau chief's camp. They are in danger)," the writings on the tissue paper produced in court yesterday read in part.
Read More
Firearm certificate
The witness said he also found a firearm certificate at Senior Sergeant Frederick Leliman's house on July 5, 2016, which meant that he held a private gun. Ole Sena, however, said he did not investigate whether the firearm was used to kill the three men.
"Leliman, from the documents, had a private firearm. I did not investigate whether this was the firearm which was used to kill the victims. We also recovered several mobile phones, Alcatel, Motorola, Itel, Safaricom sim card, Orange sim card, mobile phone box, Airtel recharge vouchers, Safaricom recharge vouchers and pocket phone charger," he testified.
The officer also sought to link Leliman to Mwenda. He testified that he found a statement handwritten by the police officer on April 3, 2015 detailing that he (Leliman) had arrested Mwenda for a traffic offence and in the process shot him on the right hand.