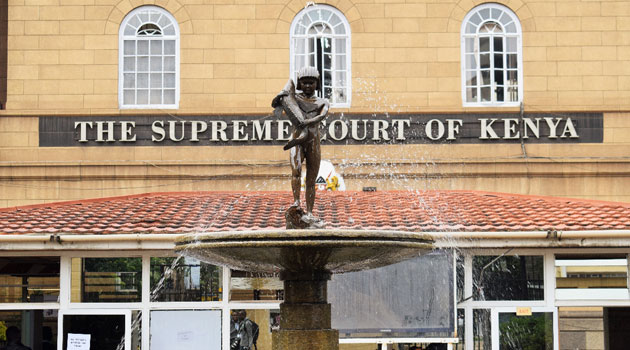 In an interesting election petition in 1993, businessman John Harun Mwau wanted the High Court to annul the election of President Daniel Arap Moi on grounds that he had not used the right stationery when submitting his nomination papers to the Electoral Commission of Kenya.
Mwau was one of the unsuccessful candidates in the presidential election held on December 29, 1992.
Mwau contended that President Moi had not been duly nominated by the Electoral Commission.
Mwau's case was that Moi did not present 40 standard sheets of foolscap papers to the Electoral Commission on the nomination day as required by the law for which reason Moi's nomination and his subsequent election as President were invalid and had to be nullified.
Read More
Moi defended himself with the argument that there was no such thing as "a standard foolscap" which argument, among others, persuaded Judges O'Kubasu, Gideon Mbito and John Mwera to dismiss Mwau's petition.
Unsatisfied, Mau filed a notice of appeal after which President Moi moved to court to have it struck out. And it was.
Chief Justice A. M. Cockar, Judge of Appeal RSC Omolo and Judge of Appeal AM Akiwumi quoted the High Court judgment that among other things noted that: "The respondent [Mr Mwau] who appeared for himself, argued his case strenuously and that he was "a man of great industry and unrelenting crusader for justice and the rule of law".
The appellate court added: "He is perhaps too much of a stickler in this regard.'"
Whereas Mwau's case was by no means trivial because it was anchored on the weighty issue of electoral justice there are plainly quirky court cases and judgments.
Last week former Cabinet Secretary Lilian Omollo found herself in law history books after Labour judge Justice Stephen Radido awarded her Sh1 as compensation for wrongful sacking by the president.
Such kind of trivial compensations by a court are referred to as nominal awards. The compensation became a meme on social media eliciting laughter from many who saw it as a joke.
Litigants are awarded nominal awards where judges find that they have succeeded but have not suffered any loss. These kinds of verdicts are borrowed from British courts where judges awarded litigants a penny.
Justice Radido agreed that Ms Omollo had been wrongly fired observing that the president cannot fire and hire PSs at will.
According to the judge, the PS ought to have received reasons why the President had decided to terminate her employment.
Added Justice Radido: "The respondents did not exhibit any such decision under the hand of the President. The petitioner was not subjected to due process, nor was she given reasons for the removal from office under the hand of the President. She was ingeniously notified that her tenure had ended because a replacement had been appointed".
And now the interesting part.
Although the judge found that ex-PS's employer had breached her rights, he declined to award any damages as Omollo did not produce any documents to show that she had appealed the verdict which condemned her for obtaining illicit wealth.
Anticorruption court judge Justice Mumbi Ngugi had found that Omollo had acquired her wealth against the law. She was ordered to forfeit Sh33.6 million to the state.
The money was in 10 accounts under her three daughters' names and entities run by her husband but Justice Ngugi said the family failed to show a legitimate source of the funds.
Parents sue son for lazing at home
In 2018, a couple in New York sued their 30-year-old son in the hope that a judge would force him to move out of their house.
According to an article by the BBC, one of their grounds was that Micheal Rotando neither helped in rent payments nor with household chores.
Over the years, Mark and Christina Rotondo sent their son a series of eviction notices which he ignored. Michel ignored his parents' offer of Sh108, 000 to get him settled and start a life of his own.
After filing for a court order, a judge sided with them and ordered Michael to vacate the home.
Red bull sued for not giving customer "wings"
This is one of the rare instances where a brand is sued for its slogan and forced to pay up.
In 2014 a disappointed customer sued the company on grounds of misleading advertising. By the time of the lawsuit, Red bull's slogan "Red Bull gives you wings" had been in use for almost two decades until Canadian Micheal Attar broke the companies 'wings'.
The plaintiff argued that Red Bull does not give someone wings literally or even in the figurative sense as it offers no psychological or physical boost.
According to an article by Newsweek, the company agreed to pay Sh69 million in a settlement for a class-action lawsuit.
The settlement follows another in 2014 where Red Bull agreed to pay Sh1.4 billion in a settlement in the US over similar claims.
Customers who had purchased the drink over previous years after the settlement are entitled to either Sh1,088 or Sh1,632.
Too much air in candy
A man from Missouri attempted to initiate a class-action lawsuit against the Hershey Company, alluding that the boxes of Reese's pieces and whoopers candies he'd purchased contained too much air.
According to Balance Small Businesses, an online library, the man who had been buying the products for over a decade said the company violated the state's consumer protection law.
The judge dismissed the case after the plaintiff failed to prove any injury.
First date gone wrong
In 2017, a Texan made global ripples by being what many saw as 'king of pettiness' when he sued a woman for what he called "first date from hell".
Thirty-seven-year-old Brandon Vezmar went on a date with a woman he met on Bumble (a social communication app) and was enraged when she was busy texting while they watched Guardians of the Galaxy Vol 2. According to NME, Vezmar sued her slamming her behaviour as a "threat to civilised society".
Vezmar agreed to drop the suit after accepting an apology from the woman and receiving Sh1,880 he paid for movie tickets.
Sh3.2 million for bad hair day at a salon
In 2018, an Australian woman sued a salon on grounds that the stylist ruined her hair in a botched dye job.
According to an article in Simple Most, Jessica Bray claimed the stylist did a terrible job causing a lot of her hair to fall off. Bray sued the salon for Sh3.2 million citing disgrace and wig expenses.
The court awarded her Sh43,540 and termed initial request as "excessive".
Kidnapper sues victims
In the most bizarre of lawsuits, a murder fugitive kidnapped a couple in Kansas, US, and then sued them in what he says was "a breach of an oral agreement they won't turn him in".
According to CBS News, Jesse Dimmick was on the run when he forcefully entered Jared and Lindsay Rowley's home and confronted them at knifepoint. He claimed he had an oral contract with the couple who would hide him from the police in return for money.
The couple escaped when he fell asleep.
A judge dismissed the lawsuit.
-Judah Ben-Hur