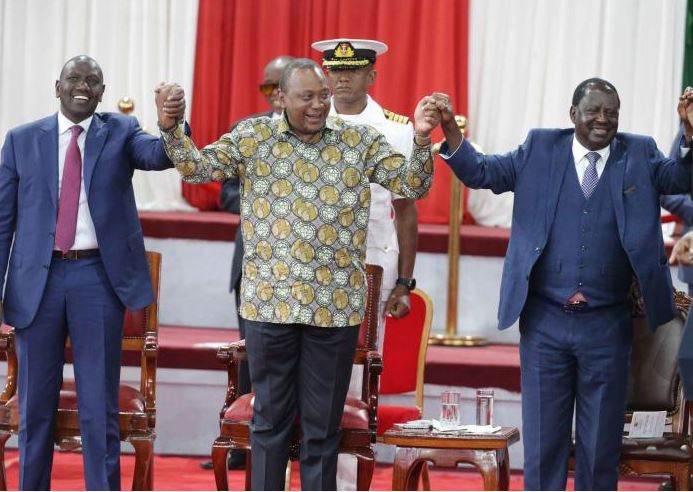 The Building Bridges Initiative (BBI) report seeks to grant the National Intelligence Service (NIS) role in the war against impropriety in public service.
The BBI task force recommends that NIS leads the purge in public service to rid it of cartels.
In the proposal marked as "high priority," the report, to be unveiled today, proposes "a rigorous intelligence-led review of the hold of cartels in public service. Link it to investigative agencies for evidence to be developed to enable prosecution," the report says.
The reports also recommends that Central Bank of Kenya (CBK) should withdraw licenses and impose heavy penalties for banks and their executives found laundering money.
"CBK to strengthen the Know Your Customer process and undertaking of increased big data analysis on banking transactions to spot suspicious trends and actors."
The report recommends punishment for tax evasion and money laundering in the private sector by integrating the government data to identify potential trend and strengthening of private sector internal auditing controls and make boards focus on results.
"Prohibit off the books accounts, use of false documents and the intentional destruction of book keeping documents and disallow the tax deductibility of expenses that constitute bribes and other expenses incurred in furtherance of corrupt conduct."
The report recommends that filing of the annual tax returns should be made a condition for any annual license renewal of a business, professional firm and or organisation.
"In addition to custodial sentences of those found guilty of economic crimes, there will be punitive fines with the proceeds being used to assist vulnerable Kenyans. The National Council on Administrative Justice in conjunction with the Judiciary to develop a sentencing policy."
The task force wants the Attorney General to propose relevant amendments to the Defamation Act to prevent intimidation of whistleblowers or the media by public officers.
The team proposes that public officers should not do business with the government, but can engage in the private sector and those who want to engage in business outside their working hours shall obtain a written approval from the reporting officer.
To address police performance, mental health and well being, the report calls for clarification of Key Performance Indicators (KPIs) for leadership vis-a-vis crime statistics, disaggregated by county, gender and citizen perception and link them to promotions.
National Police Service should introduce new framework for digitalised monthly returns that capture the KPIs, use the data for ranking career advancement, mainstream chaplaincy and counselling services, deploy police as per their talents, skills and specialization and review policy on identifying police trainers.
The team also calls for a digitised, transparent human resources system with clear guidelines and processes for promotion and transfer.
"The standards of promotion into leadership and management must reflect measureable past performance, including internal courses and exams as well as citizen complaints of abuse of corruption."
The report proposes accessible and well-resourced mental health and wellness counselling and treatment for police officers.
"Particular attention should be paid to those in frontline roles that expose them to extreme trauma. All measures should also be taken to keep families together," it reads in part.
The task force recommends establishment of a commission to address boundary conflicts. The report demands all policy to promote the safety and security of Kenyans.
Download the BBI Judgement by all seven Judges - Civil Appeal No. E291 of 2021