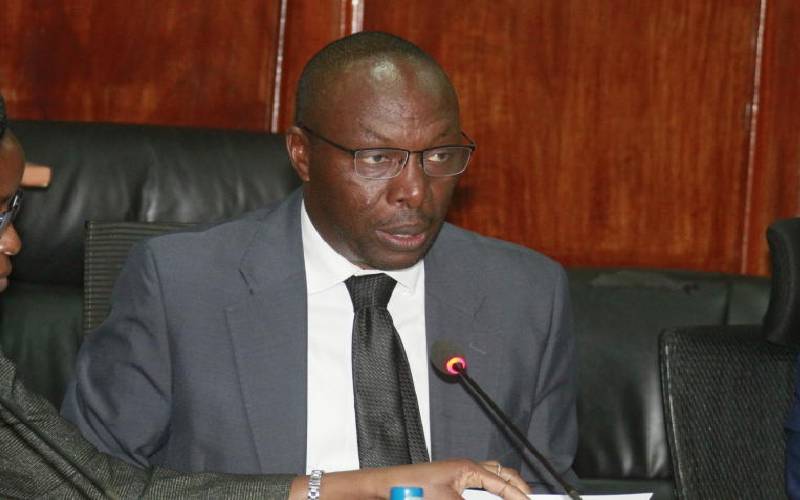 Suspended National Irrigation Board (NIB) Chief Executive Officer Gitonga Mugambi still report to work at the agency's Unyunyizi House offices along Lenana Road and discharges his duties as usual despite a fresh court order extending his suspension from office.
According to one of the junior staff at the agency who spoke to Standard Digital on phone, Mugambi is currently with Water Cabinet Secretary Cecily Kariuki inspect the agency's projects in Western Kenya.
Labour and Employment Court Judge Hellen Wasilwa restrained Mugambi from assuming office as CEO of the National Irrigation Authority, pending the determination of a case before the court.
The embattled CEO, through his lawyers, has, however, protested the suspension arguing that he has held the office since June 2020 and therefore cannot be suspended through interim court orders.
"The CEO has been at work as usual. He is currently out in the field in Western Kenya in the company of the CS and is only likely return to Nairobi on Thursday or Friday," a source at the agency said.
Activist Okiya Omtatah petitioned the Employment and Labour Court seeking orders to invalidate the extension of Mugambi's tenure, arguing that there was no valid board at the state agency at the time of the reappointment, with the term of previous independent members having expired.
This is after CS Kariuki, acting on a June 5, 2020, recommendation of the agency's board, re-appointed Mugambi as CEO for a second term lasting three years, in an appointment letter dated June 23, 2020.
According to Okiya Omtata, the authority's Board of Directors that recommended Mugambi's reappointment was not properly constituted with five members instead of the legal nine.
The activist premises his case on Section 3(4) of the Schedule to the Irrigation Act, 2019 which requires that legal quorum for conducting board business shall be seven members including, the chairperson.
Omtatah argued that the only valid member of the board at the time of the making of the board recommendation to reappoint Mugambi the CEO was and still is the agency's Board Chairman, Joshua Toro, appointed by President Kenyatta for a three-year term beginning January 2019 via a gazette notice dated January 17, 2020.
The rest of the board members are drawn from representatives of government ministries and the State Law Office.