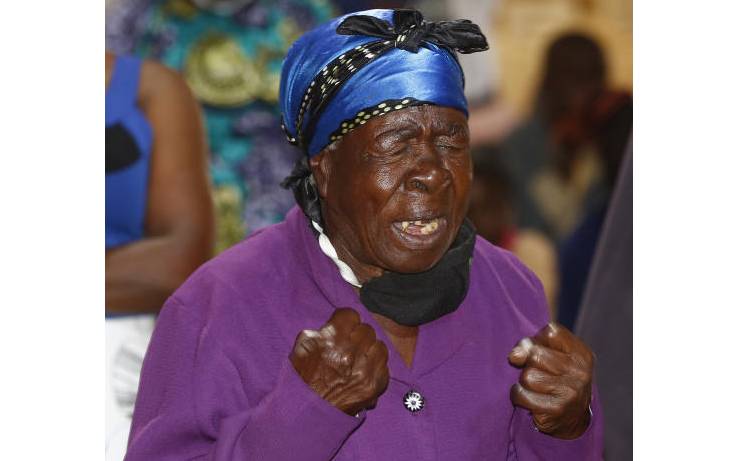 The elderly were yesterday allowed back to places of worship, months after they were locked out due to the Covid-19 pandemic restrictions.
Having missed physically attending church, the elderly could not hide their joy, with some of them maintaining that their only purpose for living was to worship.
Mark Ngaira, an 84-year-old parishioner at Metro Church in Nakuru County, said after retirement he was left with no other job but to attend church services on weekday evenings and Sunday mornings.
He said staying away from the house of worship for over six months due to the Covid-19 pandemic took away his purpose in life.
"I have nothing else to live for but to worship. I have no work and all my family no longer depend on me. Locking us out of church was like stripping me naked," said Ngaira.
Yesterday was the first time he was physically attending a church service since April. This was after President Uhuru Kenyatta lifted the ban on September 28 and allowed the elderly and children back to church.
"We were full of joy before the pandemic struck and took away our rights," said Ngaira, thanking the Head of State for easing the restrictions and allowing the elderly to access places of worship.
Jane Muthoni, 65, of Deliverance Church of Kenya in Nakuru, couldn't hide her joy as she was allowed back to the church after six months.
Muthoni told The Standard that she felt incomplete, even though she attended the service at home 'through the television.'
"I couldn't give my offerings to the church through the screen and we needed the physical presence in the church," said Muthoni.
She said the six months were lonely since she couldn't unite with her friends and fellow worshipers in a routine they were used to.
She was accompanied by her grandchildren who were also allowed back to church after the government eased the restriction of gatherings at the church.
"Our children need to grow through the church. There has been an increase in moral degradation, especially during the pandemic. I believe missing the church greatly contributed to the mess," she said.
Her sentiments were echoed by Benson Mwangi of the Anglican Church of Kenya in Nakuru. Mwangi said the loneliness led to family wrangles.
He said disputes, violence and killings increased during the pandemic, adding that even the children were involved in the family saga since they were at home, away from churches and schools.
Mwangi said the elderly within the county have died of loneliness, lack of company and of spiritual nourishment.
"I walked for over two kilometres and I feel great. For the months I was at home, I felt sick and I am lucky to be in church today," said Margaret Lusida, 78.
Pastor Alex Maina of Deliverance Church lauded the president's decision to allow the elderly and children back to church.
He noted that Kenya was a religious nation and that is why it has been incorporated even in school syllabuses.
"The children need education and religion. The virus took that away from them but it is now a new chapter for them to go back to the places of worship and get nourishment," said Pastor Maina.
Rev Mike Brawan, who has over 200 elderly worshipers at his church, said the service for the elderly will be re-introduced to enable them to worship again.
"All our friends, including the elderly, love church. Without seeing them and worshiping with them for all that time, we felt like a vital part of us was missing," said Brawan, even as he expressed his happiness following lifting of the church ban.