Covid-19 millionaires whistleblower charged with abduction and soliciting a bribe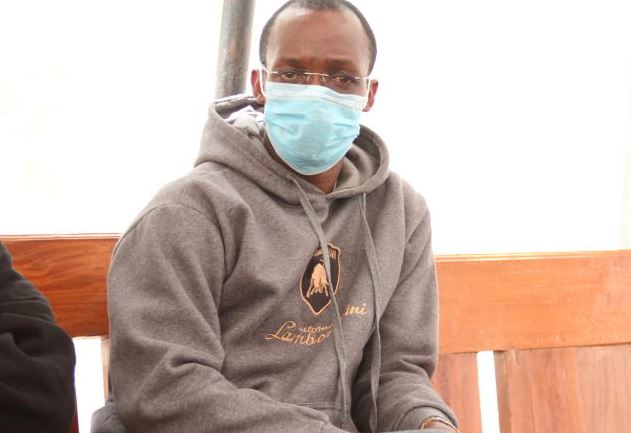 A whistleblower in the multi-million shillings scandal at the Kenya Medical Supplies Authority (KEMSA) has been charged with abducting and soliciting a bribe from a businessman.
Godwins Otieno Agutu (pictured) turned from a hero to a villain within a span of two months as he faced a dose of his own medicine after being charged with ten counts of personating government officials, forgery, abduction and defrauding Vijay Patel Sh500,000.
From a man who a few weeks ago graced the screens of a local television station as a hero in exposing fraud at KEMSA relating to the supply of Covid-19 equipment, Agutu appeared subdued and helpless as the prosecution opposed his release on bail claiming he is a known criminal.
"Investigations conducted so far revealed that the accused is a habitual offender having serious charges of a similar nature. Releasing him on bail will allow him to continue defrauding other unsuspecting citizens using his network and connections," said the prosecution.
For a person who prides himself as the Chief Executive Officer of Network Action Against Corruption (NAAC), it was an awkward moment for Agutu being charged with the very offences his non-government organization is fighting to expose.
Agutu was charged alongside his personal assistant Alex Mutua Mutuku and driver Ken Kimathi Gicovi with personating officers from Kenya Revenue Authority (KRA) and Ethics and Anti-Corruption Commission (EACC) to defraud Patel a total of Sh2 million.
"On September 25 at Hytech Investment Shop within Nairobi City County, you jointly with intent to defraud falsely presented yourself to be employees of KRA and EACC to Vijay Patel so as to defraud him some money," read the charge sheet.
The three faced another charge of abduction in which the prosecution claimed they illegally abducted and detained Patel on September 28, before forcing him to pay them Sh500,000 by falsely pretending they were in a position to help him reduce a tax amount he owes to KRA.
Agutu was also charged with two counts of forgery in which he was said to have forged a staff employment card purporting to be an employee at the Office of the President.
According to the prosecution, Agutu also forged the registration number plate of a government vehicle which he used to defraud the businessman.
"They used the fake government vehicle registration with intent to deceive the said Vijay Patel that they are employees from KRA and EACC. The Accused unlawfully converted a civilian motor vehicle into a government vehicle with the sole purpose of extorting unsuspecting businessmen," said the prosecution.
Agutu was also accused of stealing motor vehicle parts valued at Sh7,000 from Viewscape Tours and Car Hire Limited.
The prosecution relied on an affidavit sworn by investigator Arnold Mwai to oppose their release on bail arguing that they have the ability to intimidate and interfere with witnesses, some of who are his employees at NAAC.
"He is a person of means and very influential and if released on bail will not only scare the witnesses but also destroy evidence some of which are in his office," swore Mwai.
He added that the government number plate the accused were using belonged to the judiciary and that the investigators wanted more time to establish ho they acquired it.