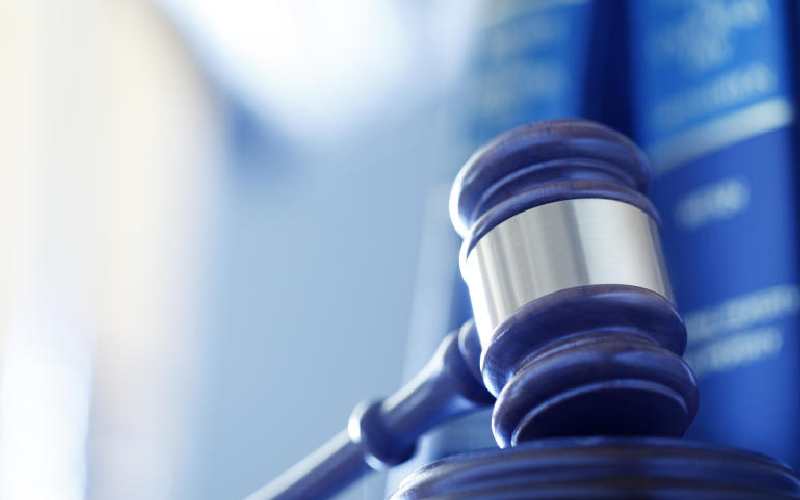 Late politician Nginyo Kariuki's children have rebuffed claims by their stepsister Brenda Nyambura that they are running down his estate by making huge withdrawals from company bank accounts without following the law.
Jane Wambui Kiragu and her brother Silas Macharia Karuki told the court that they are simply carrying out their mandate as executors of the Will of the late Kariuki.
Jane, Silas, their siblings Scholastica Njeri and James Kariuki and their mother Margaret are listed as executors of the Will prepared by RWM Watson Advocate on June 13, 2014. They were to execute the Will in trust of all his listed beneficiaries.
The listed beneficiaries include the five plus their other siblings Rose Esther Njeri and Sarah Mukuhi Nginyo. The executors have since added Kariuki's other three children- Nyambura, Alex Ndoria and Austin Wachira as beneficiaries.
Read More
"We are merely carrying out duties as executors of the estate of the deceased to provide and pay out of his estate the expenses of a reasonable funeral for him, debts owing to him, all expenses of obtaining grant of representation, and all other reasonable expenses of administration," Jane says in a replying affidavit.
In her affidavit, Nyambura had claimed that the siblings listed in the Will were haemorrhaging the late Kariuki's bank accounts, through huge withdrawals in the name of supporting company operations which they ended up pocketing.
Refusal to bill
Further she had claimed that the withdrawals were not based on valid board resolutions in line with articles of association, claims now denied by the children as based on legal fallacies and misunderstanding of the fundamentals of company law.
"There is no distinction between a limited liability and its majority shareholder. Consequently, upon his death, the assets of such a limited liability company in effect devolve to his estate for the benefit of his beneficiaries," Silas says in his affidavit.
Jane says some withdrawals were being made, including Sh1,158,000 paid out of a Pema Holdings Limited (PIL) to facilitate the continuance of a Kiambu project which had commenced before Kariuki died.
This, she says, was done after obtaining an approval of Pema Holdings Company directors through a resolution. In another payout, the directors of Nginyo Investments Limited (NIL), approved the payment of sums to Nyambura herself, in her capacity as a lawyer who was acting for their dad.
"The resolution passed by Nginyo Investments Limited was necessitated by the applicant's refusal to bill her legal fees for work done on behalf of the deceased to the estate of the Late Lawrence Nginyo Kariuki as required by the law. The Applicant instead opted to bill NIL," Jane says.
She says to break the stalemate and upon advice of lawyers, it was agreed that NIL would settle Nyambura's legal fees while marking it as a debt owing by the Estate to the Company. A company resolution endorsed this arrangement.
Silas confirms that money was removed to pay Nyambura in respect of legal work she had undertaken on Nginyo's instructions in respect of his personal business. He also responds to her claims that they unprocedurally removed her as attorney for three of Nginyo's companies.
Silas explains they struck out Nyambura on account of conflict of interest, given that she had issued demands to the very company she was supposed to act for, and also given that she was not the only advocate on the companies pool.
"The board of LNK resolved that subject to independent confirmation or agreement on the fees payable to the plaintiff, the company would make the necessary payment to be charged to LNK's estate as his accounts had been frozen."
Silas further turns it on her, saying despite now claiming to not recognise the validity of the transactions, Nyambura without demur, accepted and banked the cheques which he had forwarded to her on NIL's behalf on account of Nginyo's estate.
In her affidavit, Janet also opens up on another situation involving Nyambura. She says that Nyambura is a tenant who enjoys a free lease at her father's building, Nginyo Towers.
"Had the bank acted upon her request (to freeze accounts), the effect would have been to cripple the ability of NIL to maintain the building and to pay its personnel, a duty it owed to rent paying tenants of the said building," she said.
Correction & Apology
In yesterday's reportage of this dispute, we erroneously stated that the late Nginyo Kariuki did not list his children in the Will. The correct position is that he listed all the children whom he wanted to inherit his property. The story also said Brenda Nyambura shared an office block with her father. The correct position is that the late Kariuki's and Nyambura's offices are located on different floors on Nginyo Towers. The errors are regretted.