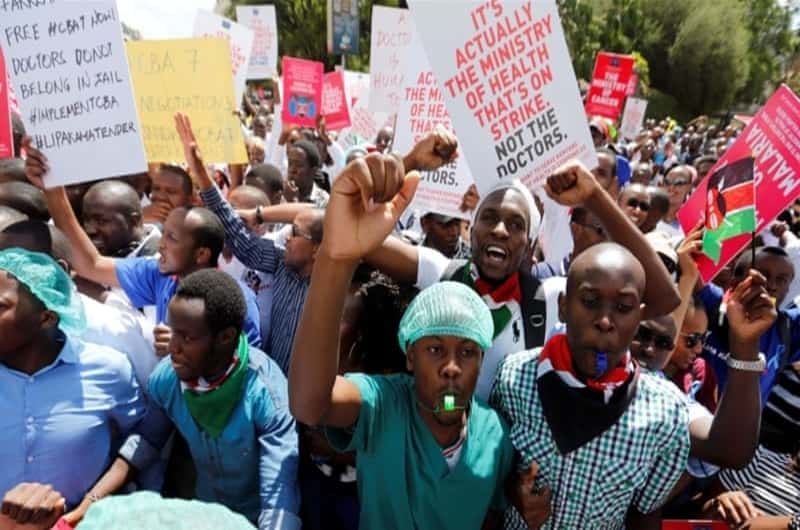 Six days into their strike, Nairobi nurses and clinical officers have camped outside Governor Mike Sonko's office in an attempt to have an audience over the unpaid dues.

The nurses have also accused the Nairobi Metropolitan Services (NMS) of giving them empty promises they say they have grown tired of. The nurses are demanding promotions, improved allowances and payment of salaries on time- issues that have gone unaddressed for a long time.

Speaking to KTN news, the chairman of Nurses Union in Nairobi County, Boaz Onchari said that the medics have been through a rough patch this year and that a strike was the only way to stand for their rights.

"We have colleagues who have stagnated in one job for more than 10 years. We have colleagues who have worked for five years but their payslips still read probation and we don't have medical cover. So those are the issues we want our employer to address before we resume out duties," said Onchari.

The health workers have also snubbed a meeting with NMS which they claim will not address their issues because it had no plans of having a representative from the county public service board in a meeting supposedly organized 30 minutes before the notice was issued.

"Let them bow to the reality that even if they don't want to engage the county, it is none of our business. We are not choosing on who will address our issues… we were not there when the deed of transfer was being signed. We are not politicians, we are healthcare workers, all that we need is our issues to be addressed," said Onchari.

Onchari doesn't see their strike as an injustice to the millions of Nairobi residents who will be in need of their services claiming that they are also Kenyans with the same challenges.

"We are not from Tanzania; we are also Kenyans. We are not from Uganda; the same challenges our colleagues are facing are the same challenges we are facing. We do not have any medical cover. Today if I or any of my kin was to fall sick, they'll depend on the hospitals where we are not serving right now," said Onchari.

The strike by Nairobi nurses heading to its second week is not the first as various counties have witnessed similar protests have payment deadlock.

Last week, Health workers from Kitui downed their tools over delayed salaries, perennial non-promotion and no health cover.