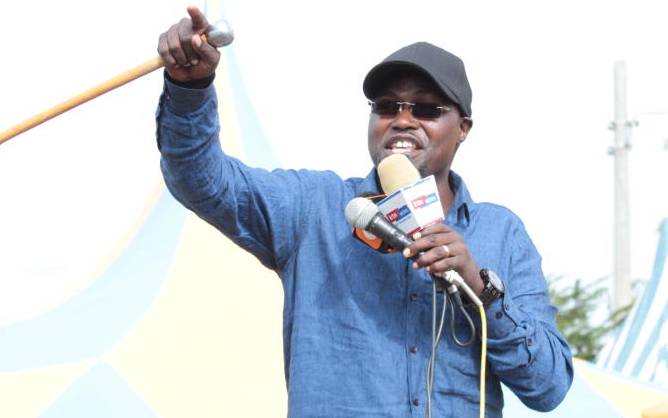 The Director of Public Prosecutions Noordin Haji has okayed charges of incitement and hate speech against Emurua Dikirr Member of Parliament Johanna Ng'eno.
This is after Ng'eno was arrested in connection with using inflammatory words against President Uhuru Kenyatta on Saturday.
In a charge sheet from Nakuru Central Police Station where Ng'eno is being held, the MP has been charged with hate speech contrary to the NCIC Act 2008.
It reads: "On September 6, 2020, at junction area, Olgos, Sofia Village, within Transmara West Sub-county, Narok County, [you] used abusive words like: 'Na hiyo msitu wa Mau mimi nitasema na nitazidi kusema msitu ya Mau ni 95 per cent Mau Forest, 95 per cent, iko kwa shamba ya Wakalenjin, hiyo yenye iko hapo Narok Olposimoru is only 5 per cent of Mau. So 95 per cent is Kalenjiin land. 8 per cent is Kipsigis and you name them all the blocks yenye iko Mau is our land' in which ethnic hatred was stirred."
The DPP received an inquiry file from the Inspector General of Police Hilary Mutyamabai over the MP's case and endorsed the charges for the latter's arraignment.
Read More
The DPP stated in the statement that the legislator had uttered threatening, abusive, and insulting words while addressing a gathering at his constituency. According to Mr Haji, Ng'eno's words threatened the peaceful coexistence of communities living around Transmara.
"On Saturday, September 5, 2020, at Emurua Dikirr Constituency, Narok County, the MP uttered words which were threatening, abusive and insulting and intended or were likely to stir up ethnic animosity amongst communities residing within Trans Mara," DPP said in a statement..
"The conduct of the MP was offensive and was intended to provoke a breach of peace within Trans Mara."
Mr Haji has therefore okayed the prosecution of the legislator under the National Cohesion and Integration Commission Act 2008 and the penal code.
The DPP said"…it is in the public interest to prefer criminal charges against the suspect as his actions may open old wounds and incite the different communities in the area against each other owing to the fact that Mau Forest has been an area of contention."
The DPP has gone into details to spell out that the MP will face charges of hate speech contrary to section 13 of the NCIC Act 2008 and behaving in a manner likely to cause a breach of peace. The DPP has warned political leaders that law enforcers will not hesitate to take action against those who will breach the law by making inciting remarks in public gatherings.
The MP was arrested on Monday at 4 pm at his Malongo home. He was taken to Nakuru Central Police Station where he spent the night and is waiting to be arraigned over his inflammatory remarks.
Ng'eno on Saturday attacked President Uhuru Kenyatta using unprintable language as he accused him of frustrating his deputy William Ruto. In a viral video, the MP can be heard bashing the head of state telling him to disband the government if he is unwilling to work with his deputy.
The MP is not new to controversy. In February 2020, he was arrested in Narok after which he was accused of assembling illegal gathering on the Building Bridges Initiative.
Last year, he was arrested after he staged a resistance against eviction in the Mau Forest complex.