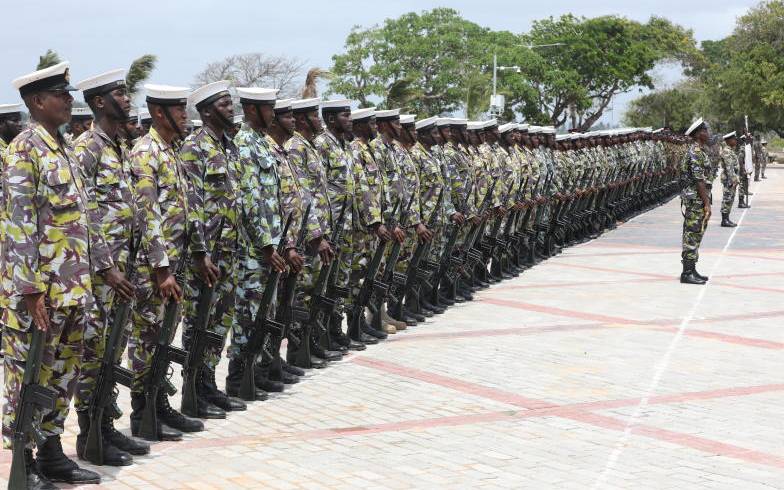 The military is deliberately training female soldiers and officers to take over technology-driven functions in the service.
The Chief of Defence Forces Gen Robert Kibochi said this is aimed at relieving male soldiers and officers to go to the front line and leave their female colleagues with the critical role of manning technical areas.
"We have tried it here and other countries are doing it and has had two effects. You give a career to a female solder that is beyond a normal one to be an expert and broaden the capacity," he said.
Gen Kibochi said the move is part of their efforts to develop their human capital for the better of the service.
Read More
"We are focusing on how for example to train some of our female soldiers to use them undertake tasks that are of technology in nature. For instance, If you have surveillance systems, you are better of having female soldiers handling that kind of systems. If you are manning a logistic supply system you can have a lot of young female soldiers and officers being the spearhead in terms of managing the resources," he said.
He said they have been training their personnel at the Jomo Kenyatta University of Technology and deploying them to take over the tasks.
Gen Kibochi said if they have no base of the critical mass of human capital that is able to assimilate technology then they will be beaten in many ways.
The policies
KDF has a gender policy that has been developed with the aim of ensuring that gender is fully integrated into all sectors of the ministry of defence.
It provides a framework to ensure that gender analysis and planning are introduced into all our activities and further provides the basis for better monitoring and impact assessment of gender mainstreaming
Gen Kibochi added that given his background in technology, he is focused on modernising the military communication and information systems to secure the country from cyber threats.
"I am an important integrator of technology and operations. How do we modernize our communication and information systems within the defence forces to secure ourselves from cyber threats?"
He said the military has to leverage on technology to bridge the gap between budgetary constraints and use technology as a force multiplier so that one uses technology to bridge the gap.
"I see a huge value that I understand technology well and what requires to be done to apply it into military doctrines."
Gen Kibochi spoke in an interview at the Department of Defence in Nairobi.
Gen Kibochi has been giving interviews explaining his style of leadership, military operations and plans. He said he is ready to steer KDF to be a regional premier force.
He said all soldiers and officers have an equal chance of rising to the top once they complete their training.
"Anyone can be what he or she wants to be but what they need is to work hard and a little bit of luck. Progression in the service is based on your past and how you work hard," he said.
Gen Kibochi said traits of an individual are key in leadership and progression.
"Sixty per cent of our training is character development. Someone's character will help one to be counselled by those one finds irrespective of age and rank," he said.
Meanwhile, Gen Kibochi has commended the role that his personnel are playing in planning the service's future.
Gen Kibochi underscored the critical role Sergeant Majors play to the realisation of defence policies and strategies and called for the need to continue engaging across all levels of leadership.
"We are gathered for this seminar to refresh our minds on the critical role we play as Warrant Officers, Regimental Sergeant Majors and Defence Forces Sergeant Majors towards the upscaling of our mission readiness. They are key," Gen Kibochi said.
The seminar themed; "positioning for the future in a changing security environment" drew Sergeant Majors from across the three services of the KDF.
The personnel are taken to be the main drivers for discipline in the service. This, in the end, shapes any form of readiness by the service for any mission.
The engagement was leveraged from the vast experiences, achievements, successes and challenges to realise opportunities for planning in recruitment, training and retention for a greater KDF in the future.
Gen Kibochi said currently, "we live in complex times with multiplicity of threats to national security and as such, every leader in the KDF must be alive to changing dynamics and contribute to the finding of solutions and implementing strategies towards controlling the multiplicity of threats."
The CDF acknowledged that mission readiness cannot be achieved without a strong backbone that must be nourished by knowledge borne out of the experience and continuous personal development to enhance professionalism.
And Gen Kibochi led the VCDF, Service Commanders, Assistant Chiefs of the Defence Forces and the Defence Control Units and Branches in signing performance contracts for the financial year 2020/2021 at the Defence Headquarters, Nairobi.